The signs for walking readiness in babies are quite easy to detect. They begin pulling themselves up and cruising alongside furniture, and anything they can hold onto really. You'll notice they're climbing up onto their feet more frequently and much faster than they ever were before. Congratulations! You've got a baby who's just about ready to take her very first steps. And with that, some veteran sympathy because once they're on the go, there's no stopping. For them or for you. Good luck.
Baby walkers are the equipment in the baby world that are designed to help with this stage in your child's life. The best carpet baby walker should help strengthen your child's muscles and mimic the natural way of walking. Baby walkers, however, don't come without their share of controversy.
Are they good or bad for development?
Are they safe?
Are they worth the buy?
Will they even work on your carpeted floors?
Which kind of wheels are best anyway?
All reasonable questions for you to ask. And we're here to answer them. If you're in the market for a baby walker for carpet, and maybe even transition onto hardwood flooring, read on!
Baby Walkers for Carpet – Top Picks
Note: Our individual reviews are below, but you can also click any of the links above to check current prices on Amazon and other retailers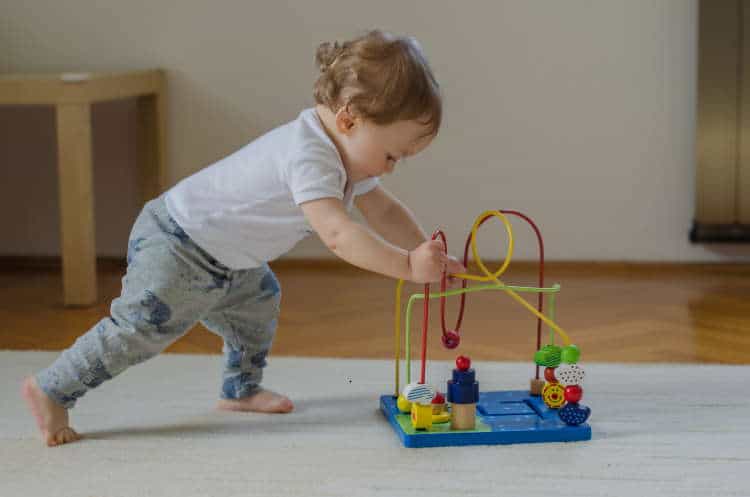 What's best for carpet?
The way a baby walker moves greatly depends on the type of flooring underneath. So it's no surprise that among many of the things parents take into consideration when purchasing a walker for their child is the flooring. Will the baby walker be able to maneuver safely on the flooring they have at home? More specifically, will their child be able to be mobile on carpet while in a walker? 
Baby walkers are equipped with wheels and many of the ones on the market might be too small to glide smoothly on pile rugs and/or carpet. And not all baby walkers are designed to run smoothly on all types of flooring. That's another thing for parents to consider, especially if their home features both carpet and wooden/tiled floors.
Push baby walkers are generally built with bigger wheels. These bigger wheels tend to create less friction. On smoother flooring, walkers are able to run much easier because less friction is being generated. Carpet, however, can be tricky sometimes. And that's where the big wheels present a great advantage; carpet and pile rugs don't tend to get caught in larger wheels. Tiny feet also don't have to work as hard with larger wheels because there is less resistance between them and carpet.
Seated baby walkers are usually built quite heavy and are equipped with smaller wheels. These small wheels, combined with a greater weight, present a very real difficulty for babies walking on carpet. It makes sense then, that ideally the best baby walker for carpet would be one that is lighter in weight, or has bigger wheels. 
The best walkers for carpet have both of those things. And we're here to tell you, that if you're planning on having a baby walker in a primarily carpeted area, push walkers would be your best bet. But which one?
What's best for hardwood?
Many newer homes are being built with more and more hardwood floors. And so you've found yourself in another predicament. You want a baby walker that works on surfaces other than carpet. Well, here's the good news.
Generally, both push and seated walkers can work well on hardwood floors. Some push walkers may move too quickly for younger toddlers and babies so keep that in mind. Because they have the larger wheels that work so well on carpet, they require less effort to push and move forward. And because of this, your child might end up moving too fast and eventually not be able to keep up with the walker. This is also when falls can occur. 
Baby walkers that would work well on hardwood floors are usually equipped with standard size wheels. They should also have non-slip pads underneath the frame of the walker's base (in case of a seated walker). 
Whether you choose a push walker or a seated one, you want to purchase something that is built to eliminate the most amount of risk of accidents, regardless of the flooring.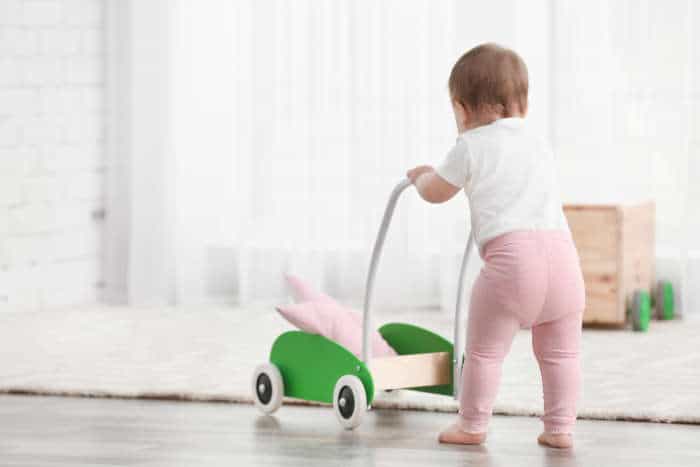 Are walkers good for babies?
Baby walkers have been at the center of controversy for many years now. Both safety experts and health professionals advise against the usage of them. We'll get to why they haven't been considered safe in the past but let's talk about whether or not they're good for a child's development.
Walkers provide loads of entertainment for children, no doubt. The lights, toys, and sensory objects they often come with are very attractive to learning babies. The reason health professionals tend to advocate against baby walkers is because they might not help with overall development. In fact, they may even delay a child's ability to walk, and perhaps even delay sitting and/or crawling. 
Most parents have been trained to believe that walkers are useful for their children. We get it. Most of us grew up using some sort of walker and it feels natural to purchase one for our own child. So hearing that they might not be so great for development is tough.
Seated walkers present one big dilemma: babies can't see their legs while they're walking. Therefore, they're unable to make the connection between the physical movement and the act of walking.
Push walkers are considered to be better for baby's development since they allow both legs to balance firmly on the ground when learning to walk. They also closely mimic a child's natural way of walking. Babies are able to use their weight to push them forward in these types of walkers. 
And if you're worried about providing entertainment to your child, lots of push walkers are equipped with an entertainment center that can be utilized even before your baby can walk. This can provide tummy time play and even encourage sitting up and crawling. It strengthens the shoulder and arm muscles as babies reach forward and work harder while interacting with the walker.
So although there is no research that supports baby walkers can actually help children learn how to walk properly and/or early, they can be useful for entertaining and containing a baby when used in short bouts. 
Are walkers safe?
Remember when we said there are professionals who are advocating against baby walkers? So much so that they want to ban walkers altogether. In fact, seated baby walkers have been completely banned in Canada, and any parent found with one can be fined or even sentenced to jail time. Yikes. 
So what would even make baby walkers unsafe?
Although almost all walkers currently on the market are up to CPSC standards and technically marketed as safe, they can still cause accidents. Baby walkers have been notorious for causing injuries – whether from falling down the stairs, tipping over, or pinching little fingers. 
Between the years 1990 and 2014, an estimated 230,676 children less than 15 months old were treated in emergency rooms due to infant walker-related injuries. And most of those babies sustained head or neck injuries. Even after CPSC updated and revised infant walker safety standards, there were 8 pediatric fatalities between 2004-2008. 
Historically, baby walkers, have presented lots of issues. From recalls to falls, pinches to tip-overs, pediatricians and parents have seen it all. This is why more and more people are choosing against seated walkers. 
That being said, push walkers are considered to be safer types of walkers since they are designed in a way that prevents tipping. They encourage your child to use their body to carry their weight safely. 
But maybe you're still thinking about purchasing a baby walker. Or you've been gifted one. There are a few measures you can take at home to help prevent any accidents or injuries. Gating your stairs, adding non slip stair pads, keeping areas clear, removing heavy objects that are on tables/shelves and limiting the overall use of baby walkers.
If you'd like additional information on safety requirements for baby walkers, you can contact the US Consumer Product Safety Commission directly.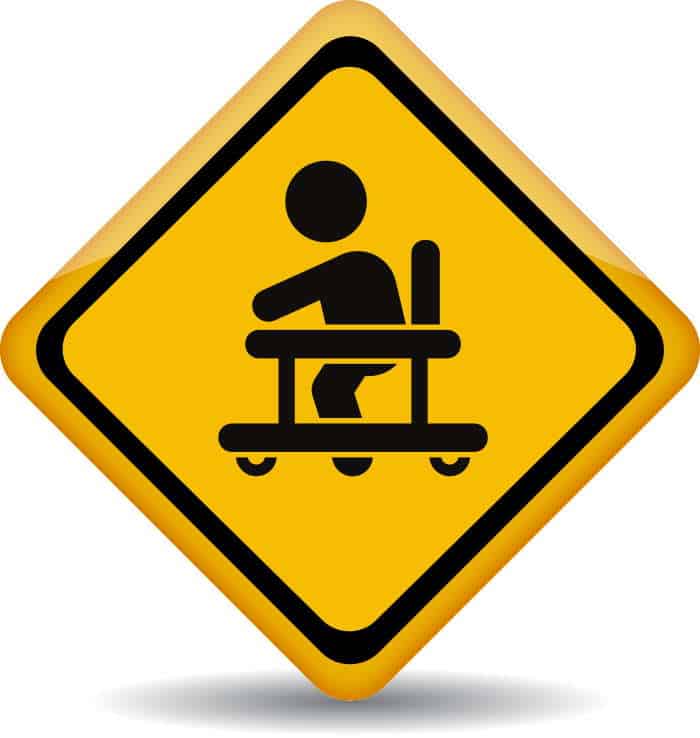 How old should your baby be to use a baby walker?
Most baby products come with recommended age requirements and limits. Baby walkers are no different. When we're talking about seated walkers, it's best to introduce them to your baby when he's: (1) able to hold his head up steady and (2) able to touch the floor with his feet when in a walker.
Most manufactured walkers are designed to be used by infants between 4-16 months. But with everything else in your baby's life, use your better judgement. If you think he isn't ready to be put in a walker, try to hold off for a bit until you both are comfortable. 
Ideally, you want to wait until your baby has very good upper body strength. Why is that important when it comes to walking? Well, when placed in a walker, babies who lack the necessary strength in their upper limbs might be constantly falling forward and smashing their head into the tray of the walker. 
Because some push walkers usually serve two purposes, they can be introduced earlier to your child simply as activity centers. These walkers can be placed in front of your baby during tummy time, or while she's sitting up and playing. This will encourage her to reach forward while improving her fine motor skills. 
Once children know how to walk well, seated walkers should not be used. 
What to look for
There are so many different types and styles of walkers out there. It can be overwhelming for parents to pick out one their child will love and benefit from. Are you even surprised? Parenting itself, can be very overwhelming. 
So to the mom or dad who's juggling parenthood with so many of life's other aspects, let us take a small load off of your currently chaotic, but beautiful mind. We've broken down what makes a great carpet baby walker, and what exactly to look for and pay attention to before making that purchase. One of many, many, many more purchases. Let's have a moment of silence for our bank accounts. 
Before anything else, you'll want to think about the essential features of the best baby walkers and go from there. 
Wheels
Let's begin with the wheels. All baby walkers are built with some type of wheels. Usually, the golden number here is four. Usually. 
Wheels are important because they help determine how smooth of a "ride" your child will experience. When looking at the design of wheels, consider they type of flooring in your home upon which the baby will stroll in a walker.
For a smooth baby walker rolling on carpet, you don't want to get wheel that seem flimsy or too small. Unlike regular walkers with small wheels, the best baby walkers for carpets have large and sturdy wheels for a smoother ride on carpet flooring without compromising your baby's safety.
If you're thinking of purchasing a push walker, look for wheels that will provide some sort of resistance. This is to ensure that when baby uses the walker simply to stand and balance herself, the walker doesn't shoot out from underneath her, causing her to tumble. 
Safety
Is the walker you're eyeing equipped with all the necessary safety features?
Does the walker have non-slip/brake pads at the base? These will work as an emergency mechanism in case your child has made his way to the edge of a staircase to prevent falling
Is the walker compliant with CPSC safety standards? As we mentioned earlier, CPSC made several revisions to the safety standards of baby walkers in order to prevent as many accidents and injuries as possible. Here's a short list of some CPSC standards:

Baby walker should be wider than a standard door size
Should be equipped with an automatic braking system when on the edge of a stair
Leg openings should be secure
Buckles and straps should be in place to hold a baby in safely
Is the seat adjustable and comfortable? Obviously this would only apply to seated walkers. A good thing to look for is a padded seat, one that is comfortable so it isn't scraping or pinching baby's hips, legs, and thighs. A thicker seat pad also ensures that your baby won't be shuffling around.
Multiple uses
Most baby walkers out there today are more than just trainers. If you're in the market for one, think about how your child could use it in other ways besides walking. You know, two birds, one stone. 
Some carpet baby walkers also act as activity centers due to the various toys, lights and buttons that are present. If the act of simply walking isn't enough to keep your baby entertained, the activities will be a surefire way to get her excited. 
Can the walker easily shift between different types of flooring? Can it be used for babies that are not quite ready to walk yet? Will it be adaptable to different walking stages? These are all important questions to explore before dishing out that money.
Baby Walkers for Carpet – Our Picks Reviewed
Vtech Sit-To-Stand
The Vtech sit-to-stand is a push walker that provides interactive learning while allowing your baby to explore the world of walking. It is geared towards children 9 months and older and grows with your child while embellishing their fine and gross motor skills. 
This particular activity walker has larger, stable wheels that work well on both carpeted and hardwood flooring. The wheels also have two separate settings. Setting 1 allows the wheels to move slower and is intended for children who want to learn to walk. Setting 2 creates a faster spin on the wheels and is meant to be used with children who have had more practice with walking. 
Moreover, the activity walker features a removable play panel that can be used for younger babies who are not quite at the stage of standing/walking. This play panel has two modes: an educational mode and music mode. It also comes equipped with piano keys, a pretend telephone, and lots of other colorful activities.
What we liked:
Built with durable material
Provides plenty of entertainment
Play panel features two play modes
Wheels have two different settings for different stages of walking
Promotes natural learning
Height adjustments possible
Affordable option
What we didn't:
Requires batteries
Music might be too loud
Joovy Spoon
Often referred to as the Rolls Royce of baby walkers, the Joovy Spoon is a modern seated walker with a sleek and glossy finish. It is a sturdy walker built with a steel reinforced frame and luggage grade material. The extra large tray is great in turning the walker into a highchair. The dishwasher safe insert makes it especially meal-time friendly. We see you getting giddy with excitement, busy parents. We love everything that's dishwasher safe, too.
This walker is a bit different than many walkers we see on the market. It's a contemporary design that is almost all white, and has no activities/toys/lights on the large tray. Depending on your and your baby's needs, this could be either a good or bad thing for your home. You can either use it as a large snack tray or an extra space for your baby girl to engage and have fun with her favorite toys.
It features four "oversized" wheels, in comparison to other seated walkers. It is also a foldable baby walker for easier storage.
The Joovy Spoon's maximum weight and height limits are 30 pounds and 33.5 inches, respectively.
What we liked:
Folds flat for easy storage
Tray insert is dishwasher safe
Seat pad is machine washable
Extra durable material – provides luggage grade toughness
Can be used as a highchair
Wide base prevents finger pinches
Has non-slip pads
Features oversized wheels for various flooring
Sleek design
3 height adjustments
What we didn't:
The extra large size makes it difficult to carry/transport to different areas
Occupies lots of space
A bit pricey
Wheels don't lock; cannot be used as a stationary seat
Fisher Price Learn with me Zebra
The Fisher Price learn with me zebra walker is a push walker that helps children stand, walk and reach. This lightweight walker provides 2 ways to play – sit and play or grab the handles and push to walk.
For sitting babies, this Fisher Price walker provides many hands-on activities that will keep them occupied and busy. It features light up buttons and a flip-the-page book that will teach your child numbers and letters in song form.
This is a wide-based four-wheel walker with an easy to grip handlebar. It can work well on carpet but because the wheels have no resistance, it might not be the best option for hardwood floors. Because of the many lights, colors, and buttons, this is a very attractive walker for curious learners.
What we liked:
Lights up
Features songs to teach numbers and alphabets
Great for little learners that are beginning to press, flip, and spin things
Can be used in a sitting position or standing position
Affordable
Lightweight
What we didn't:
Wheels don't have any resistance – walker can shoot off from underneath a standing baby
No locking mechanism
Safety 1st Dino Sounds n Lights
Here's another seated walker that might work well on carpeted floors. Unlike the Joovy Spoon, the Safety 1st Dino Sounds n Lights Discovery Baby Walker features toys on the activity tray which spin, rattle, crinkle and light up. 
The two fun activity trays swivel out to reveal a larger tray underneath that is ideal for playing or snacking. The walker also has adjustable heights and compact folding for easy storage when not in use. The grip strips on the bottom of the base help to minimize unnecessary movement on smoother floors. And if the seat pad gets dirty, don't worry! You can toss it in the wash as it is machine washable. 
The walker is equipped with four wheels; the two front wheels swivel but the back wheels remain stationary. This walker is suitable for babies between 19.8-30.9 pounds.
What we liked:
Adjustable height
Folds flat for storage
Trays with toys can swivel to reveal a simple, larger tray
Fun, inviting colors
Padded seat is machine washable
What we didn't:
Material isn't as sturdy as other seated walkers
Stationary wheels in the back might make it difficult for turning