Would you like to buy your child a gift that inspires creativity? A pottery wheel could be a great idea.
Think about teaching them how to make the different items they use on a regular basis, or learn how to make heart-felt gifts for those they love. It's a great creative outlet to add to their life. 
Working with clay does more than teach your child to be creative. It can also help with sensory processing. But don't feel overwhelmed by all the options on the market. We've reviewed all the pottery wheels for kids we could find and listed our top picks below! 
Best Pottery Wheel for Kids – Our Top Picks
Note: Our individual reviews are below, but you can also click any of the links above to check current prices on Amazon and other retailers
Kids Pottery Wheel Reviews
Pottery Wheel Studio- Dan and Darci
Though this brightly colored pottery wheel might seem a little pricey at first glance, you get a lot of bang for your buck!
It's an all-electric pottery wheel with an AC adapter which means it has a decent amount of power. Some wheel options are battery operated which, as you'd expect, don't have as much power behind them. It also comes with a foot pedal to control the wheel with ease.
The wheel can rotate in either direction, making it ideal for either right or left-handed potters, and it's durable. Just because this pottery wheel is meant as a toy, doesn't mean it must feel like one.
To make it even better, it doesn't come with only a wheel. You get one pound of clay, six colors of paint, three crafting tools, a spray bottle, sponge, paint brushes, and a tool to remove the pottery from the wheel once completed.
If you need an all-in-one pottery wheel kit to get your child started on this new and exciting journey, this could be the kit for you.
What we liked:
A durable pottery wheel that's all electric
Comes as a complete kit
Will work for both right and left-handed potters
What we didn't:
A little pricier than other options
Cool Maker Pottery Studio
This pottery studio comes with everything you need to make six different projects such as a jewelry holder, smartphone speaker, and pencil holder.
The kit includes two pounds of air-dry clay, a spray bottle, ten paints, and sculpting tools. This option is affordable in comparison to some other kids pottery wheels on the market.
Perhaps one of the best things about this pottery wheel is that it comes with air-dry clay which is easier for kids to work with and doesn't require firing in a kiln or oven.
Being battery operated means this pottery wheel is a little less powerful than a mains powered option. A weaker powered wheel will stop more easily with lesser downward pressute. Batteries give you portability and no need for a power outlet, but the hassle of changing batteries every so often to keep things working.
As a parent, you never know how serious your child will take a hobby. This wheel is a great place to start while your child figures out if pottery making is for them.
What we liked:
 An affordable option for the beginning potter
Comes as a complete kit
You can use any brand air-dry clay with this pottery wheel
What we didn't:
If you're serious, battery power isn't as good as mains
Faber Castell Pottery Studio
Are you searching for an educational pottery kit? If you like to encourage your children to try new things while also teaching them about a variety of subjects, this kit could be exactly what you need.
This pottery wheel kit comes with a battery-operated wheel that's controlled via foot pedal. It also contains three pounds of clay, six sculpting tools, a trimming tool, apron, 12 paints and glazes, paint brushes, a table cover, sponge, and illustrated instructions for children to follow.
The main bonus this kit provides is information on art history. Your child can learn different pottery techniques while also learning about the history of them.
As we've mentioned already, battery power is good in some ways (portability, no power outlets). But can make for a weaker wheel which doesn't work well with addded pressure or if you put too much clay on it.
Another grip with this one is that the pottery wheel only turns one way. Therefore, it won't work for left-handed potters.
What we liked:
Educational, teaches your child how to craft pottery while learning art history
Comes as a complete kit including pottery tools, educational info and clay
Has a foot pedal to control the wheel
What we didn't:
Wheel only turns in one direction
Battery-operated
Cast Iron Metal 7" or 12" Wheel
Is your child taking pottery or crafting very seriously? They may have outgrown the stage of a pottery kit or pottery toy.
Instead, they're ready to begin building their own pottery studio. If this is the case, this manual pottery wheel could be a great place to start.
This is a heavy-duty pottery wheel. It is constructed of cast-iron, making it durable but also quite heavy.
It's easy to spin when working with forming pottery pieces or when painting pottery. This wheel is level and doesn't bounce around when spinning. This is a huge plus when you're molding clay or painting a specific piece.
The biggest downside to this pottery wheel is it's manual, whilst it's good quality, it needs spinning by hand.
What we liked:
Very durable, heavy and easy to spin
Silky smooth spin, doesn't bounce around
Great for crafting, painting not just pottery
What Do You Need to Start Making Pottery?
Before you begin making pottery, there are a few items and ideas you need to ensure a good start. To begin, you need a project!
Next, you'll need a pottery wheel. This is how you will shape your pottery project. You also need clay. Without clay, there is no project!
If you want your pottery to have different designs and colors, you should invest in specific tools and paint. Some kits include these things, but if you're getting everything from scratch you want to consider investing in the following:
 A bucket to hold water when working with pottery or for cleaning up
 Sponges to help keep the clay moist while on the wheel
 Soft brushes
 A wooden trimming tool
 A cut-wire tool to cut through clay
  Potter's needle for trimming edges
You may also want to invest in an apron to keep your clothes clean.
Types of Pottery Wheels
There are two different types of pottery wheels. The first option is a manual wheel which is powered by manually spinning it.
The other option for a pottery wheel is an electric wheel. This style of wheel is normally operated by using a foot pedal. Some varieties of electric pottery wheels use hand controls.
You'll also switch operated pottery wheels or electric pottery wheels with variable speeds and even a switch. This controls which way the wheel turns to accommodate left-handed potters.
Can You Do Pottery at Home Without a Kiln?
You don't need a kiln to do pottery at home. Instead, you can choose clay which air dries. If you'd prefer to fire your pottery projects, you may be able to use your oven.
To fire projects in the oven, heat it to 250 degrees Fahrenheit. Depending upon the thickness of the clay, you can fire your creation from one to three hours.
It's important to note that you can't glaze a project in the oven. However, you can paint the project after it has been fired in the oven.
Is Pottery an Expensive Hobby for Kids?
This will depend upon how serious your child is about pottery. Most toy pottery wheels are affordable.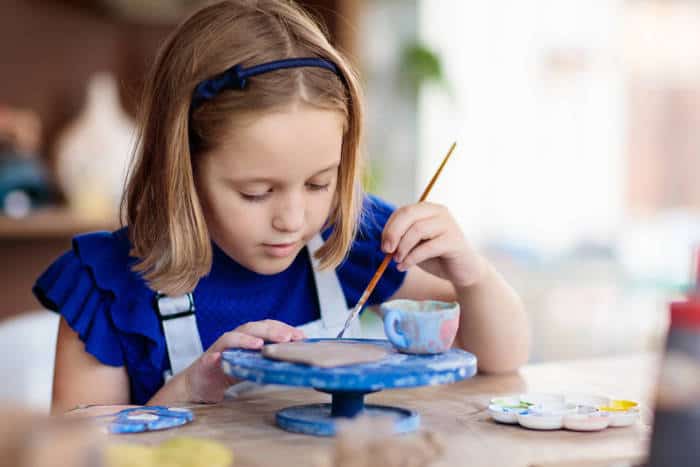 The real investments don't begin until your child decides that they want to dive deeper into pottery. Most kids won't need a kiln which decreases the start-up fees drastically.
If you choose to invest in a kiln for your child, consider purchasing a used one to help keep costs manageable.
Thankfully, after you invest in a wheel and necessary tools, the cost for materials are relatively inexpensive.
If your child needs a higher-quality wheel or a kiln, you're looking at more of an investment than if your child is satisfied with working with air-dry clay on a less expensive wheel. 
Can Pottery be More Than a Hobby for my Child?
Yes, pottery is good for more than a creative outlet. If your child struggles with sensory issues, pottery could be a beneficial tool in helping them deal with this.
When my son was smaller, he suffered with sensory processing disorder. It impacted everything from the socks he wore (or didn't wear, I should say) to extreme discomfort when I ran the vacuum due to the noise. 
Pottery combines a variety of textures, and the process is naturally fun. This could be a unique way for children to overcome sensory hurdles and develop their hand-eye coordination.
What to Look for in a Kid's Pottery Wheel
Cost
When investing in a pottery wheel for your child, it's always a good idea to look at the price. If they're just getting started with this creative outlet, you'll want to find something that's a good mix of quality and affordability.
Durability
Whether a long-term hobby or a phase your child is going through, no one wants to invest in something that won't last. Ensure you pick a pottery wheel that's known for its durability.
Electric
An electric motorized pottery wheel is the best way to go for beginners. This allows your child to only focus on controlling the clay. If they have a manual wheel, they must focus on keeping the wheel turning while also controlling what they're making. This is a lot to take on as a beginner potter.
Age Appropriate Kit
Some kits included with the best pottery wheels come with projects that may not be appropriate for younger children. Finding a kit that incorporates projects which your child would be interested in, at their current age, is a key item to look for when choosing. Without taking age appropriateness into consideration, you run the risk of purchasing a kit that doesn't work for your child.
In this event, your child may feel that pottery isn't for them. In reality, it isn't the hobby. It is the kit. Take your child's age and interests into consideration when picking a kit. It could truly make all the difference in this experience for them. 
Fun or a Real Hobby?
Pottery can start out as a fun pastime, but if your child takes a real interest, it could become a lifelong hobby that could serve them well. It's recommended, if your child becomes seriously interested in this craft, to enroll them in a class to help them learn correct methods to crafting pottery.
In the meantime, you could purchase them a pottery wheel to try this hobby. If it piques their interest, you'll know to explore this craft a little more. If they aren't as interested as they initially thought they would be, you know not to waste your time on classes. However, there is potential for this hobby to cross-over from a fun crafting experience to a real skillset.