2020 has been hard. That's probably an understatement. We can all agree that parents are weathering a storm we never could have planned for and that involves MUCH MORE time in the house than we would like. The kids are bored, we're stressed, and all the family activities we'd like to be doing have some sort of regulation attached to them. 
That's why in the midst or virtual school, homeschool, working-from-home, or whatever, we need to find fun outlets to channel our energy and frustration. After all, there are only so many books we can read and craft projects to tackle. When you're in need of that fun break in the day, consider an air hockey table to get everyone up moving, engaged, and laughing. 
We love these things because there's a version for everyone. Whether you want a full-size option, a mid-size, or something as small as your coffee table, there's an air hockey table to suit you. However, the internet is a big place. That's why we've taken a look and pulled the best of the best for our product roundup. Have a look below!
The Best Air Hockey Table For Kids – Our Picks
Note: Our individual reviews are below, but you can also click any of the links above to check current prices on Amazon and other retailers
Air Hockey Tables For Kids – Reviewed
ESPN Sports Indoor Arcade Set
If you're looking for a good combo air hockey table setup with all the bells and whistles, this ESPN Sports Indoor Arcade Set could check all of your boxes. This six-foot table with a 72″ x 37″ playing surface features a clean design with a black and white color scheme. 
As well as being an air hockey table, this setup turns into a table tennis table. One of the neat things about the second top is that it slides and stores neatly under the main top. It comes with all of the accessories including, two paddles, two pushers, two balls, three pucks, a net, and two posts. 
This hockey table also features an electronic LED scoring system with sound effects and button controls. It also employs a fan to provide airflow for arcade-level play. For power, the ESPN Indoor Arcade Set comes with a cord that's compatible with a wall outlet.
If you want to keep the same quality but go bigger for a more arcade quality feel there's a 7ft option that costs more but has the additon of an electronic scoring system. Whilst it's advertised as overhead, it's move 'over table'. The 7ft variant gives you a full 84″ x 48″ playing surface. Just as a note an official size commercial standard table that you'll find in a bar or an arcade will most likely be 8ft.
Or, for those with a little less space and a little less to spend there's also a 5ft compact option which lowers the playing surface area to 64.75″ x 37.13″ and the cost by a few hundred dollars!
A quality sturdy air hockey table is heavy! The mid-range 6ft option weighs 115 lbs. You'll need to consider this for delivery and setup, you might need some help!
What we liked:
Works as an air hockey table and also a table tennis table
Table tennis top stored neatly under the table itself
Bumpers and pucks included (good quality)
AC cord power source
Electronic LED scoring system
Sound effects
Real airflow from fan a quality fan (you wouldn't hear it in the next room)
Leg levelers
What we didn't:
All size options aren't cheap, but they are worth the price
Triumph Fire 'n Ice LED Light-Up
If a full-size air hockey table isn't in the cards for you, this Triumph Fire 'n Ice LED Light-Up table could be a good mid-size option for you. It's large enough for exciting gameplay, but also doesn't take up your entire living room since it comes in at 54" x 27" x 31". 
It features an AC power cord for the air and the LED light shows in the corners which flash when someone scores a point. The pushers light up as well for even more fun. This pick also has LED scoring as well as an old school abacus scorer to keep track of who's in the lead.
What we liked:
Mid-size air hockey table option 
LED light show in the corners and with illuminated pushers 
AC power cord
Real airflow 
LED scoreboard and abacus scorer
What we didn't:
This is a solid mid-size pick. No cons from us!
Sport Squad HX40
If you simply don't have the space for a big air hockey table, this tabletop option is the perfect compromise. It should fit on most dining tables as it's 40" x 20" x 5" and don't worry about scratches or scuffs because this one comes with rubber pads to protect your finish. Also, this one is only 14lb so, don't worry about packing it up or losing floor space because when you're done with this table you can slide it into storage.
It comes with two pushers, two pucks, and goes up in 5 minutes. While it compromises on space and setup time, it still promises exciting air hockey gameplay with its adapter-powered fan. This one lacks a scoreboard but does feature abacus scoring. The Sport Squad could be an awesome choice for younger kids that don't mind the smaller size, for apartments, or even the office when you need a break.
What we liked:
Goes up in 5 minutes 
Small and light enough to fit on a dining table 
Easy storage 
Comes with 2 pucks and 2 pushers
Abacus scoring
What we didn't:
Smaller size might be off-putting for older kids or teens, but this could be great for families that don't want to take the plunge on a big table
Sunnydaze Multi-Game Table
This table is quite possibly the Jack-of-all-trades of air hockey tables. It's not full-size and comes in at 40" x 22.5" x 27.5", but it's truly a one-stop-shop for gaming. In addition to air hockey, this one has foosball, pool, shuffleboard, table tennis, chess, cards, bowling, and backgammon. 
Sunnydaze is also an easy assembly and switching between games is simple as well. All of the tabletops store conveniently between the pool table base and the foosball top. While it's on the smaller side, this could still be a great choice for kids of all ages as the variety will keep them engaged and having fun. 
What we liked:
Smaller size saves room in the house
Include 10 games 
All the games fit within the table 
Simple assembly and easy to switch between games
What we didn't:
Lacks airflow for air hockey
Wooden Battle Hockey
For a scaled-down version of the game that is perfect for kids as young as preschool to try, this Wooden Battle Hockey set could be perfect. Its natural wood design is perfect for young kids as it's durable and won't contain harmful materials. This set is also small enough to fit on a coffee table or ottoman in the middle of the living room. Parents will love that the board folds up and holds all of the game pieces. 
This isn't a traditional air hockey table, but instead, each player gets five pucks and you try to score through a goal in the middle using a rubberband to sling the pucks. The model is great for kids because they get multiple chances and each puck helps them visualize those chances. Also, this game is great for developing motor skills and coordination. 
Wooden Battle Hockey is great for engaged playtime between preschoolers (3+). Additionally, this is a great choice for parents and kids looking to engage in fun, meaningful, and screen-free interaction. 
What we liked:
Small and compact 
Folds up to contain game pieces
Fun, creative spin on air hockey tables 
Social game that pulls kids away from technology 
The benefits of air hockey tables
First and foremost, air hockey tables bring fun into the home. Purchasing an air hockey table to pass the time is a great way to ditch the screens. 
On top of that, it gets you and your kids up and moving which is great. It's an indoor activity, so never mind the weather. Anytime is a good time to get the air hockey table out!
In addition to fun and exercise, air hockey is a great way to build hand-eye coordination and increase motor skills. It presents a challenge and lets your kiddo work to master the skill in a fun, competitive arena. Plus, it's something that gets the entire family involved and provides prime bonding time.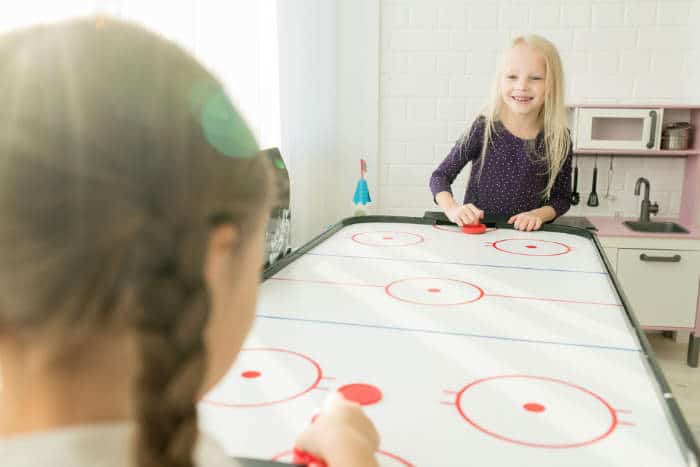 Types of air hockey table
Tabletop Tables
If you're short on space or just don't want to commit to having a huge air hockey table taking up your living room, a tabletop option could be a great choice. They're usually miniature with no legs and easy to store.  
Freestanding From Mini to full-size
There are quite a few choices when it comes to size. Once you graduate from the tabletop options, they range from miniatures (around 35") to full-size options with 90" x 50" sized playing surfaces. 
Obviously, the quality and build will vary. So, take that into account when you think about where you plan on placing the table and how much effort you want to put into building it. Also, it might be worth it to consider how sturdy it is, especially if you have older kids that like to rough house in the living room. 
How old are your kids?
The bigger the kid, the bigger the air hockey table you need. Whilst mini air hockey tables work fine, and are fun for smaller kids, they won't satisfy an older child or adult who likes to play air hockey for any length of time!
Small tables limit the amount of force you can put behind the puck which can put a damper on the fun for older kids and adults. Consider a smaller one if your kiddos still struggle to send it across the table. Also, the electronics are also worth considering as some have digital scoreboards, flashing lights, and sound effects. If your kids are old enough to care about the score or even want to have mini tournaments, consider one with a digital display. 
Consider a Combo Air Hockey Table
A real air hockey table is going to take up some room. There's no way around that. If you want more bang for your buck, a table with multiple uses that works for other table games is a great idea. Many options on the market are combined with pool tables, table tennis, or foosball. If you're going to invest in a full-size table, why not score one that plays multiple table games? An air hockey table that has multiple uses is a great option if you're going to spend any length of time with it, especially for family game nights. 
No Fan vs Batteries vs AC Power
When looking at a tabletop air hockey table or even a miniature option you'll most likely find them to lack a fan. They rely solely on friction to slide the puck across they playing surface. That can become a little boring after a while, but in a mini version for younger kids, that might be an advantage. They're still learning, so the slower pace could actually be encouraging for them as they'll have more time to react and play. The smaller no-fan versions could also be neat office toys for impromptu games.
Air hockey tables with batteries are great if you're putting it somewhere with no power outlet access. Maybe you want to put it in a basement or garage. If so, batteries could be the way to go. However, most tables with batteries require several small ones or the more expensive large batteries and they often drain fairly quickly. 
AC power, on the other hand, is convenient for living rooms and playrooms with power outlets. They don't limit playing time and you can always count on them working when you decide on an impromptu game. If you'd like some versatility, try to look for an air hockey table that employs a combo of batteries or AC power, that way you have some choice. 
Does it have a Scoreboard?
This goes back to the electronics mentioned earlier. Digital displays often have an automatic scoreboard that senses when a player scores a point. It's a helpful feature so that you're not constantly questioning the score during play. Additionally, that eliminates cheating! 
An alternative to a scoreboard is the manual scorer on both sides of the table. Many old school or tabletop hockey table models lack the fan and scoreboard. So, you're left with keeping score on your own by sliding the scorer over which isn't necessarily a big deal but doesn't really enhance the game experience either.