We've all had hard days, but do you know how much better it feels to have a safe space to take out your frustrations in a healthy way? 
If you don't, it's time to invest in a punching bag. My mom bought me my first punching bag in the fourth grade, and it was the best gift I think I've ever received.
Punching bags can help you get in shape, reduce stress, and feel good about yourself even at the end of a hard day.
Your kids might like some of those benefits too. If you'd like to invest in the best punching bags, you're in the right place.
I'm going to share what you should look for and point you in the direction of a few good choices for your first kids punching bag. 
The Best Punching Bag for Kids – Our Top Picks
Note: Our individual reviews are below, but you can also click any of the links above to check current prices on Amazon and other retailers
Punching Bags for Kids Reviewed
Tech Tools Punching Bag
Do you have a child in your life with a ton of energy? Why not put that energy to good use and give them a kids punching bag.
This punching bag is recommended for children ages four to twelve. It provides an adjustable height feature, so the bag can grow with your child. 
Plus, it comes with boxing gloves and a durable base which can be filled with sand or water. This allows the punching bag to be set-up and utilized almost anywhere.
If all of this doesn't have your attention, you'll be happy to know the set also includes a pump to keep the bag inflated when needed.
The only drawback to this set is there are some quality control concerns. Keep in mind, this is a boxing set meant for children. Therefore, if kids get a little too rough with it, it might not last a long time!
If you're in the market for a complete beginner's boxing set for a younger child, this could be what you've been seeking.
What we liked:
Adjustable height so the punching bag can grow with your child
Recommended for kids ages four to twelve
Sturdy base which allows these punching bags to be used almost anywhere
Taylor Sports Bop Bags
If you're an 80's kid, this toy might remind you of the boppy inflatable clowns which would get knocked down to only pop back up again.
Kids still find the same concept extremely fascinating and enjoyable. Hence, why this bop bag is on our list.
This inflatable kids punching bag is constructed of heavy vinyl. The upgrade of this bag is that it has a base in the bottom which can be filled with a few gallons of water or sand to offer greater support.
The only downside to this design is if kids get rough with the toy (as children frequently do) it can prove easier to puncture a hole in this style of punchingbag which can cause a leak and hinder the support of the bag.
Otherwise, this could be a great choice for a punching bag for a smaller child. The bag is only 44 inches in height, but you also won't need gloves to utilize it in most cases.
If you need a fun toy punching bag to keep your child active and entertained while playing indoors, this could be a great fit. 
What we liked:
Constructed of heavy vinyl
Has a base that can be filled with water or sand for greater stability
Inflatable bag, great for indoor use, and doesn't need gloves in many cases
What we didn't:
If played with too roughly, the base can be punctured which causes the bag to lose its stability
TEKXYZ Boxing Reflex Ball
Do you live in a small space but still need fun ways to keep your child busy when they can't be outdoors? 
I totally understand! This is why this reflex ball could be such a great thing for many families. To start, it's small and takes up virtually no room. You literally attach it to your head, and you're ready to roll.
It also contains a tangle-free cord which means no frustrating messes with trying to untangle a web of string that's also attached to your head. 
This reflex ball is meant for kids eight and older, but active younger kids could certainly get a kick (punch?) out of it too. There's a novice ball included in the set. This is great for kids because it's soft, doesn't require any gloves, and is designed to not hurt if the ball snaps back and hits you in the face.
For very sensitive children, you might want to consider protective eye gear. It's not compulsory, but the ball can hit you in the face. The cord has a strong elasticity meaning it can snap back quickly.
The other warning is this ball is either going to become addictive or extremely frustrating. If your child loves it, they may not want to put it down.
What we liked:
Space-saver
Tangle-free cord
Set includes novice ball to avoid injury for beginners
What we didn't:
Might be too difficult for some children
Ringside Kids Boxing Set
Are you a boxing or fitness enthusiast? Would you like to encourage this within your child as well? 
It's never too early to buy them their own boxing set. Especially if you buy them one as cute as this. This set comes with everything they need to get started. That being boxing gloves, headgear that easily slides over their head, and a mini-punching bag which can actually be hung. Notice I said mini punching bag. 
This punching bag kit is smaller and should work fine for some toddlers. Do pay close attention to the specs to ensure you (or your child) won't be disappointed upon this set's arrival. Keep in mind, the set is designed for children ages two to five. 
The only other potential drawback to this hanging punching bag set is that the boxing gloves are well padded. This could be viewed as a positive or a negative. On the positive side, your child's hands are well protected. 
On the flipside, the padding could make it difficult for your child to get their hands into the gloves. If you need a mini-version of a boxing set, this could be exactly what you've hoped for.
What we liked:
Miniature version of a real boxing set; contains boxing gloves, headgear, and a mini-punching bag which really hangs
Comes in multiple colors
Great for toddlers
What we didn't:
Bag may be a little smaller than some customers expect
Padding could make the gloves difficult to utilize
Figolo Heavy Bag
This kid's punching bag has a fun design that's sure to catch your child's attention. It looks fun to use but is also very durable.
This hanging bag has an anti-burst design. This means it's meant to be able to withstand punching and kicking without cracking under the pressure.
There are a few drawbacks to this punching bag. To begin, it comes as an empty casing. It's up to you to fill the bag with materials you deem soft enough for your child.
This could be anything from old clothes, sheets, bedding, or sawdust. For some, this might be a positive because you determine how hard or soft the bag is and are more in control of your child's safety.
For other people, this might seem like more of a headache than a bonus. 
Your child will need to use boxing gloves when punching this bag to protect their hands. Unfortunately, those will need to be bought separately. 
If your child would like to have a punching bag that's more realistic but still has a fun factor to it, this bag could be the solution.
What we liked:
Looks like a regular punching bag but includes a fun design
Anti-burst design meant to withstand punching and kicking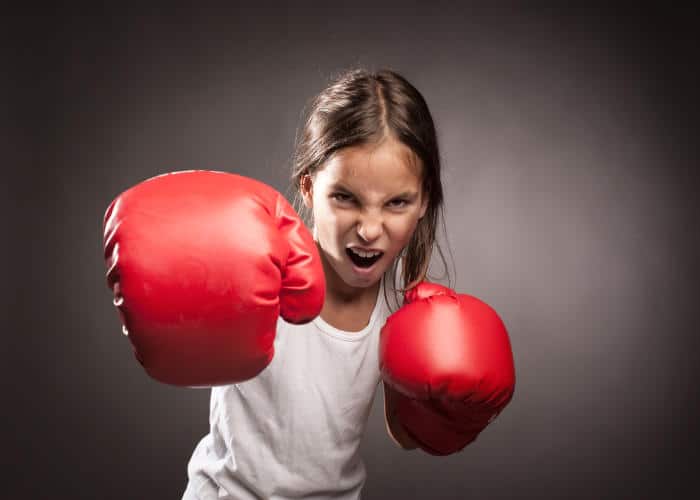 Types of Punching Bags
Freestanding Ball
A freestanding ball sits on a base with a rod coming out of the center. At the top of the rod is a punching ball.
This is a great option if you don't have a safe place to hang a bag from a ceiling. It also takes up less room. 
Freestanding Inflatable Bag
A freestanding inflatable punching bag almost resembles a toy because it's meant to be kicked, knocked back, and then stand itself upright again.
However, this could be a great choice for smaller children. It could serve as a great introduction to boxing in a simple and safe way. This type of punching bag can be hit or kicked. 
Wall or Ceiling Hung Bags
This type of punching bag is the typical style most people have seen in a gymnasium or on television. 
These bags are heavy and require a sturdy rafter for hanging. However, they're usually quite durable and can withstand heavy blows. This is another great option for punching or kicking. 
Reflex Balls
Reflex balls are the newer version of youth punching bags. They're attached to your head via a headband.
The balls are then sprung out in front of you on a cord, and the idea is to hit them while they're in front of your face. It seems more challenging than a traditional punching bag but great for improving hand-eye coordination. 
However, you will only be able to hit these balls. They're not designed for kickboxing, so keep this in mind when picking the right punching bag for your child's needs. 
The Benefits of Punching Bags for Kids
Kids punching bags have many benefits. The first benefit is that it can help relieve anxiety. It's sad to admit but kids today have more anxiety than most probably realize. By encouraging activity, it calms the mind and relieves mental pressures.
Along the same lines, it's important to teach our children while they're young to be active and healthy. This is when healthy habits are formed.
Encourage an active lifestyle by introducing fun ways for your child to exercise. Punching bags are fun, but they also boost your heart rate. Plus, kicking, punching, or practicing martial arts at home can aid in muscle strength.
Using a punching bag can help enhance your child's confidence. As they get better, faster, and develop stronger skill sets, it helps them feel better about themselves. 
Perhaps one of the biggest benefits of kids punching bags are improved hand-eye coordination. This is a vital skill that can help your child all throughout their life. 
The final benefit of a punching bag is it's a safe space for your child to blow off steam on hard days. It teaches them to channel their emotions into a positive activity instead of having outbursts of anger. 
Check the Height
Pay close attention to the specs of any punching bag before you purchase it. The reason being, children are different sizes.
If you purchase a traditional punching bag that's meant for older children, it may be too tall for your toddler and vice versa.
Kids punching bags should sit where your child can swing and hit right in front of their face. They shouldn't be punching too high or too low.
Check your child's height and compare it to the height of the punching bag. If they are similar, the bag could be a good fit. 
Got Boxing Gloves?
If you hit a hard punching bag without gloves, it'll tear the hide right off your hand. This is why it's important to use safety when introducing a punching bag to your child.
Some kids punching bags don't require gloves. The reason being, they're designed specifically for beginners and are soft enough they won't hurt your hands.
However, if the product doesn't specifically state that gloves aren't needed, use gloves. It's better to be safe than to have hurt hands.
Obviously, choosing a punching bag which comes as a set with gloves included would be easiest. If you can't find one, be sure to shop for boxing gloves that will fit your child comfortably while also protecting them.