Is your child interested in becoming the next up and coming magician? Do they follow along with magic-greats like Criss Angel?
If so, you should consider buying them their own magic kit. Allowing your child to learn a magic trick is great for building social skills, communication skills, teaching perseverance, and much more.
If you feel unsure about where to start in finding an age and skill-level appropriate magic kit, you've come to the right place. One of the following magic kits for kids should be a perfect fit for your future magician.
Best Magic Kits for Kids – Our Picks
Note: Our individual reviews are below, but you can also click any of the links above to check current prices on Amazon and other retailers
Magic Kids for Kids Reviewed
Ideal My First Magic Show
These magic kids are meant for children four and up. They comes with a DVD tutorial, 25 magic tricks, and an instruction booklet to help them learn their new tricks.
Some of the tricks included in this magic set are traveling crayon, color strips which grow during the trick, and making a ball disappear and then reappear.
Your child can even turn a black and white portrait to color. All of this sounds like a ton of fun, but there are some drawbacks to this magic set.
To begin, the quality of the materials isn't the highest and the instructions may not be clear to all new magicians. If you feel confident in your ability to help your kids figure out where the instructions are lacking, this shouldn't be an problem.
There are links inside the kit to a website where you can view more video tutorials to learn even more tricks.
What we liked:
Comes with 25 easy-to-learn tricks
Meant for ages four and up
A DVD tutorial is provided to help with learning tricks
What we didn't:
Not the highest quality of props
Heyzeibo Beginner Magic Kit and Dress Up Set
This magic set gives you the entire package. Your child can do more than learn tricks. They can now dress the part, too! We all know how children of a certain age love to dress up. If they dress like something they're more likely to pay attention and actually learn from it whilst acting the part.
So if your child likes to play dress-up, they'll love the cape, gloves, and magic hat that comes with this set. The set is meant for children five and up, so keep this in mind when thinking about how these pieces will fit your child.
These magic kits also include easy-to-follow instructions for the magic tricks, eight tricks, and twenty-four different props.
The only downside to this magic kit will depend upon your child's fine motor skills. The wand might be a little tricky for some children to work. Again, this will vary by child.
If you'd like to purchase a set that will show your child how to act like a magician, and dress like one too, then this set might be a good choice for you.
What we liked:
A complete magic kit with tricks, magic props, and costume
Meant for ages 5+
Includes a 30-day money back guarantee
What we didn't:
Wand might be difficult for some children to use
Marvins Magic Box of Tricks
Do you think your child would like a challenge when it comes to learning magic tricks? This could be your magic set.
This set includes 125 tricks! You read that right…125! If that's not mind blowing enough, you can gain access to a secret website with a provided QR code. The website will provide even more bonus tricks you can do with objects found around most households.
There is an illustrated instruction manual provided, to ensure you and your child can understand how the tricks are to be performed. The magic kit includes a mind reading canister, magic cups with balls, coin and card tricks, and a magic wand.
If there's a concern with this magic kit, it's that it might be overwhelming for some six-year olds. This will vary by child. This kit should provide tons of fun for children who are interested in learning magic.
What we liked:
Provides 125 magic tricks to children 6+
Contains an easy-to-follow illustrated manual
Access to a secret website that contains even more tricks
What we didn't:
Might be overwhelming to some 6-year olds
Melissa and Doug Deluxe Magic Set
Melissa and Doug is a well-known company among parents because of the quality of toys they provide. Plus, most are educational on some level which makes them a winning brand for many.
This is why their magic set usually catches a great deal of attention. This set provides 10 easy-to-learn tricks including: disappearing ball, magic coin box, secret silks, great escape, magic number prediction, money maker, Egyptian prediction, vanishing zone, cylinder squeeze, and the good old vanishing coin.
Sound like fun for your children? You'll also love that it comes with instructions for each trick, and the quality we've come to love with Melissa and Doug toys continues with this kit.
The pieces are sturdy and made from wood. They're also painted for added flare. The instructions are written more towards the parent than the child, this one is designed for interactive parent/child learning.
All in all one of the best quality magic kits from a trusted brand, something that you'll likely want to keep, or hand on to other parents.
What we liked:
Magic set is made for kids ages 8 and older and contains ten classic tricks
Sturdy long lasting props made from wood
What we didn't:
Parent focused instructions
Marvins 50 Greatest Card Tricks
If your child is ready for something a little more advanced than basic tricks with props, this set of card tricks could be for them.
Marvins tricks comes in a durable tin with a full set of cards and a few sets of trick cards. Put this all together, you get 50 different card tricks to learn and share with friends.
Plus, these magic kits come with a QR code that will lead to a secret website which provides videos for even more card tricks.
The magic card set is said to be for kids 8 and older. However, some of the card tricks are pretty advanced. They require a great deal of practice to master them.
For this reason, this set might be more suitable for older magicians and even adults. This is something that will vary by child.
What we liked:
Nice tin to store all the card sets provided in this magic set
50 card tricks
QR code for a website that provides video tutorials to even more tricks
What we didn't:
There are some tricky tricks in here for an 8 year old to master (some, not all of them…)
Criss Angel MINDFREAK Professional Kit
Are your kids a fan of Criss Angel? They might be really excited to know he now has his own magic set to pass on his knowledge to a younger generation.
This magic set contains over 400 tricks, some of which are featured in his Mindfreak shows. When you purchase this set, you also get access to Criss Angel's Secret Society.
In this society, your kids will receive information on how to perform 200 more tricks. So with this one kit your kids can learn 600 different magic tricks!
The props and materials aren't professional quality, I'm pretty sure Criss doesn't use these particular ones on stage, but they're good enough for a child to learn with.
What we liked:
Access to 600 tricks (400 in the set, 200 more online)
Good variety in this magic set. The tricks vary from card tricks, cup and ball, dice, and much more
What we didn't:
Instructions could be clearer in some cases
Are Magic Kits Good for Kids?
Magic kits are a great addition to your child's toy collection for many reasons.
First, performing magic tricks can help your child with their fine motor skills. When performing magic, it's important that steps be repeated in a specific order and done seamlessly for the trick to be performed accurately. Your child will practice their fine motor skills regularly while performing easy magic tricks and thus helping them improve.
Next, magic tricks can help your child develop critical thinking skills. By understanding each step of a trick, it helps them think things through.
Magic tricks can help your child develop social skills and self-confidence. When young kids learn a few tricks like learning how to do a magic card shuffle, it encourages a feeling of pride in themselves, and they want to show off what they've learned. By boosting their confidence and providing a skill that they can share with their friends, it will help them in both of these areas.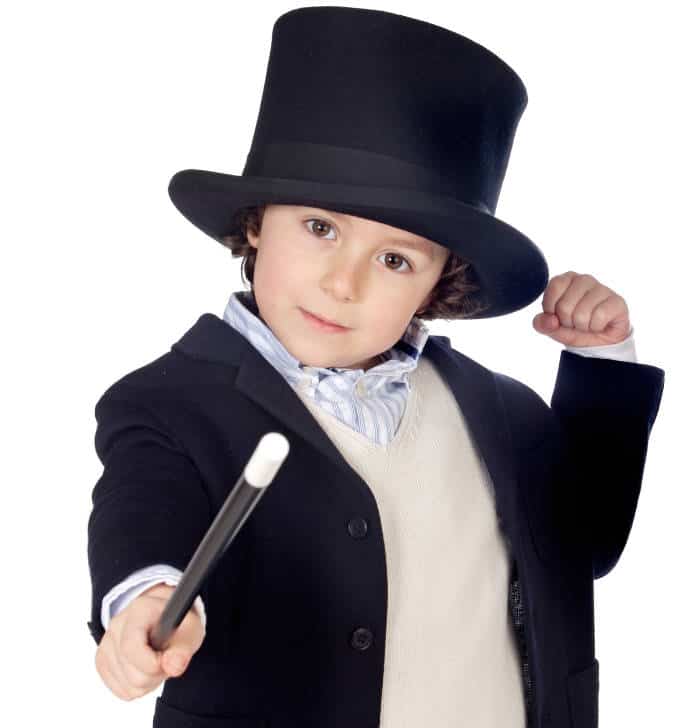 Finally, magic can help your child learn perseverance. It takes time to learn how to perform magic tricks. Your child will need to practice, but by refusing to give up, they'll learn that perseverance pays off.
What Age Can Kids Perform Magic?
Around the age of five to seven years old, your child will begin to understand that magic tricks are simply a trick from another person's perspective.
Before this age, children can still learn how to copy what they see. However, they may not fully comprehend the process. Even at this younger age, they still find magic tricks fun due to the reactions of the participants.
What Are Some of the Most Popular Kids Magic Tricks?
There are a variety of fun magic tricks kids enjoy. Some of the older tricks are actually the most popular with younger children.
If you've ever seen the rubber pencil trick or made a coin disappear, kids love these because it takes everyday objects and does something fascinating with them. Some kids enjoy card tricks, too.
This may vary by child, but starting with simple tricks that involve objects your children are familiar with, is a good place to begin this journey.
What Makes a Magic Kit for Kids?
Easy-to-Follow Instructions
The easier something is to understand, the more your children will enjoy the magic set. Therefore, look for a kit that has easy-to-follow instructions.
If you can read the instructions to your child, or if they can read the instructions and easily understand the process, they're more likely to embrace the kit.
However, if your child becomes frustrated with the instructions, it's normal for them to stray away from the activities because it seems overwhelming.
Consider the Age Range
Some magic kits for kids are far more complex than others. Pay close attention to the age range. You don't want your child to feel overwhelmed by the tricks.
Ensure you read all descriptions thoroughly. If some of the tricks seem too simple for your child, consider going up in the age range, but it's wise to start within their age range during the introductory period.
How Many Tricks are Included?
It's always a good idea to get the most bang for your buck. If you can find a magic set that includes more tricks, this is great because your child won't become bored with the set quite as quickly.
The more tricks they can learn in one set, the more likely they'll use it. If your child learns all the tricks quickly, they may want another set sooner to learn more tricks. Keep this in mind when purchasing a magic set.