Have you ever been hanging out at the beach and seen people walking about with metal detectors?
Do you wonder why they do it? One word: adventure! It's odd to think there are hidden items we walk on every day undetected.
Why not get your whole family outdoors and see what you can find together? Metal detecting is a relatively inexpensive hobby that can be enjoyed virtually anywhere.
I'm going to tell you how to find a metal detector that will grow with your child, be easy for them to maneuver, and that might help them find hidden treasures right beneath their feet.
So here's our roundup of metal detectors for kids, something that's a great fit for newbies and even those slightly older and more experienced in metal detecting.
The Best Metal Detector for Kids – Our Picks
Note: Our individual reviews are below, but you can also click any of the links above to check current prices on Amazon and other retailers
Metal Detectors for Kids Reviewed
RM RICOMAX Metal Detector for Kids
The detector has a simple, portable design that's easy for kids to maneuver. When you're ready to use the metal detector, unfold it and start searching. When you're done, fold it back up, and you're ready to go. It's also lightweight which makes using it easy.
It can detect items as far as four inches below the surface and is waterproof. This metal detector also comes with a large LCD screen to see when you're onto something beneath the ground. 
The only real drawback to this product is it runs on a nine volt battery. By itself this isn't bad, but it isn't included in your purchase.
If you're going to use this metal detector when it comes, be sure you either have a battery on hand or ensure you order one. Otherwise, you may be disappointed to have a metal detector with nothing to power it. 
This metal detector could make a great toy for your children to have hours of fun with while exploring things most wouldn't even know were there.
What we liked:
Easy to maneuver design meant just for kids
Lightweight and foldable which is great for portability 
Waterproof
Has a large LCD screen
What we didn't:
It needs a nine volt battery to work but, unfortunately, this isn't included
National Geographic Junior Metal Detector
National Geographic is a trusted brand known for helping adults and kids, alike, explore the world around them. Therefore, their metal detector is one which certainly catches many eyes because it's a brand most know and trust.
This junior metal detector is designed with a child in mind. It has a waterproof base and is height adjustable to suit children of most any build. 
It also has a padded arm rest and grip for additional comfort while using this fun tool. What sets this metal detector apart is how lightweight it is. Most any child could use it because it weighs approximately 1.5 pounds. 
As if this isn't enough, it also contains an LED light for metal detecting anytime of the day. This detector also comes with a fun learning guide to give your child background information on metal detecting and information on how to use their new metal detector. This tool is supposed to be able to find items up to six inches below the surface as well.
The major drawback with this product is that there's a Pro and a Junior version that can be easily confused. One is good and one isn't so good. So whilst it's twice the price, we'd suggest you either stay away from this or get the professional version.
What we liked:
Very lightweight, waterproof base, and padded armrest for comfort while in use
LED light for using any time of day
Adjustable height for children of most builds
Kuman Pin Pointer
Are you in the market for an extremely portable and lightweight method for your child, or children, to begin exploring the art of metal detecting?
Consider skipping a full-blown metal detector and try a pinpointer instead. A pinpointer is a smaller metal detecting tool that's easy to use and can be taken with you anywhere.
This pinpointer is great for use on land or underwater. You can partially submerge the device underwater or utilize the waterproof battery case to fully submerge it.
It also comes with an LED flashlight for metal detecting anytime of day. There are three different modes on this pinpointer. When metal is found it can make a beeping sound, only vibrate, or do both.
Perhaps the best thing about using a pinpointer is that it can be used in two ways. The first way is by placing the pinpointer in a horizontal position. This allows for broader detecting.
When you think you're onto something, turn it vertically, and it should have pinpoint accuracy to help you locate what you're searching for.
The only drawback to this product is it requires a nine volt battery to be operated, and it isn't included. This could leave customers disappointed if they purchase an item without realizing the battery isn't included and be left holding a metal detector with no way to power it upon its arrival.
Be sure to either have this type of battery on hand or to order one along with this product if you choose to purchase this item.
What we liked:
Smaller which is great for portability and easier for kids to use
Can be partially or fully waterproof depending upon the need
The entire device can be used for metal detecting; horizontally for broad detection or vertically for pinpoint accuracy
What we didn't:
Nine volt battery isn't included
Bounty Hunter BHJS Junior Metal Detector
This metal detector could be a great choice for kids because of its lightweight design. It also can be adjusted for people of different heights to use it comfortably. 
The best thing about the design of this metal detector is that it isn't overrun with complicated dials and buttons.
Instead, it only has two dials on the device. One is for adjusting the sensitivity level and the other is to adjust the discrimination level.
This will allow the detector to pick-up what you want but to avoid detecting items most wouldn't be interested in. 
Don't let the lightweight and simple design fool you. This detector can still pick-up things at a decent depth. It can locate items anywhere from five inches to three feet below the ground depending upon object size.
If all of this sounds great, be aware there is a negative to this machine. It might be a tad smaller than some would expect.
Be sure to read the specs and map it out in your mind before purchasing to avoid any disappointment for you or your kids.
Otherwise, this metal detector could be exactly what your kids need to stay active and occupied.
What we liked:
Lightweight design with adjustable height options
Simple design with only two dials which makes it easier for kids to use
Can locate items anywhere from five inches to three feet beneath the surface
What we didn't:
Might be smaller than some customers would expect
DR.ÖTEK Lightweight Metal Detector
This metal detector could be a great choice if you're new to the hobby. It has a lightweight design that makes it easy for most to maneuver.
What's great about this option is that it comes with a large LCD screen that also has backlighting which makes this a great choice for metal detecting anytime of day.
If this isn't enough, this metal detector is said to be able to find smaller objects up to ten inches underground and can locate larger objects even further.
There's also a headphone jack which allows you to listen to the beeps while detecting metal without overlapping with those who may also be metal detecting nearby.
The final benefits of this metal detector, which caught our eye, were its five modes and waterproof coil.
A waterproof coil should mean that you can detect items even underwater. The five modes which come with this detector are pinpoint, all metal, discrimination, jewelry, and memory which allows the detector to hunt for one specific type of metal. 
The downsides to this metal detector is that it may not be able to withstand all types of water. There have been reports that it fails when introduced to salt water.
Also, there have been reports that this metal detector struggles to pick up real gold. If you're buying it to find a piece of lost jewelry, be aware this could be an issue. 
Metal detecting could be a great family hobby. If you need a detector that will work for the whole family, this one might deserve your attention.
What we liked:
Large LCD screen with backlighting for easy use no matter what time of day
Can find smaller objects at 10 inches below ground and even further down for larger objects
Five modes: pinpoint, all metal, discrimination, memory, and jewelry
What we didn't:
Struggles to detect gold
Salt water could harm this detector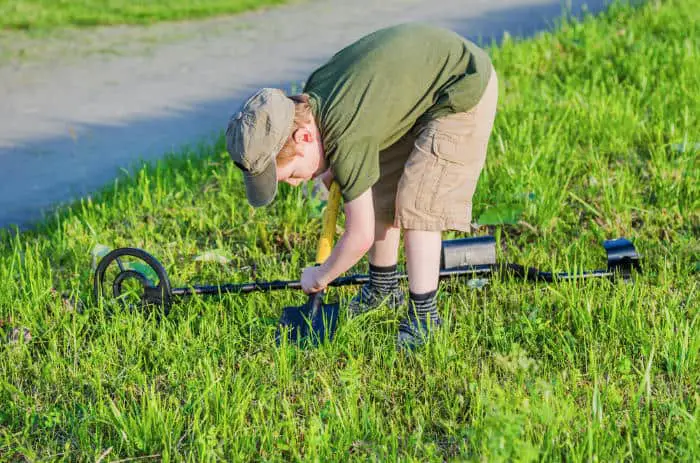 How Do I Choose the Best Metal Detector for a Child?
Weight
No one enjoys lugging around heavy items, especially when they're doing an activity that requires a lot of movement. 
Therefore, it's important to consider the weight of the metal detector you choose for your child. If it's easy for them to maneuver, they'll be more likely to utilize it. 
Detection Depth
How deep a metal detector can detect metal is one of the biggest selling points. The reason being, most people want a detector that can go as deep as possible.
The best hidden gems are usually found under years of dirt. If you have a metal detector that can pick up on these unique pieces, it could make the experience much more enjoyable for everyone involved. 
Depth Indicator
Finding a metal detector, with a large screen, which tells you not only what you're looking for but how deep the item is can be very handy when metal detecting.
This makes searching for lost items or treasures much less complicated because you'll know how far to dig to reach what your metal detector has found. 
Adjustability
People are all different. Therefore, a metal detector should not be a one-size-fits-all. Be on the lookout for a metal detector that has an adjustable handle that can be changed as your child grows. 
This will allow your child to lengthen the handle as they become taller. In the long run, it's not only  more comfortable, but also a money saver. This will allow your child to get the most use out of this tool. 
Waterproofing
Looking for buried treasure sounds like a lot of fun! However, all lost treasures aren't always placed on land.
Therefore, your metal detector should be amphibious. Try to find a metal detector that can be used in shallow water or completely submerged underwater to find items many thought were lost forever. 
Battery Life
Metal detectors are battery operated. Therefore, you want one which has a long battery life. Be mindful of this because the last thing you want is to be in the middle of an adventure and see your detector flashing low-battery. 
Detection Signals
It's important to choose a metal detector which beeps or vibrates to let you know you've found something. Without this feature, it may be easy to overlook items. 
Choose a detection device which will send signals when you've found something. Having an adjustable volume is an added bonus with this feature. 
What Will a Child's Metal Detector be Able to Find?
A child's metal detector could be a great way to find a variety of items. You can locate bottle caps, jewelry, and any other items which contain metal.
Some metal detectors even have a discrimination option which allows you to tune out items which contain aluminum so you can spend more time finding fun items and less time sorting through trash.
Whether you're looking for a lost personal item or you're interested in discovering what might be right under your feet, a child's metal detector should be able to help you. 
Where Can I Take My Kids Metal Detecting?
You can metal detect virtually anywhere. There are hidden treasures in your yard, no doubt. However, if you'd like to take your metal detector on the go, consider local parks, beaches, playgrounds, or even wooded areas.
Metal detecting is a fun activity to try when hiking or on overnight campouts. Anywhere you go, your metal detector should be able to go as well.