Full parenting disclosure: I have a difficult daughter. While I've grown to appreciate her temperament, there is one piece of parenting advice for toddlers that's always stuck with me. Ready for it? ALWAYS have bubbles available. 
Sounds crazy, right? Well, listen. How many times have you watched a kid drop everything they're doing and become mesmerized by floating bubbles when they float by? I'm willing to bet most, if not all, kids are the same in that respect. Bubbles are sensory stimulation gold! 
Bubbles are also a great way to get kids outside, moving their bodies, and away from screens which is becoming more important these days. That's why we always have some form of bubbles in our house for the difficult days when the kids need a break, a pick-me-up, or an emotional release. They're one of my best tricks for distracting bickering siblings as well. As a former therapist for teenagers in a high school, I can confidently report that they lift the moods of older "kids" too. 
Those are just some of the reasons we love bubble machines enough to provide a product round-up for some of the best on the market. We checked out manual bubble wands, bubble guns, portable machines, and even professional grade bubble machines to provide the best specs and features for you. Have a look at the top picks below!
Best Bubble Machine for Kids – Our Picks
WisToyz Bubble Machine Elephant – Best stationary bubble machine – includes solution
Sunny Days Bubble Lawn Mower – Best for keeping the bubble fun outside
WisToyz Bubble Dinosaur – A great walking, musical bubble blowing dinosaur!
Giant Bubble Wands Kit – Best for giant bubbles and older kids
Little Kids Fubbles – Best for no mess
WisToys Cat Blower Gun – Best bubble gun
TOLOCO Bubble Machine – Best for bubble machine for parties!
Note: Our individual reviews are below, but you can also click any of the links above to check current prices on Amazon and other retailers
Bubble Machine Reviews
WisToyz Bubble Machine Elephant
This cute bubble machine is designed for kids aged 2-13 years old. It's a cartoonish elephant that supplies oodles of bubbles (up to 500 bubbles a minute) with eight wands designed for optimum bubble production. 
It's portable and light enough for kids to move around. The refill process is also easy for children to operate. Simply use the provided bottle to pour bubble solution in the elephant's mouth. When you're done blowing bubbles, dump the excess and clean the wands with water or a water/vinegar mix. 
The WisToyz bubble machine is our pick as the best overall bubble machine for kids because it features a simple on/off switch that even toddlers can figure out. Plus, it has a high bubble output and a battery compartment that requires a screwdriver to remove the cover, which is a great safety feature for any kids' toy. WisToyz actually provides a small screwdriver with the toy for easy battery changes which requires two AA batteries.
What we liked:
Cute eye-catching design
Simple refill; pour the solution in the mouth
Bottle and screwdriver included with toy 
Up to 500 bubbles a minute 
Battery operated bubble machine
Portable and easy for kids to carry
What we didn't:
We didn't find any. This could be a solid choice!
Sunny Days Bubble Lawn Mower
Bubble makers that resemble lawn mowers have been a hit in our house. These are great choices for kids on the go as they receive stimulation and reinforcement for activity. Plus, they get to "mow" like mom or dad with realistic sound effects and imaginative play. This one is powered by the power from pushing, so no batteries are required! 
Refills are fairly easy but may require some parental help as the solution goes in the hole for the imaginary gas tank and small children may struggle with pouring. This is fairly realistic, but may complicate cleaning should the need arise. This toy also comes with a 4oz bottle of bubble solution.
What we liked:
Realistic toy for great imaginary play 
Fun lawn mower sounds 
Reinforces active play 
Doesn't require batteries 
Comes with bubble solution
What we didn't:
Some kids might get frustrated that it doesn't continually blow bubbles 
Pouring requires a steadier hand
WisToyz Bubble Dinosaur
If there is a Cadillac version of a bubble machine, this is probably it. Not only does it play to the dinosaur fad that's been growing for a few years, it lights up, plays music, rolls around, and of course blows bubbles. As an added feature, you can turn off the rolling feature by covering the wheels with the included case. 
Refills are simple. Pour the bubble solution into the dinosaur's mouth and flip the on/off switch. For added music and lights, there is another button on the dinosaur's head. This toy requires three AA batteries which need a screwdriver for installation. A small screwdriver is included with purchase, as well as two bottles of bubble solution. 
Overall, this dinosaur has a large capacity reservoir for maximum bubbles and could be a great choice for a fun, portable bubble machine that appeals to kids ages 3+.
What we liked:
Versatile and entertaining with rolling, music, and lights 
Portable 
Cute dinosaur design 
Rolling feature can be turned off 
Screwdriver and solution included 
Large capacity
Giant Bubble Wands Kit
This toy advertises that it's fun for kids of all ages, which is true, but it might be better suited for older children or best used with parental assistance. It's a manual bubble kit that features a "double wand" design for making the biggest bubbles you've ever seen. While the spinning wands are light, their size requires a bit of technique and that's why it might be better for older kids. The set is durable, reusable, and sure to delight. 
This set also includes two packages of bubble solution concentrate which makes hundreds of bubbles. Additionally, the bubble solution is made in the USA and meets all safety standards. The brand, WOWmazing is also philanthropic as they donate a portion of their proceeds to Autism Awareness.
What we liked:
Reusable wand that doesn't require batteries
Makes giant bubbles
Comes with two packs of solution concentrate 
Great choice for sensory stimulation and getting kids active outside 
A portion of the proceeds go to Autism Awareness 
Made in the USA
Effortless to add bubble solution to bubble reservoir
What we didn't:
It wouldn't be the best choice for toddlers as it's better suited for preschool and up.
Little Kids Fubbles
This is another manual bubble wand set that is great for all ages, even toddlers. The appeal of this set is its no-spill design. (Anyone with kids knows that the most frustrating part of blowing bubbles is when they want you to hand over the solution and they immediately spill it.) It comes in an assortment of colors and is small enough to carry around the yard with ease. 
The Little Kids Fubbles come with 4oz of non-toxic bubble solution, but state that any bubble solution will work when it's time to refill. Additionally, their solution has been safety tested and meets all of the federal and state guidelines. Overall, the ease of use and spill proof design makes this a great choice for rambunctious kiddos with clumsy hands.
What we liked:
Comes with the wand, wand holder, and bubble solution
No-spill design
Small enough for kids to carry around
Can use with any bubble solution
Several color choices
What we didn't:
We didn't run across any cons for this set.
WisToys Cat Blower Gun
This bubble maker gun is a great option for handheld bubble machine fun, even for kids as young as 3. It's lightweight and uses a simple on/off switch that looks like the cat's tail. The cute kitty cat design is also appealing for small children with it's cartoonish appearance and bright colors. 
The solution simply screws into the bottom of the gun where it's pumped up to five rotating bubble wands for optimum bubbles. The gun is made with a leak proof funnel lip for mess-free play on the go. However, it is also designed to sit upright on a flat surface too. As far as power, this blower gun requires three AA batteries. 
What we liked:
Portable bubble fun
Easy for kids to carry 
Simple on/off switch
Cute cat design 
Leak proof 
Can be carried or set on flat surface
What we didn't:
Might be a challenge for younger kids to keep this gun horizontal for the best bubbles
TOLOCO Bubble Machine
If you're in the market for a professional-grade automatic bubble machine, the TOLOCO Bubble Machine could check that box for you as it boasts about 3000 bubbles per minute. Its compact size and handle for carrying makes it a portable choice for the park, birthday parties, or even weddings. 
As an added bonus, this bubble machine can be powered by a plugin or four AA batteries. It's easy to operate with a simple knob that turns it on/off and features two rotation speeds. The spinning component features 8 bubble wands above an easy-to-fill bubble solution reservoir. To clean, simply dump the leftover solution and wipe it clean. 
What we liked:
3000 bubbles per minute
Portable
Simple operation
Easy to clean
Very stable
USB power
What we didn't:
Build quality reflects price
The different types of bubble machine
Wands
Obviously, this isn't necessarily a bubble machine, but there are some impressive bubble wands and sets on the market these days. They surpass the plain old wands from our childhoods and make a variety of bubbles. From lots of tiny bubbles, to giant bubbles, the simplicity of bubble wands and nets is appealing for kids of all ages. 
Bubble Guns
These are automatic bubble blowers that fit in the palm of your hand. While they may not always be guns exactly, they all work the same. You pull a trigger or push a button and a fan blows bubbles from the machine. Kids love bubble blowers they can carry around the yard or shoot bubbles at their friends. Plus, you can have your pick of tiny bubble pistols, leaf blower bubbles, or bubble lawn mowers. 
Automatic Bubble Machines 
These are usually bigger and put out more bubbles for longer. Often they're fun cartoonish shapes and are designed to be sedentary while they fill the space with bubbles. Most are easy to refill with bubble solution that goes into a tray or opening at the top and take regular AA or AAA batteries (usually). 
Professional Bubble Machines 
These are high power, high output bubble machines designed to last through wedding receptions, concerts, and proms. They're pretty heavyweight and usually require power from an outlet, however they offer optimum bubbles for optimum fun. 
Can you make your own bubble solution?
Yes! And making your own could be a great activity for you and the little ones to do together. It introduces them to a bit of chemistry, allows them to practice pouring, and you can replace all the bubble solution they've inadvertently spilled during play. 
Most recipes call for water, dish soap, and either glycerin or corn syrup. So, most pantries are already stocked with everything you need. 
Is bubble solution safe?
Commercially made bubble solution has the propensity to stain as one of the ingredients is a type of oil. The stains are generally easy to remove though, with a general degreasing agent. 
Commercial bubbles are of little to no risk if your little on accidentally ingests some. Most of the time they take a sip and realize it tastes awful anyway. Of course, if you make your own, you can make sure the ingredients you use are nontoxic. As always, if you're concerned about ingestion of bubble solution, call Poison Control for professional advice. (1-800-222-1222)
Things to look for
Age recommendations on the unit
The main reason age recommendations are important for a toy like a bubble machine is the complexity of its on/off switch. You'll want to be sure it's easy enough to operate for young kids. Safety is also important. The best bubble machines marketed for kids are low risk, but check the weight and the security of the battery compartment before handing it over to the little ones.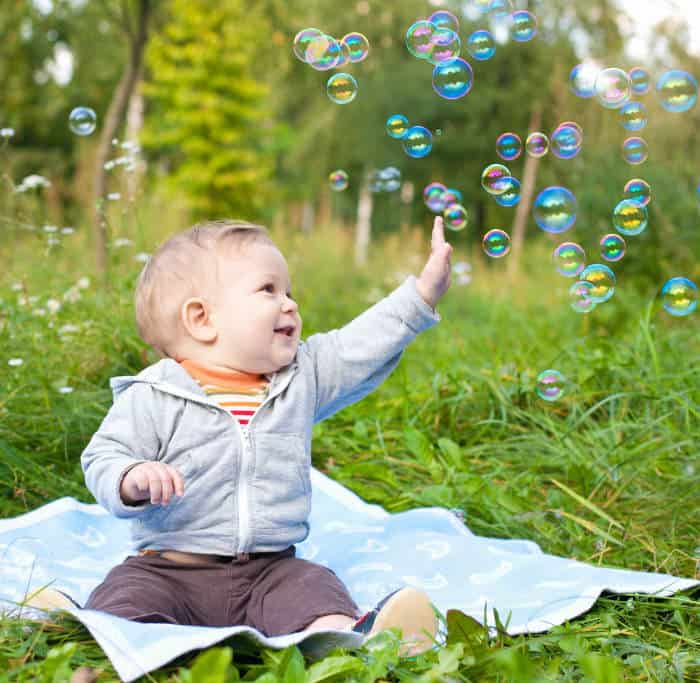 How many bubbles does it make?
Judge the quantity of bubbles by looking at the wand component and the amount of solution it can hold. Does it feature several circles or shapes? Or does it have a few larger shapes for bigger bubbles? Obviously, the automatic bubble machines and professional machines are going to give you more output vs. handheld bubble blowers or wands. 
How much solution will it carry?
This will decide how much you need to refill a bubble blowing machine during play. If it only holds a small amount of solution, prepare yourself for refilling it over and over because bubble solution runs out quickly. A bigger tray or holding compartment equals less running around for the parents. 
Is it portable?
Traditional bubbles and wands are fairly portable. However, the bigger wands that make giant bubbles are probably less convenient to tote around. Bubble guns are also decent for carrying. 
Automatic bubble machines designed for kids are usually easy to carry but might require parental assistance. Most of the time, a power source isn't an issue with those as they take batteries. However, professional bubble machines tend to be heavier and require an outlet for power. 
How do you clean a bubble machine?
For toddlers, an old fashioned bubble wand that you dip in solution is usually best. To clean that setup, simply rinse the wand and tray (if you have one) after use, so it's ready to go next time your child picks it up. 
Automatic bubble guns only need a rinse on the wand components and they're good for toddlers for that reason. However, if the bubble solution requires screwing a bottle into the gun, you might need to offer some assistance for little hands. 
Most bubble machines for kids are fairly low tech with a solution you need to pour into a holding cell and the wand/fan blows the bubbles. While the buttons that control the machine are easy, parental assistance is likely useful for filling with solution. Additionally, parents should probably be in charge of dumping and cleaning the machine. You can use water or a combination of water and white vinegar for a thorough clean. 
Professional bubble machines definitely require adult care. In order to clean those, you generally need to dismantle at least some part of the machine, empty the reservoir, and clean with a mixture of  water and vinegar or baking soda. You want something gentle that will effectively remove soap and oil that can lead to clogging. 
***Each bubble machine may have their own manufacturer's recommendation for how to clean it. Be sure to read the instructions carefully if you purchase an automatic bubble machine.