No day at the pool is complete without some cool toys to toss in the water. Sharks, fish, and water guns are always timeless staples. But we often include mermaids in the mix and rightfully so. Little kids love mermaids! That's why there's always a crowd at the aquarium when the mermaid shows start. Kids love to imagine they're real and what it would be like to swim with fish while doing weightless backflips through the waves. 
You can find mermaid clothes, hair clips, shoes, sippy cups, etc. But there's also an entire market of bathtub and pool toys that are just as much fun and are dedicated to our "mer-friends!" That's why we decided to round up some of the best mermaid toys like mermaid dolls. Have a look at our top picks below before you plan your next pool day. 
Swimming Mermaid Toys – Our Top Picks
Note: Our individual reviews are below, but you can also click any of the links above to check current prices on Amazon and other retailers
Why kids love mermaids!
There's something magical and mystic about mermaids that tends to capture the hearts of little ones. Maybe they saw princess Ariel in The Little Mermaid or one of the other hundreds of television shows or movies depicting "merpeople" that live in a sprawling underwater civilization. Or maybe it's the mere possibility that mermaids swim in the depths of the ocean that we haven't explored yet. 
Fairy tales and folklore paint mermaids as beautiful sirens, collectors of shiny things, and best friends of dolphins. It's no wonder little kids become enthralled with ariel's tail and long, flowing hair. Playing mermaids is the ultimate role playing game and a perfect creative outlet.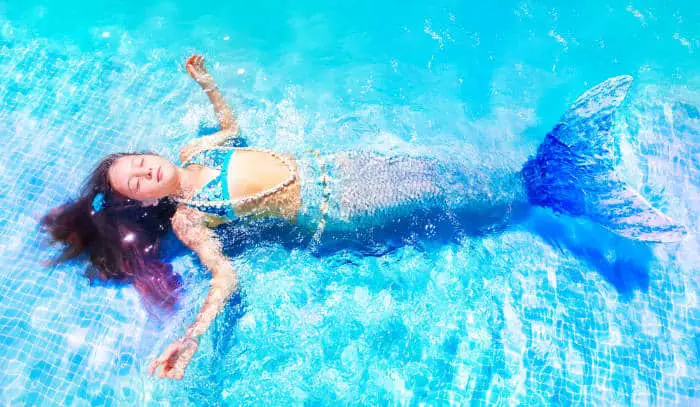 Swimming Mermaid Toy Reviews
Munchkin Mermaid Swimming Bath Toy
For the youngest fairytale enthusiasts, this mermaid bath toy with a "swimming" tail is a great option for pretend play during bathtime. This mermaid doll comes in bright, wonderful colors and a bold design that is perfect for babies 18+ months. Plus, it's simple for little ones to operate with the crown acting as a tether to pull the mermaid through the water which makes her tail move as if she were swimming. 
This swimming mermaids doll has a simple design and is perfect for developing motor skills and enhancing hand-eye coordination. They also learn patterns and reactions by studying the way their motions cause movements from the doll. This bath toy is also great because it doesn't appear to hold water. When it's time to clean, simply wash with warm soapy water and let air dry. No worrying about mold or mildew developing inside! 
What we liked:
Simple design for toddlers 
Pull the crown to initiate swimming motion 
Bright eye-catching colors 
Teaches patterns and reaction 
Easy cleaning with warm soapy water
What we didn't:
We didn't find any. This is a good toy for the recommended ages. 
Barbie Doll Mermaid
For kiddos that want the full mermaid experience with the long, flowing hair and shiny tails, this Barbie mermaid is perfect for the pool, bathtub, or on dry land. This Barbie swimming mermaids toy is even more enchanting with the light show that appears on her tail when she's dipped into the water. You can also enjoy her shimmering scales without water by pushing the jewel on her necklace. 
Kids will love the colorful streaks in her hair, her pink tiara, and fancy pearl belt that completes the mermaid ensemble. Barbie's are classic toys and most people know what to expect when they purchase one, a poseable doll with great fashion.
What we liked:
Looks like a "real" mermaid
Detailed outfit and tail 
Light up tail fin 
Lights can be used in and out of water
Long, flowing hair
What we didn't:
The tail is waterproof, but it appears the battery compartment on her back is not
Liberty Imports Wind Up Tail Mermaids
If you're looking for an entirely waterproof and self-propelled mermaid experience, these little wind up toys could be perfect for bathtime or in the pool. They feature moveable arms and a flapping tail that allows your mermaids to swim all around. 
These swimming mermaid toys also come in multipacks which feature a variety of hair color and skin tones. This coupled with the recommended age range of 3+, also makes it a great option for prize packs and birthday goody bags. Overall, these are affordable toys that are fun, but won't hurt your feelings if they're lost or run out of steam after constant play in the pool or tub. 
What we liked:
Comes with 6 mermaids
Moveable arms 
Flapping tail that moves after winding toy 
Self-propelled tail that gives the appearance of swimming 
Affordable pool toy 
Great for prize packs and goody bags at parties 
Variety of colors and skin tones
What we didn't:
These are on the cheaper side and likely aren't as durable as other mermaid toys
Paw Patrol Paddlin Pups Skye
For a more durable swim toy, you might like Paw Patrol's Skye mermaid toy. She's another wind up toy that's safe for water in the pool or tub. This toy, however, doesn't just give the appearance of swimming. She can actually swim right alongside your kiddo, providing fun and encouragement in the pool. This is a great option for kids ages 4+. 
What we liked:
Wind up toy with moving tail 
Swims in pool or tub
Fun Paw Patrol character 
Durable for playing in water
Funstuff Dive Mermaids
These swimming mermaid toys are great for bathtubs or for the pool (if your child is a competent swimmer). They float to the bottom and make for a fun diving game. This encourages swimming skills and interaction between kids as they can make it a contest to scoop up the mermaids on the bottom. 
These come in a pack of 3 and this particular set offers 2 packs of the mermaids. Meaning, you'll have plenty of mermaids to toss into the water and dive after. They stand at 5 inches tall and are brightly colored for easy detection in the water. 
What we liked:
Great mermaid for older kids 
Encourages swimming and diving skills 
Encourages interactive play and healthy competition 
Brightly colored for easy detection in the pool 
Great in the bathtub for kiddos that can't swim yet
What we didn't:
None! These are great little diving toys.
Bloopies Mermaids
Geared toward ages 18+ months, this toy is more of a babydoll than a swimming mermaid. Its hard plastic exterior is bright and features a tail, shell bikini, and fish tiara atop the crown of a pink-haired mermaid that can squirt water and blow bubbles from her mouth. Just add soap for bubbles. The included "sea friend" also squirts water. For added flair during bath time, this little mermaid's tail also changes colors in hot or cold water. 
What we liked:
10 inches long and perfect for little hands to hold 
Plastic exterior that's easy to clean 
Fun mermaid details that change colors in hot and cold water 
Squirts water and blows bubbles 
Includes sea creature friend that also squirts water
What we didn't:
Bathtub toys that squirt water tend to accumulate mold. Clean with white vinegar occasionally to keep the toy safe and sanitary for little ones.