An in-depth guide to help you get started with keeping your baby's freshly sprouted pearly whites, well, pearly white. 
So you've got a baby who has sprouted her first teeth. Or maybe she's teething and any day now, her first tooth will cut through her gums. Or maybe she's still only a few weeks old but you just want to get ahead of the game and do some research. Whatever the case may be, a congratulations is in order. You know, for those new teeth, or future new teeth. 
If you're a parent, you'll know how much your baby's teeth consume you. They seem to always be teething, and that can knock the socks off of your very well-established routines. They can go on hunger strikes, sleeping strikes, or just be plain miserable. Poor babies. Both you and your child; because we know what it looks like, and it ain't pretty. Teething is hard. And as parents you do so much to relieve some very real pain.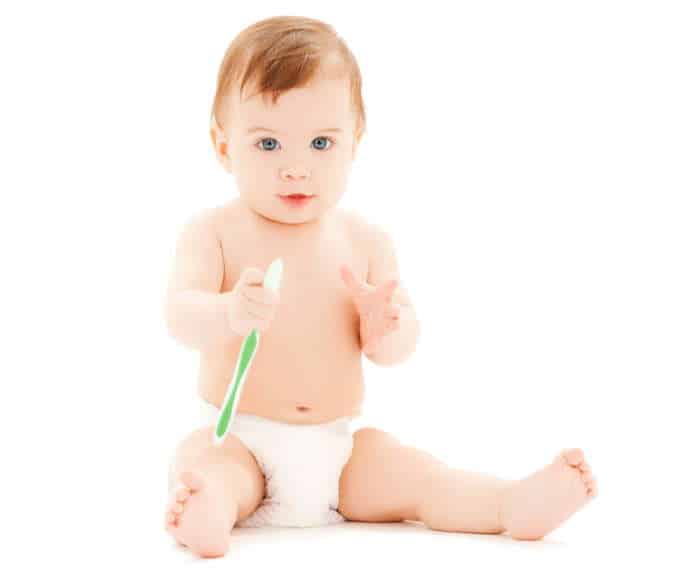 But then, miraculously, your baby wakes up one morning and is back to her happy, pain-free self. And upon closer inspection, you notice the tiniest sliver of a tooth erupting from her gums. She's cut her first tooth!
Cue the excitement. And maybe even panic. Do you need a baby toothbrush? What kind of toothbrush? How are you going to clean and maintain her tooth? Do you have to worry about cavities? Oh god, fluoride or no fluoride? Did the hospital ever give you a pamphlet on this stuff?
Taking care of your baby's mouth and establishing good oral health habits is very important, but it doesn't have to be so intimidating. Babies need their mouths washed out frequently and thoroughly, whether they have teeth or not. And once they do, it's important you introduce teeth or tooth brushing to them so they quickly fall into a routine that includes brushing at least twice a day.
If you don't know where to begin, here's a great place. We've covered toothpastes, when to begin brushing, and how to brush your child's teeth.
And if you're not sure which baby toothbrush would be best suited for your little one's precious pearly whites, don't sweat it. We've listed our favorite baby toothbrushes for babies and toddlers. 
The Best Baby Toothbrush – Our picks!
Note: Our individual reviews are below, but you can also click any of the links above to check current prices on Amazon and other retailers
Baby Toothbrush Reviews
Best Baby Toothbrush Overall – Jordan Step 1
Jordan is a Scandinavian brand that has created a toothbrush specially designed for baby's first teeth. The wide ergonomic-shaped handle offers an easy grip for both parents and babies.
The short neck and the wide ring helps to prevent choking.
This toothbrush also doubles as a teething ring; the wide base is safe for little mouths and can soothe sore and teething gums. 
Amazon sells this Jordan Step 1 Baby Toothbrush in a pack of four – all unique in color. It features super soft bristles for growing teeth gums and is completely BPA free. 
The toothbrush even comes with a small amount of colored bristles to indicate how much toothpaste should be used. 
What we liked:
Has an easy-to-grip handle
Short-neck and wide handle both work to help prevent choking
Handle can be used as a teether
Indicates how much toothpaste should be used by amount of colored bristles
Comes in four different colors
Non-toxic material; BPA free
Great price point
Bristles hold up to chewing babies
What we didn't:
Some parents have reported the bristles are a bit too hard for very young babies
Baby Banana Brush
If you're looking for a cute toothbrush, look no further. This one makes us squeal with glee; it really is over-the-top cute. And it doesn't just come in a fun banana shape, but several other enticing colors and shapes including corn, a dolphin, an octopus, and a unicorn.
This first toothbrush gently massages your child's teeth and gums with its soft silicone bristles. This can be used as early as 3 months of age and up to 12 months. The easy-to-grip handles are designed as banana peels and made of 100% flexible, food-grade silicone in order to prevent injuries. It is also BPA, latex, and phthalate free.
The great thing about this toothbrush is that it is both dishwasher and freezer friendly. The former makes cleaning and sanitation a breeze, and the latter turns the toothbrush into a great teether for sore gums.
If you're looking for a toothbrush that is safe and attractive, and one that your child will love, the baby banana brush is a great option.
What we liked:
Develops good oral health habits from a very early age
Has soft silicone bristles to help gently massage teeth and gums
Attractive banana peel handles make an easy-to-grip handle
Can be used as early as 3 months
Comes in a variety of colors and styles
Dishwasher and freezer friendly
100% food grade silicone
BPA, latex, and phthalate free
What we didn't:
People have reported the bristles can often easily come off
May need to be replaced more often than other options
Baby Finger Toothbrush by BabyBaus
The BabyBaus finger toothbrush comes in a set of 3 toothbrushes which are individually enclosed in three different-colored cases. This is a finger toothbrush that can be used for your child early on, whether they have teeth or not. Simply wear the toothbrush on your finger, and gently massage and brush away. 
Made from 100% FDA-approved food grade material, this baby toothbrush is completely safe to use for even the tiniest human. These BabyBaus toothbrushes are free from toxins and BPA and use premium silicone material. 
The bristles on this are designed to be soft, but resilient in order to provide your child with a gentle massage. The dual-sided design allows you to brush your baby's teeth and clean the tongue with the bumpy, massaging ridges on the other side. This conforms comfortably around your finger for a secure fit and is easy to clean. 
The three-pack of brushes come in the colors clear, blue, and pink. You can let your baby choose which one she's like to use and you'll be sure to even have a spare. The case makes these toothbrushes ideal for travel and protects from bacteria. 
Added bonus: if you've got a pet at home, you can use one of these toothbrushes for him/her like many pet owners do!
What we liked:
Made from food-grade silicone material
Free from toxins and BPA
Comes in a colorful pack of three
Includes individual cases for travel and cleanliness
Dual-sided design allows you to clean your baby's tongue, teeth and gums
Can be a great way to introduce teeth brushing for to those children who might feel intimidated by or scared of a traditional toothbrush
Easy to clean
Budget friendly
What we didn't:
Might not fit bigger fingers
Some parents have reported the toothbrush can be difficult to remove as it wraps around the finger too snuggly
BabySonic Infant and Toddler Electric Toothbrush
Does your baby really need an electric toothbrush? Will the vibration be too harsh for your little one's teeth and gums?
Electric toothbrushes can be a great way to get your child excited for cleaning teeth and making it a part of their daily routine. Especially if your little one likes to run around the house with your $200 Sonicare Toothbrush like mine does.
Although the BabySonic Infant and Toddler Toothbrush is an electric one, it provides a gentle vibration and includes sensitive brush heads. The vibration helps to soothe sore gums and in combination with the bristles, removes harmful bacteria and reduces plaque much better than manual brushing.
Little teeth are very prone to enamel deterioration and cavities, so sometimes it's worth adding a toothbrush that will aid in thorough cleansing.
The toothbrush head lights up in fun colors and acts as a 2-minute timer. When the light goes off, your child will know it is time to stop. This fun timer helps teach your child good habits instead for the future; many older children still struggle to brush their teeth for more than a few seconds.
The BabySonic comes with a replaceable brush head that can be used for babies 0-18 months while the toddler brush head can be used from 18-36 months. The toothbrush is waterproof and has a suction base which allows it to stand upright when not in use.
Though this costs more than other best baby toothbrushes on our list, it is an electric toothbrush after all. And even then, it is still quite reasonably priced.
What we liked:
Has LED light-up brush head
Lights work as a 2-minute timer to help your child know how long she should brush her teeth
The vibrations are gentle enough for even sensitive mouths
Comes with two brush heads: one for babies and another for toddlers
Waterproof
Grows with your child; only brush heads need to be replaced and not the entire toothbrush
Comes in three different colors
Even though it is electric, it only requires 1 AAA battery
What we didn't:
Costs more than many other baby toothbrushes
Requires batteries
People have reported that the bristles are not durable
Brilliant Baby Toothbrush by Baby Buddy
Designed for babies between 4-24 months, this baby toothbrush has a 360-degree design with super-fine micro bristles that are soft and round-tipped. This allows for proper cleaning of the teeth without having to twist and turn small wrists. The innovative bristles all around the brush head claim to remove plaque and food particles much better than other competitive baby toothbrushes.
The bristles are what sets this baby toothbrush apart from the others. In fact, there are 10 times more bristles in the Brilliant Baby Toothbrush by Baby Buddy than the average toothbrush. There are over 10,000 microfiber bristles on this.
This baby toothbrush is part of the Brilliant Oral Care System – a program which guides parents with dental products that will grow with your child from birth and establish good oral health routines. 
You can purchase this baby toothbrush in different colors including blue, green, and yellow. It can also be purchased in a pack of 3. 
What we liked:
Has innovative 360-degree design that hits more teeth while brushing
10 times more bristles means more plaque and food particles will be removed
Designed to dry quicker than most toothbrushes
Comes in different colors
What we didn't:
Short neck and narrow base might not be effective against choking
Somewhat pricey for a single, manual toothbrush
Is more prone to collecting dust
Dr. Brown's Infant-to-Toddler Toothbrush
Dr. Brown is a baby/child product company many parents are familiar with. From pacifiers to teethers, baby bottles to sippy cups, Dr. Brown carries many essentials for your baby. The company has also made a toothbrush and baby toothpaste. 
This first-for-baby toothbrush is soft and safe for even the smallest little buds of pearly white. The body is flexible and is gentle on gums – especially important if your child is a biter. This baby toothbrush features a easy-to-grip, comfortable handle whether you hold it or your baby does. 
You can purchase this elephant-shaped toothbrush in either blue or pink. This baby toothbrush comes with a tube of Dr. Brown's fluoride-free, apple/pear flavored toddler toothpaste which is safe for your little one to swallow. 

What we liked:
Can be used as soon as teeth come out
Flexible body is safe and gentle on gums if baby bites down on it
Has an easy-to-grip handle
Fun, elephant-shaped toothbrush to get your child excited about brushing 
Comes with a tube of toothpaste
Great size for little hands
What we didn't:
Doesn't come in a large variety of colors or styles
People have complained the bristles are too sharp
Some parents have reported the bristles fall out
When should you start using a baby toothbrush?
You wake up one morning and your baby's gummy smile isn't all gummy anymore. You notice a small white speck poking through those gums. This is a big day – your baby's got her very first tooth. And what better way to celebrate than bringing out a brand new baby toothbrush. Before you even ask, no, it isn't too early.
Brushing your baby's teeth can begin as soon as you see those very first specks of white. Many parents use damp washcloths or finger brushes to clean their child's toothless smile, but you can upgrade to a small, soft baby toothbrush once your baby has teeth. To help ease your baby into a routine that includes brushing teeth, slowly begin with once a day and continue to use washcloths/finger brushes to gently wipe teeth, gums, and tongue after each meal. 
I recommend that parents begin to brush their children's teeth as soon as the very first tooth erupts. Although there might not be a great chance of a cavity because the saliva cleanses that lone standing tooth, we still want to get that bacteria off it so you don't see any early demineralization or breakdown of that enamel.

Kevin Donly, president of the American Academy of Pediatric Dentistry.
Most babies get their first tooth around the 6-month mark although it widely varies from baby-to-baby. If you're a parent of multiples, you know that even siblings can be so different – there might be even several months of difference in when your children cut their first tooth. 
When you start brushing early it can establish a good dental routine for the future. Don't worry if you miss a few nights of brushing in the beginning – exposure is what you're really aiming for. Enough exposure will eventually lead to your child brushing twice a day, willingly. 
Types of baby brushes and their uses
There are several different types of brushes you can use to keep your baby's teeth clean. And quite frankly, it can be overwhelming to choose one. 
"Does my baby need a mini version of my ultrasonic electric toothbrush?" "What type of bristles work best for small teeth?"
Very valid questions. You can choose the toothbrush that fits with your style and will encourage your child to brush their teeth on a regular basis. 
Silicone toothbrush
Silicone baby toothbrushes are made of, well, silicone. This is a safe and soft option for the early stages of oral development. The soft silicone bristles help massage and cleanse a baby's gums and teeth without being harsh or damaging. Smaller babies will also inevitably bite down on their toothbrushes. The silicone bristles are great for this as they won't get damaged or break like most traditional toothbrushes. 
Many silicone toothbrushes also come with a safety shield for added protection and to help prevent choking. 
Finger toothbrush
Finger brushes are a great option for smaller babies. These brushes are worn by the caretaker on a finger and then placed in the baby's mouth for cleaning/brushing. Some have textured bumps on them for simple massaging while others look a bit more like traditional toothbrushes for a more thorough clean. Finger toothbrushes can be used well before your child cuts their first tooth – you can massage and clean little gums with it and also help relieve sore gums.
Soft-bristled toothbrush
These baby toothbrushes are the ones that can be most commonly found. They're the small versions of average, manual toothbrushes that come with long handles. For an adult toothbrush, it can come in three different types of bristles: soft, medium, or hard. But if you're purchasing one for your baby's new and growing teeth, you'll be looking for the soft-bristles.
360-degree
360-degree baby toothbrushes are just like what you're probably imagining in your head right now. At the end of the handle is entirely encircled by hundreds, if not thousands, of soft bristles. This helps ensure that all surfaces of your child's teeth are cleaned
Sonic toothbrush
Sonic baby toothbrushes are electric and can be a great way to encourage children to brush their teeth for the entire 2-minute duration due to the built-in timers. They also give off soft pulsating vibrations to increase plaque and bacteria removal. Some are even designed with colorful lights that go off while brushing – to make teeth brushing a more fun and enjoyable experience. 
How to brush baby teeth
You want to start the lifelong journey of brushing teeth on the right track. You don't want your little one to hate brushing and think of it as a chore. Instead, try to make brushing a fun and comfortable experience. 
Begin by washing out your baby's mouth with a wet, damp washcloth before brushing. If you've got an infant at home, try leaning her back against your chest and secure her with one hand. With the other hand, use your baby's toothbrush of your choice (preferably a finger brush if he/she has no teeth) to massage, clean, and brush. 
Older babies/toddlers usually show more independence and will probably want to try brushing themselves. Instead of discouraging your child's freedom, let him have a go. Usually children are more likely to welcome the act of brushing their teeth when they're somewhat in control. Just be sure to follow up and thoroughly clean your child's teeth with a baby brush or a finger brush. 
Make sure you move the toothbrush in a circular motion to clean all the surfaces of your baby's teeth. Always be gentle – baby's gums are very sensitive, even without any signs of teething. If your child doesn't initially welcome the idea of a toothbrush, maybe continue to use a washcloth to clean and slowly try to re-introduce a toothbrush.
Which type of toothpaste do you need?
In the past it was recommended that babies under the age of 2 strictly use non-fluoride containing toothpaste. Fluoride is a mineral that naturally can be found in water, soil, and air. Almost all drinking water contains fluoride – the amount of fluoride varies depending on location. In America, additional fluoride is added to many public water supplies. 
Most toothpastes also contain fluoride in order to help prevent cavities, strengthen enamel, reverse tooth decay, and minimize oral bacteria. But many people fear that because children are prone to swallow toothpaste, fluoride-containing toothpaste can be dangerous. 
The American Dental Association, however, still recommends using a fluoride toothpaste for children – and no need to wait until your child turns 2. Keep in mind though, that you use fluoride toothpaste safely. That means, only add a small smear of toothpaste to your child's toothbrush if he/she is younger than 2. That's the size of a grain of rice. Even if your baby does swallow a bit of toothpaste, that minimal amount shouldn't cause any real dangers. Children 3-6 can begin using a pea-sized amount of toothpaste. 
The traditional mint toothpastes might not be so attractive to children. That's why there are many flavored toothpastes on the market. From strawberry to mango, there's something your child will surely like.
And if you're still worried about the potential dangers of fluoride, there are many fluoride-free toothpastes available on the market. Make sure to combine that with frequent dental visits and a consistent brushing routine at home. 
How to make brushing a fun experience
Even after giving your child freedom to brush his own teeth, there might be many times when he simply won't want to do it. You might very well even have a child who absolutely abhors brush time altogether. 
Here are some things you can do to make teeth brushing a fun part of you and your child's daily routine:
Add some fun tunes: Playing a song can really get your child to brush for the entire duration. Select a song that lasts for two minutes and challenge your little one to brush until the song stops. Elmo's teeth brushing song is a personal favorite in our own household and often helps turn my reluctant son into a dancing, singing, brushing machine. 
Use a fun toothbrush: If you're child is really into characters, maybe get him a toothbrush with his/her favorite cartoon/fictional character. Oftentimes, the characters your child sees on screen can be more convincing than you and can get them excited to brush their teeth. 
Be a role model: Our children learn best by seeing what we do, not by being told what to do. And that's very true with brushing teeth. Try to brush your teeth both morning and night in front of your child. Curiosity alone can be enough to get her to want to join in. Maybe you can even create a routine together – you, your partner, and your child can create memories while taking care of those pearly whites, together.
Give your child a chance to get familiar with the toothbrush: Before even getting your little one to put a toothbrush to her teeth, let her explore it; touch it, hold it, and play. This will increase an interest and allow her to brush teeth when she's the most comfortable.