Are you looking for a new bath mat to make bathtime safer for your kids? It can feel overwhelming when scrolling through all the options. 
You must decide if you want a chemical-free mat, one with a fun design, or one that's with a textured surface and strong suction feet to be non-slip for baby.
Yet, they all must stick to your tub (unless you're using a baby tub). Don't forget to try to find one that's easy to keep clean too!
Whether you're concerned about having a fun design, an earth-friendly, or easy-to-clean bath mat, we've got you covered. 
Here's everything you'll need to help you choose the best baby bath mats that are a perfect fit for your family and a list of the top products we've researched and listed for you!
Our Picks for the Best Baby Bath Mat
Note: Our individual reviews are below, but you can also click any of the links above to check current prices on Amazon and other retailers
Do You Really Need a Baby Bath Mat?
No, but it sure makes life easier. When your baby becomes big enough to move from bathing in the kitchen sink and has outgrown their bathtub support, you find yourself in an awkward stage. 
They aren't quite stable enough to sit in the tub without some support (or at least a non-skid surface), but they're too large for a sink and sling.
Having a baby bath mat can help your baby transition from the bath sling to the bathtub while keeping them safe and still making bathtime fun.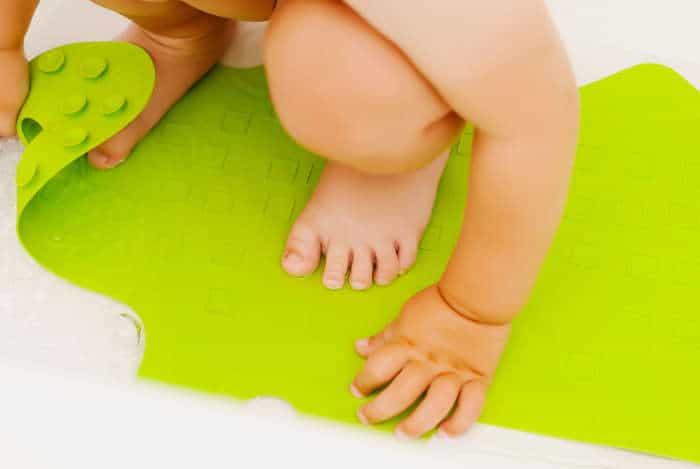 Are PVC Bath Mats Safe?
The concerns surrounding a PVC non slip bathtub mat is the texture and odor. PVC bath mats can become slick.
This leaves some feeling as though the material negates the whole purpose of having a baby bath mat if your baby can slip on the mat. 
You should be present with your baby at all times while they're in the tub, but a PVC bath mat can make bath time more difficult as your baby becomes bigger and more mobile while in the tub. 
The odor also concerns some parents. Some PVC made products can have a strong plastic smell. Not everyone is comfortable with their child breathing this. 
PVC odors can also take multiple washes to remove the scent from the product. This can make small spaces uncomfortable during the "airing out" period. 
Depending upon where you stand with these two issues will determine whether PVC bath mats are a good fit for your family. 
When Can I Put My Baby in the Full Size Bathtub?
You don't have to bathe your newborn in the kitchen sink (but you can with a sink insert/seat). Some families don't have enough room to make their kitchen a newborn bathing station. 
Instead, it may be easier to bathe your baby in the bathtub from the start. 
Is this really safe? You bet, as long as you have the right support system. 
There are a variety of support systems that will keep your baby comfortable and safe while getting a bath in a full size tub. 
Bathtime Safety
Whether you're an expecting parent doing some research, have just birthed your bundle of joy, or have been at this parenting thing for a while it's vital that we all understand the basics of bathtime safety.
Unfortunately, drowning occurs in bathtubs and with babies it can happen in a matter of seconds. Make sure you follow these tips to insure bathtime is a fun (and safe) experience for your child:
Depth of Water
It doesn't take much for babies to lose their balance, and unfortunately, it doesn't take much water for them to drown either.
Therefore, realize that babies don't need full tubs. Give them just enough water for them to splash around in or for you to wet a washcloth to clean them properly. 
Their lower body (feet, legs, bum area) shouldn't even be halfway submerged in the water. 
Temperature of Water
You can get fancy and purchase a special bath time thermometer if you wish. Some of these are really good and double as an extra bath toy. However, parents have been using their elbow for generations.
If the water is lukewarm, it's safe for your baby. However, if the water feels even slightly hot, add cold water to avoid burning your baby's skin.
Cover the Spout
Babies and toddlers can easily topple over in the tub. They haven't fully discovered their balance yet and have a tendency to become top heavy.
For added safety, purchase a spout cover. In the event your baby falls forward in the tub, their head will hit rubber instead of a hard faucet. 
Within Arm's Reach
Though baby mats may provide grip to keep your baby from sliding around in the tub, they aren't foolproof. Accidents can happen.
This is why it's important to always be present when your baby is in the bathtub. Don't leave them in the care of another child. You should always be within arm's reach of your child, ready to pull them out of the tub if a situation arises. 
Ignore the Rest of the World
According to the Consumer Product Safety Commission, most drownings occur when parents step away for only a few minutes.
This could be to answer the door, answer a telephone call, or maybe they forgot something they needed for bathtime in another room. 
Stay vigilant for your child's safety. Either let the phone or doorbell ring or remove your child from the tub while you tend to those matters.
Try to double check all of your bath supplies like washcloths and bubble bath prior to starting bathtime. If you still forget something (Life happens, right?) remove your baby from the bathtub or ask someone else in the home to grab the item for you. 
Make Sure Your Bath Mat is Installed Correctly
Be sure to follow the manufacturer's instructions when installing non-slip bath mats. If the mat isn't installed correctly, it could become a slip hazard for your child. 
Again, be within arm's reach so you can your keep baby safe.
Use Proper Support
If your baby isn't able to support themselves yet, be sure you add a support system or a seat(like one of these baby bath seats) while they're bathing.
This could mean using a bath seat, a bath sling, or a portable baby bath tub (like one of our baby tub picks) for extra support and to keep bath time safe. 
Baby Bath Mat Reviews
Munchkin Dandy Dots
Are your kids terrified of bath time? Some kids don't like water. The Munchkin Dandy Dots bath mat has a fun and modern design that may help solve this problem. 
Your kids may be intrigued by the colorful dot design and totally forget their fear of water. Having a modern bath mat is also an added bonus for parents. 
This mat is made from real rubber and has rubber suction cups on the bottom to keep the mat from slipping around. It's important to note, for this mat to be truly non-slip, your tub should have a smooth bottom. The suction cups struggle to suction in a textured tub. 
To avoid any discoloration of the mat while cleaning, be sure to use mild cleaners and air dry the mat after each use to avoid mold build-up on or inside the mat. 
This colorful polka dot mat could be the fashionable way to make bath time fun again.
What we liked:
Made from real rubber
Suction cupped bottom
Colorful design
Contemporary style
What we didn't:
The dots can come off after years of use
Best for Full Coverage – Baobë Bathtub Mat
This bath mat comes in a fun color to brighten up your baby's bathtime. It's also created to be an extra-long mat to cover the full length of a standard bath tube. 
As with many bath mats, it claims to be a non-slip mat. However, the mat will only stick to a tub with a smooth surface. 
Therefore, if you have a textured tub, you may run into issues with the mat not sticking properly or rolling up. 
The mat has a cushy design meant to be soft on your baby's bum while in the tub, and it's machine washable to make cleaning easier for the parents. 
You should still pull the mat out of the tub after each use, though there are drainage holes, to make sure the mat dries completely. 
Some assume the drainage holes allow you to skip this step, but they don't. There are pockets around each hole where moisture can still hide. To avoid a moldy mat, dry it properly and clean it regularly. 
What we liked:
Extra long design
324 suction cups 
Cushy design
Machine washable
What we didn't:
Mat is slick
Mold may occur if mat isn't dried properly
Best for Storage – Infantino 2-in-1 Bath Mat & Storage Basket
The Infantino 2-in-1 Bath Mat and Storage Basket is an amazing idea to keep bath time safe, fun, and tidy. This bath mat with skid-resistant suction cups can lay flat and be suctioned to smooth surfaces.  
When bath time is done, you can place your baby's toys inside the mat where it has a suction hook that allows the bath mat/ storage basket to hang neatly on the wall. This allows the toys to drip dry and avoid taking over the whole tub when not in use.
This anti-slip bath mat also has large drain holes in it which makes keeping it clean and mold free much more manageable. If you have concerns about what materials touch your baby's skin, be aware this mat is made from PVC material. 
It also isn't machine washable. As with most bath mats, keep in mind this mat will only stick to a tub with a smooth surface in the bottom. If you have a textured tub or other non-stick materials in the base of your tub, the mat won't stick.
The same rings true for the hook when the mat is transformed into a basket. You must have smooth shower walls for the hook to stick. If you have uneven shower walls, such as tile, the hook may have issues. 
What we liked:
Space saver/ organizer
Soft material
Drains well
What we didn't:
Ink from design rubs off
Not machine washable
Salinka Natural Rubber
Are you in the market for an adorable bath mat that's durable, made from a quality material, and is easy to care for? The Salinka Natural Rubber Bath Mat puts a check mark in each of those categories.
To begin, this product has strong suction cups on the bottom of the mat which will adhere to any smooth surface. 
It's also made from natural rubber. Therefore, there is no Latex, Phthalate, BPA, or PVC in the mat. It also helps avoid strong odors. 
Most people enjoy having a bath mat for safety, but they also need a mat that's easy to keep clean. The mat should be removed from the tub and dried after each use.
However, when it needs a thorough cleaning, you can simply toss it in the washing machine. If you're concerned about what materials surround your child while in the tub, the Salinka Natural Rubber bath mat might be able to sooth your mind.
What we liked:
Machine washable
Made of natural rubber
No strong odors
What we didn't:
May not cover entire standard tub
Mantto Eco Friendly TPE Bath Mat
Do you consider yourself someone who is concerned about the environment? This bath mat will help you remain environmentally conscious while still providing your baby with a safe bath time. 
This mat comes in a variety of colors which means you can either match the mat to your bathroom color scheme or your baby's personality. 
It's made from a durable, recyclable material that has no odors. This product was created with a soft and cushy design in mind. It has large drainage holes which helps the bath mat drain water quickly, effectively, and avoids mold build up. 
Once you're done with bath time, be sure to stick the mat to the side of your shower wall or on a towel rack to allow it to dry. When it needs to be cleaned, you can toss it in the washing machine. 
It's important to note that you shouldn't use this product with any type of oils or even specific hair products as it can cause the suction on the bottom of the mat to break free.
If you prefer to buy a product that you know the company will stand behind if it malfunctions, this may be your cup of tea. This bath mat comes with a 10-year hassle free warranty.
What we liked:
Variety of colors
Odor free
10-year warranty
Machine washable
Large drainage holes
What we didn't:
Hair products, bath oils, certain soaps can reduce suction
WoByt Baby Tub Mat
The WoByt Baby Tub Mat is a bright and colorful mat that comes in two fun designs. If your child loves exploring the deep blue sea, there's an octopus design for that. If they'd rather stick closer to home and explore neighborhood ponds, there's a frog design for that.
When you get down to the actual bath mat, it's made from silicone. This allows the mat to be see-through which makes spotting mold easier.
Though there are strong suction cups on the bottom, there are no drainage holes. The silicone material can also be uncomfortable while bathing. 
Be sure to remember that suction cups only stick to smooth surfaces. If your tub has a textured bottom, this bath mat will most likely not stick to it. 
Remember as well that bath mats, especially those without drainage holes, should be removed from the tub between uses to allow time to fully dry. 
Also, if you're concerned about exposing your child to certain materials, this bath mat does contain PVC. Be aware that the mat has a strong odor that takes time to dissipate. 
What we liked:
Comes in two fun designs
Suction cups for safety
What we didn't:
Mat may have a strong odor
Munchkin Quack Duck
Decorating your bathroom in yellow rubber duckies is quite common when you have kids. This is why this mat is such a great idea. The cute duck design adds decor to your bathroom while helping kids stay safe during bath time.
Like many bath mats, this mat has suction cups on the bottom to help keep the mat in place and avoid slippage. Keep in mind, the suction cups will only work if applied to a smooth surface.
If you're short on space and don't wish to leave the bath mat in the tub all the time, it rolls up tightly for easy and convenient storage. 
When people discuss concerns over bath mats in general, many worry about the mat slipping out from under their feet while exiting the tub. Though this is important, what about while your baby is sitting on it?
This mat has a textured surface on top that's meant to grip your baby and keep them from sliding around while bathing. 
If you need a space saving mat that's slip resistant in two ways, this mat could be what you've been searching for. 
What we liked:
Bright and colorful design
Suction cupped bottom
Textured top
Space-saver design
What we didn't:
Mat may have strong odor that could take multiple washes to dissipate
May not cover an entire standard-sized tub
Patrull (IKEA)
Let's be honest. If you add a cool design and bright colors, kids find something that was once drab now new and fascinating. This is what the Patrull mat could do for bath time around your house.
It comes in a neat crocodile shape with a vibrant green color. It's a solid rubber mat with a grainy surface to keep your baby from slipping and sliding during bath time.
The mat also comes with suction cups along the bottom to keep it in place when attached to a smooth bathtub surface.
There aren't holes all over the crocodile. Instead, they placed holes for the eyes and on the tail. Though this is a cute design, it's also functional. The holes are a way for you to hang the bath mat while it dries after each use.
This mat isn't machine washable and because of the lack of holes, mildew growth is highly probable. Plus, ensure that the mat measures can fit the size of your tub.
It's smaller in comparison to most standard-sized mats. Therefore, if you have multiple kids in the tub at once, one might be pushed off the non-skid surface and back onto the slick surface of the tub.
What we liked:
Vibrant and fun design
Holes hang mat while air-drying
Non-slip surface
What we didn't:
May mildew easily
Concerns about functional sizing
Sencol Non Slip
The Sencol Non Slip bath mat is a great way to add fun to bath time for your baby. It comes in a variety of fun designs. 
You can choose from three different under-the-sea designs, or if you prefer a more "grown up" mat, they have options for that as well.
This mat is made from PVC. Though this has the potential to make it a softer mat, PVC frequently packs a potent punch. Be advised the mat may need to be washed a few times to get rid of the strong odor.
However, it's easy to wash. It's a good idea to allow the mat to dry after each use to avoid mildew, but when it's time to wash it, simply toss it into the washing machine. 
As with most bath mats, this mat does have a suction cup bottom to keep the mat in place. However, the suction cups only work on smooth bathtub surfaces. 
What may truly set this bath mat apart in your book is the fact this company stands behind its product for life. If you have any problem with this mat, return it any time. No questions asked. 
What we liked:
Variety of designs
100% guaranteed for life
Machine washable