Whether you are a first-time parent or a seasoned pro, choosing the right bathtub can leave you scratching your head.  No one has time for a lengthy search into baby bathtub land either. We've rounded up the best baby bathtubs for you as well as some good to know info. 
The Best Baby Bath Tub – Our Picks
Note: Our individual reviews are below, but you can also click any of the links above to check current prices on Amazon and other retailers
Do you really need a baby bathtub?
Baby bathtubs are without a doubt a useful product, but are they a necessity? A tub can be a much-needed tool for bathing your wriggly, slippery baby. Think of it as that extra set of hands you keep wishing for. 
Tubs provide a designated space for your baby to safely sit, allowing you to bathe them more effectively. Tubs also allow you to keep both hands free. Leaving one hand readily available to make sure your baby is safe. The other hand is free to wipe your baby down with a super soft washcloth.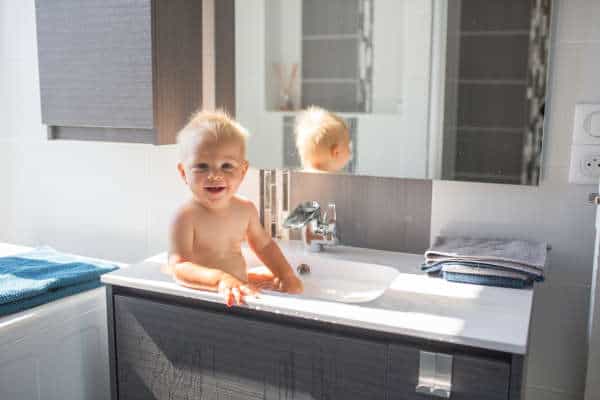 What age can you use a baby bathtub?
As soon as your baby's cord stump falls off,  they are ready for their first at home bath. This can be as early as 14 days or up to 1- 2 months old. The advantage of having a baby bathtub is most can grow with your baby.  This will give you flexibility from newborn all the way to toddler and save your pocketbook in the long run.
How often should I bathe my baby anyway?
Bathing frequency heavily depends on your baby's age. Infants only need to have baths 2-3 times a week. Healthline states, "frequent bathing can do more harm than good." Too often can dry their skin out by taking away their natural moisture. Babies do not sweat and they do not get incredibly dirty making it not necessary to bathe them daily. 
Bathing frequency can increase as your baby gets older. By the time they are 6-12 months old, it is okay to bathe them 5-7 times a week. However, limit the bubble bath to a couple of times a week unless it's one of these better bubble bath options. 
When can I put my baby in the regular bathtub?
Your baby can sit in your regular bathroom tub when she can sit upright on her own. Even though she is sitting upright, your little one will still need some support or a seat. Support can be as simple as sitting on your lap. This method may not leave you with as much flexibility, especially in the case of an impromptu shower poo. And we all know, it does happen!
Another option is bath seats and supports. These are best for older babies on to the toddler range. With infants under a year, tubs are the safest way to wash. You can get a tub that goes into your regular bathtub that provides support and an added layer of safety. Save your back and get a tub or insert that fits in your bathroom sink. 
Bathtubs, Supports, Seats, and Inserts
A variety of options exist from bathing chairs to convertible tubs that grow with your child. There are even soft molds that can transform your sink into the perfect place to bathe your baby. 
Bathtubs are multi-use and versatile. You can use them inside your shower, regular bathtub, and even on the kitchen sink. They are also a self-contained all-in-one option.  Supports, seats, and inserts (like the ones in our roundup) are all made to go in something like a regular tub or a sink. When looking at options there are a few key points to keep in mind.
What to look for:
Mold resistance: Mold is toxic especially to your little one. Mold resistant surfaces discourage growth making the bath less susceptible.
Non-slip surfaces add extra grip making a slippery surface like the bath safer for your baby.
Stability: Baby bath tubs with a stable base will be harder for your baby to tip over while bathing.
Good support is important for keeping your baby secure inside the bathtub. Items to look for are slings and molded seats.
Portability: You want a bath that is easy to take with you if you are traveling.
Easy to store: Babies have so much for you to store already. Having a tub that is collapsable or has a hook gives you more options when bathtime is over.
Comfort: If the bathtub is not comfortable your baby will not like being in it and will boycott bath time. Look for tubs that are soft and have a cushion inside.
Room to grow. Convertible tubs will give your baby room to grow and will last from newborn until toddler.
Features.  Many tubs have "need to have" features, but there are some helpful ones that fit into the "nice to have" category. It is important to keep your soap, rinse cup and sponges close at hand. You don't want to move away while your little one is bathing. Tubs with built-in bath utensils or places for them to fit are convenient.
Technology:  Built-in technology such as temperature gauges and warm water re-circulation are beneficial. However a good baby friendly bath thermometer is easy to find.
Bathtub Safety
Baby's safety is always a priority. Little ones can drown in the smallest amount of water. There are many steps to take to prevent bathing accidents. Some tips to keep your baby safe while bathing are:
Neverleave your little one unattended even in the best baby bathtub. They can slip or wobble into the water.
Keep one hand on your baby at all times. Even if you are sitting with your little one you need to have one hand on them at all times.
Always test the temperature of the water before putting your little one into the water. Use a baby bath thermometer if you aren't sure.
Avoid hot water. Lukewarm water is always best for your baby.
For more bath and water safety tips, read this article by Healthy Children.
Baby Bath Tub Reviews
Fisher-Price 4-in-1 Sling 'n Seat
The 4-in-1 Sling 'n Seat Tub is the perfect versatile tub. It grows with baby from infant to toddler and checks off many "need" to have features. The tub has a sling that is perfect for your infant. It transitions as your little one grows bigger. It also has a star plug positioned in the bottom of the tub that is larger so your baby will not be able to grab it.
What we liked:
It has a sling for infants with cushioning around the head.
Baby "stopper" insert prevents the baby from sliding into the bath.
The sit-up insert is removable for a roomy toddler tub.
Handy hook giving you more options for storage and for drying.
The bathtub comes with a bottle and a whale for easy bathing.
What we didn't:
Only rated up to 25lbs.
Exuberant splashers will splash over the sides making it not ideal for counter use.
The drain is under the green support seat so you have to remove it to release the water.
Newborn sling is one-size-fits-all and made of mesh.
Skip Hop Moby
The Moby bathtub by Skip Hop comes in two colors grey and blue. It is suitable for infants all the way up to toddlers up to 25lbs. The sling is multi-position and adjustable for your little one. It can also double as a seat for supported sitters. The is a hideaway hook for easy storage and drying as well as a drain plug to make emptying the water effortless. The surface of the tub is smooth maximizing comfort. There is also a non-slip texture to keep your little one more secure.  The tub weighs 3lbs which is lightweight making it easy to maneuver.
What we liked:
Sling is adjustable to make it suitable for an infant and a supported sitter.
The tub is easy to clean.
The sling is easy to take on and off. Making it easy to wash and dry.
Moby is comfortable for babies of all sizes, especially a newborn.
Plastic is PVC and Phthalate free.
The tub is great for counter use.
What we didn't:
The sling needs washing often or it may start to smell. Make sure it is completely dry.
Make sure fingers and toes stay clear of the adjustable supports for the sling as they can get caught.
The tub can be too short for longer babies.
If the bathtub is completely full, it can take a while for it to drain.
Great Value – The First Years Sure Comfort Deluxe
The First Years Sure Comfort Deluxe Tub is a transitional model that will grow with your child. Making it useful from newborn all the way up to toddler. It fits a wide age range which makes it a great value and likely the only bath you will need to buy. Dual-sided with one side suited for infants and the other side better for babies who are sitting up.
The bathtub comes with a sling to support your infant.  The sling is removable when your baby is sitting up on their own. The tub also has built-in headrests so it remains comfortable for your older baby. Bonus- the headrests are mildew-resistant materials. It is ergonomically designed to provide the perfect amount of support. The tub also comes in pink or blue.
What we liked:
The top of the sling has padding for your baby's comfort.
The sling is adjustable so you can control how your baby sits in the water.
Has a side for infants and a side for your older baby allowing it to grow with your child.
The tub has a molded place to hold the soap and a washcloth.
The tub is very easy to drain and drains quickly.
Drain changes color to let you know if the water is too hot for baby.
What we didn't:
The tub is rather large making it difficult to store.
It does not have a hook for hang drying.
Sling takes a while to dry out properly.
Baby can slide down on the sling so you need to keep one hand on her at all times.
Munchkin Sit and Soak
The Munchkin Sit and Soak is a lightweight bathtub option coming in at only 1.5lbs. The tub is nice and deep making it possible to keep baby well covered with water to avoid any shivers. It has a built-in non-slip back to keep baby secure during bath-time. The sit and soak if the perfect size for babies of all ages. Spoon shaped design makes it very stable. It is easy to clean and easy to store. The built-in drain makes it easy to empty when bathing is over. The design fits perfectly in shower, tub, or in the sink
What we liked:
A deep bathtub gives you full control over how much water your baby sits in.
The design keeps your baby in an upright position.
The backrest has padding providing optimal comfort.
The built-in handle makes for easy carrying.
Added bonus- handle doubles as a way to hang the tub up to dry or store it on a hook.
For added security, there is a built-in stop so your baby won't slide down into the water.
What we didn't:
The tub is very deep and can be too large for smaller infants.
Depending on your baby's length the "bump" may not offer support.
You will need to manually tilt your babies head back to wash their hair.
If your baby is not stable yet, you will need to keep him secure with your hand.
Best for the sink – Blooming Bath Lotus
The Blooming Bath Lotus transforms any sink into the perfect bathing area. The mat comes in 10 different colors giving you plenty of options. Four petals surround a center circle allowing them to fold up to keep your baby secure. 
The Blooming Lotus is best for newborns up to six months. It is useful with a bathtub to help with baby's transition. It is simple to set up and is easy to clean.
The lotus wrings out when bathtime is over. Put it in the dryer for 10-15 minutes to dry completely or you can hang it up to dry. The bath lotus folds up to store between baths.  It's compact shape also makes it easy to travel with.
What we liked:
Lotus' petals create a safe seat for your baby.
You have complete control over how much water is in the bath.
The material is soft and comfortable on your baby's skin.
Blooming Lotus dries quickly and stores compactly which is great if you are short on space.
BPA, Phthalate, and Latex-free.
Machine washable and dryable.
What we didn't:
Petals can side apart if they are not positioned before your baby gets put in.
The lotus may be too large for small sinks.
Needs washing every three uses per manufacturer's instructions.
Not ideal for those extra-relaxed bathtime poos!
Best for travel – Mommy's Helper Inflatable Bath Tub
If you do a lot of traveling, then this inflatable baby bathtub from Mommy's Helper is worth looking into to. The tub is an inflatable design, which keeps it compact for storing and traveling. This inflatable tub also features a cute and gender-neutral froggy pattern. It is soft and padded keeping your baby comfortable for the duration of their bath. It has a "saddle-like" design to keep your little one sitting upright throughout their bath. The saddle is there to prevent slipping into the tub.  
This is a lightweight option as it is only a pound when inflated. It is roomy and gives plenty of room for older babies to play. The built-in drain allows for easy emptying.
What we liked:
Adorable style and easy to blow up either manually or with a pump.
Roomy for older babies, giving them plenty of space to splash and play.
Affordably priced bathtub option that is also versatile.
Folds down small making it ideal for travel and for storage.
"Saddle" deflates so your baby has more room to play.
Easy to clean and fits inside a regular tub.
What we didn't:
It is best for babies six months and up, and is not ideal for newborns.
Drains slowly through the plug and it is faster to dump it out in the tub.
The plug needs to be secure for water to not leak out.
The tub does not fit in a sink. It is best for inside a regular tub or shower.
Most Roomy – Primo Euro Bath
If you are looking for a roomy bathtub, check out the Primo Euro Bath. It comes in three color options, either a blue, magenta, or white. It has two positions for your baby and can accommodate babies from newborn all the way to 24 months. Molded supports for little one's arms and legs helpt to keep them safe and secure while bathing. 
The built-in drain is simple to use. The plastic used is BPA, Phthalate and lead-free and is easy to clean after use.  It has two separate compartments for the storage of your baby's bath toys, shampoo, and washcloths. This keeps your essentials close at hand.
What we liked:
Its large size allows your baby to grow with the tub.
The design allows your baby to recline without fear of slipping.
It has a sturdy design so it will not tip over while in use.
Plenty of room for baby to splash and play with their toys. 
The tub is easy to clean and easy to drain.
It is made in the USA.
What we didn't:
The tub is very large, making it best for use inside a regular tub or in a shower.
It does not come with a hook, but, it does have a hole in the top where you can install your own.
If your baby moves around a lot or likes to stand the seat grooves can get in their way.
Smaller babies may need support to keep them in place.
Something for Your Knees! – Puj Pad Bath Kneeler
Bath time is not just for your baby's comfort. You need to be comfortable too. The Puj Pad Bath Kneeler allows you to stay close to your baby while staying comfortable. It is so uncomfortable to wash your baby and being able to feel exactly where the grout and tile meet your knees. 
This kneeler is memory foam providing the perfect amount of cushion so you can focus on your little one. The base of the kneeler has a non-slip surface so it will stay secure on the floor. The color and design allow your bathroom to not look like a kids zone. This is perfect if the kid's bathroom also doubles as the guest bath.
What we liked:
Saves your knees while bathing your little one.
Memory foam retains its shape while keeping it soft.
The print keeps your bathroom a neutral zone and not kid-central.
The base of the mat is a non-skid material to keep it in place at the base of the tub. 
Perfect size for right in front of the tub.
Hangs up for easy storage
What we didn't:
Pointed design can be a little too narrow if you have a wide kneeling stance.
Mat only comes in one color/ design.
Will stay wet if your baby splashes it during bathtime.
PUJ logo is prominently placed on top of the mat.