Kneeling pads for bath time are one of those products you typically forget when you do your baby shower registry or go shopping before the birth. You get all the soaps, lotions, and creams, but forget the comfort of your knee caps. Sure, maybe you do sink baths for a while, but once your little one is bathing in the tub full time, you'll be feeling the ache from sitting on the bathroom floor as your baby splashes and giggles. 
That's where these handy bath knee pads and elbow rests come in. Some designs even go so far as to save your elbows from the hard edge of the tub. You may be thinking, "But do I really need this?" Well, bath safety advice calls for you to be close enough to your baby to grab them if something happens. So, yes, your joints will be feeling the aches. That's why we've rounded up some of the best options for saving your tired bones and joints at the end of long days full of bottles, diapers, and messes.
Best Bath Kneeler Pads – Our Picks
Note: Our individual reviews are below, but you can also click any of the links above to check current prices on Amazon and other retailers
What is a bath kneeling pad and why would I need one?
A kneeling pad for bathing your baby is similar to the pads many use for gardening. They're usually made of a soft foam that saves your knee caps from the strain of kneeling on hard surfaces for too long. 
You may want one because bathing small infants requires you to be hands on and within reach of your baby. This is for safety and comfort. Anything can happen in the tub and it only takes a second for disaster to strike. And using baby bath kneelers allows you to step in at a moment's notice and keep baby safe.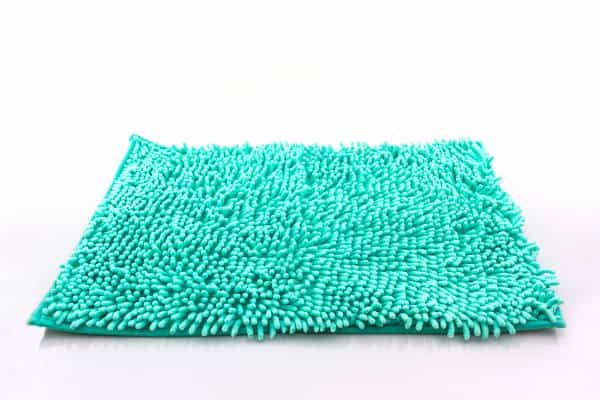 What about an elbow rest?
Most often, you take a position where your elbows lean on the side of the tub. Some knee pads come with elbow pads or cushions that are also made from soft foam for support and to save your joints from strain. While some are part of a package deal, others are sold separately and might even include storage for soaps and creams.
Bath Kneeler Pad Reviews
Skip Hop Baby Bath Elbow Saver and Kneeler
This combination of a kneeler and elbow rest comes in a sleek, neutral gray cushion that fastens to the side of the tub with suction cups. In the middle, you'll find two pockets to store body wash and other essentials. One pocket is larger for bottles, while the other is a small slip pocket to stash watches and rings during bathtime. 
The bath kneeling mat is made to fit most standard tubs and is height-adjustable for a near custom fit. It's constructed from a combination of neoprene and nylon for quick drying and easy cleaning too. Another great design feature is the way it folds for space-saving and easy storage. 
What we liked:
Neutral gray color 
Neoprene and nylon for fast drying 
Two storage pockets
Adjustable height 
Cushion for elbows and knees 
Folds flat for storage
What we didn't:
None! We didn't find any.
Babygenix Bath Kneeler and Elbow Rest
This set is almost an all inclusive bathtime kit! It features extra thick elbow and knee cushions with 4 convenient storage pockets for essentials and toys. You'll also find 5 bath toys, a rinse cup, a spout cover, and a mesh bag to contain it all. 
This set is also very safety conscious with non-slip suction cups, non-slip rubber base to prevent sliding, the soft spout cover to prevent bumps, and safe materials. Plus, you can store the bath toys in the rinse cup so they drain completely and cut down on the risk of mildew. 
What we liked:
Includes the cushions, toys, rinse cup, spout cover, and bag to hang it all 
Thick cushions 
4 pockets to store essentials 
Rinse cup is great for storing toys 
Non-slip rubber base and suction cups
What we didn't:
None! This could be a great gift for first-time parents collecting bathtime essentials
MagicFun Kneeler and Elbow Rest
This is another elbow and knee cushion combo which features big, deep pockets for storing all your bath time supplies. It also features a foldable velcro design for easy and secure storage when not in use. 
The cushion is 1.5" thick and perfect for parents with achy knees or those who simply struggle to kneel for a long time. You'll love that the entire cushion is machine washable, so you won't have to worry about mildew or sour smells. Additionally, the bottom of the cushions are secure with non-slip rubber and 4 suction cups. 
What we liked:
Neutral gray color 
Non-slip design 
Velcro fasten for easy and secure storage 
Large pockets for bath toys and products 
Extra thick cushion 
Loop for hanging cushion
Skip Hop Moby Kneeler
This is just a knee pad, but it comes in this cute whale design, which features a nice, gray color and a convenient loop to hang the pad when not in use. This bath mat kneeler is covered with a quick-drying wetsuit material that is also BPA and phthalate free. While this doesn't have storage or an elbow pad, this one is cute and is great for those who take a minimalistic approach to bath time. A loop is also available for easy air drying from the towel bar.
What we liked:
Neutral gray color 
Loop for hanging in shower to dry 
Quick-drying wetsuit material 
BPA and Phthalate free
Gorilla Grip Thick Kneeling Pads
If you are a fan of buying baby gear that you can recycle into other uses, this Gorilla Grip knee pad is a great option because it's designed to be used for gardening, plumbing, yoga, and other exercise activities, as well as baby's bath time. 
This 1.5" thick pad comes in several colors including blue, pink, red, and more. It's lightweight and offers a built-in handle. It's also built to stand up to water, rocks, and constant wear. Overall, this is a great multi-use and durable product. 
What we liked:
Multiple uses 
Durable enough to stand up to water, rocks, concrete, and constant wear 
1.5" thick 
Multiple colors 
Built-in handle
What we didn't:
We didn't find any! Toss this in the garage for yard work once you no longer need it in the bathroom.