Bath time can be a stressful experience for new parents. Between your newborn feeling so new and fragile and the added difficulty of water and soap…it's only natural to fear you'll drop your baby like a slippery catfish you just reeled in!
So it's nice that there's an entire market of baby gear aimed at making bath time easier for you and your baby. These products range from pour cups, bath toys, hooded towels, and of course baby soap that gives all infants that "brand new" smell. 
(Oh and if you happen to encounter a granny or anyone more experienced that suggests using a soft plastic brush on baby's head to prevent cradle cap, listen! They're experienced after all.)
Perhaps the most integral part of your new bath routine is the bath seat. It gives you the added support and stability you'll need to multitask your way through washing. If you've never bathed a baby, they don't exactly hold still like a mannequin for the event. So, an extra "hand" is especially helpful. 
Ranging in the level of support, we're going to give you an overview of some great options on the market. Maybe you want something that can transition from kitchen sink to tub or a seat for mobile infants. Either way, we're laying out the pros and cons of some promising choices. 
The Best Baby Bath Seats – Our Picks
Note: Our individual reviews are below, but you can also click any of the links above to check current prices on Amazon and other retailers
About bath seats, supports, tubs, and inserts
When considering a bath seat, safety should be of utmost importance. Yes, bathtime is full of giggling and bonding with your new baby. But bathtime is also a time for vigilance. Anything can happen in the blink of an eye and as a new parent, you'll want baby gear you can trust! (Oh and maybe don't scroll reviews while your baby is in the tub. That's a no-no) For our picks, we're focusing on the bath inserts made to fit within a standard tub or sink. 
What age can your baby use a bath seat?
Bath seats come in varying stages beginning with newborns. Often they go from 0-6 months and 6-12 months. They offer different levels of support for developing infants. Research is important in deciding which seat is best for your particular baby. 
What age can your baby bathe without a bath seat?
The age at which your child outgrows a bath seat is largely dependent on their size, coordination, and overall motor skills. Once again, just because your baby is busting out of the bath insert does not mean you should go run a 5k while they splish-splash in the bath. Anything can happen and they need supervision in the tub even as toddlers. 
Can I bathe my baby in the sink?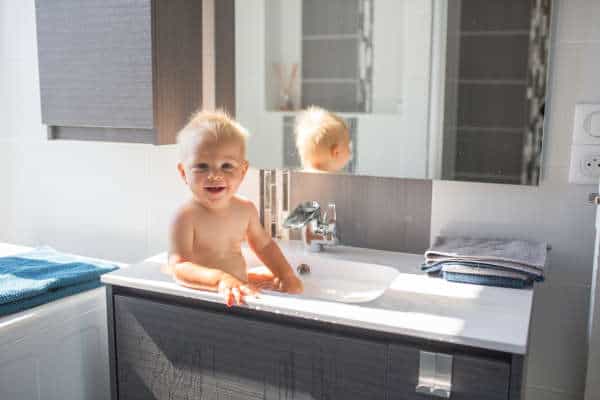 Of course! Sink baths make great options if your home doesn't have a tub. There is also a range of bath seats that are designed to fit in the sink. Do not try to cram a seat that does not fit into the sink though. It won't be stable and thus, a huge safety concern!
Bathing in the sink can also take the strain off of your back (if you just gave birth this is a major plus, plus, plus!). As an added benefit, bathing in the sink also grants whoever is holding the babies washcloth more control and confidence in what they're doing. Everyone is scared of dropping the slippery baby, so maybe using the sink at first is a good choice before transitioning to the bathtub.
Types of baby bath seats and supports
All bath seats are designed to support your baby in the tub (or sink). However, they use different means to achieve this goal. 
Seats designed for newborns and infants without head/neck control allow your baby to recline in a natural position. Usually, they have a wide base to keep from tipping but do not secure to the sides of the bathroom tub or bathroom sink.
 Another great alternative to the newborn bath seat is a bath sponge. Generally, these are just placed in the tub without anchoring. Many options on the market also offer a folding base that gives the seat security in the water while allowing easy storage.
More advanced models help your baby sit upright (at the appropriate age). They can employ a wide weighted base or suction cups for stability. In these designs, it is important to ensure they are installed correctly to minimize risks in the tub. 
Bath seat safety
Safety is the biggest concern when bathing your baby. This cannot be shouted from the rooftops loud enough, "Never leave your baby unattended!" You should be within arms reach of your baby at all times when they are in bath water. 
Most guidelines recommend only using a few inches of water as well as removing any hazardous objects in or around the tub (razors, clippers, soaps or bubble bath with unsecured lids, etc.). It's also suggested to turn your hot water heater's temperature down to reach 120 º F maximum. The best way to know if you've got it right is to use a fun, kid friendly baby bath thermometer.
Above all, use common sense with bath seats and after your infant has transitioned to bathe in the tub without support. Babies are quick like Jedi and can get into trouble in the blink of an eye. 
What to look for
Mold resistance is a huge advantage when it comes to bathing. Bath seats (AND bath toys) develop mold quickly Resistance to the pesky problem and the ability to clean the seat easily could be a huge selling point.
Stability should also be at the top of your list. If the seat/insert isn't stable it isn't safe. Period. 
Adequate support is also a necessary feature. These products are designed to support your baby in the tub and make your life as the parent easier!
Sufficient support for your baby also involves purchasing the right type of seat for your infant's developmental stage. Kids grow! And a 0-6 month seat won't hold a busy one-year-old. 
Comfort should also be a deciding factor when shopping for bath seats. You won't want a seat that pinches your baby's delicate skin or that is hard and unsupportive for their spine and neck. 
You may want to research the seat's versatility as well. Some seats are made to use in the sink and the tub. While others have handy storage hooks or fold up for even more compact storage. Even if you're not itching for more space, these are important factors because baby gear quickly takes over your space!
Best for newborn to 1 year – Angelcare Baby Bath
This bath seat is perfect for newborns and smaller infants that do not have the neck strength necessary for head control yet. 
The shape of this bath is ergonomically designed to cradle a baby's delicate frame and the mesh support allows proper drainage and drying. The materials are also mildew resistant. Because it's a single piece construction, there won't be disassembling and reassembling for bathtime or cleaning the bath seat. 
Its dimensions are compact enough to fit in single basin sinks as well as traditional baby bathtubs. Additionally, this seat is equipped with a built-in hook, meaning this bath seat can hang conveniently out of the way in a busy bathroom. 
With a weight capacity of 20lbs, your infant will be able to use this at bathtime for the larger part of his/her first year, if not longer.
What we liked:
Comfortable, ergonomic design
Quick dry and mildew resistant
Lightweight and easy storage
What we didn't:
Doesn't fit in all sinks
Lower sides mean baby can roll once mobile
Best for 6 months plus – Summer Infant My Bath Seat
With a high back seat enabling your infant to sit up in the tub, this seat is only suitable for infants for older infants that have sufficient neck and core control. It is designed to offer support for your infant and is not a recommended safety device.
Summer Infant My Bath Seat is equipped with three support arms that suction cup to the sides of your bathtub. Setup is simple and involves extending the rear support arm, followed by the two side arms. 
This bath seat fits in standard bathtubs, as well as inflatable baby bathtubs that range 21-24 inches wide but does not fold up for storage like other options on the market. 
The seat itself is large enough to accommodate larger babies and the suction cups offer a sturdy hold. It's especially useful for babies that desire more independence in the bath and offers parents an extra hand in holding a busy, slippery infant in the tub.
What we liked:
Provides extra support for sitting babies
Keeps baby secure
Lets the infant play independently
Sturdy support
Easy setup
What we didn't:
Susceptible to mold because of tiny crevices
Can be difficult to wash baby's bottom half
Can be bulky to store
Best for the sink – Blooming Bath Lotus
This could be a versatile choice for parents hoping to start bathing their babies in the sink and then transition to the tub. The comfy petals are simply placed in the sink to cradle your baby. 
Designed for ages newborn to 6 months, this soft option could see your infant through their most fragile stages. As they grow, the Lotus can be placed in the tub as a cushion. 
This option is washer/dryer safe, so mold won't be an issue if you care for your Bath Lotus like you would a typical bath towel. For storage, this option can be stored easily as it is soft enough to fold or light enough to hang up (once dry). 
Additionally, unlike some other bath seats for babies, the Blooming Bath Lotus comes in a variety of colors. So if you're going for the minimalist baby gear approach or like to keep your color schemes cohesive, this could be a great option.
What we liked:
Suitable for newborns and can transition to older   
Infants            
Comfortable
Washer/Dryer Safe
Color Options
An easy option for sinks
What we didn't:
Must ensure it is dry to prevent mold
Bath cleanup will be a little longer
Most Comfortable – Summer Deluxe Baby Bather
This option offers three reclining positions to offer the perfect angle for each stage of your baby's growth. Changing positions involves pushing the back of the seat to lock into a plastic groove located on the seat's base.
The Summer Deluxe Baby Bather also folds flat for storage, making it a good option for those wanting to store beside the tub or tucked behind the bathroom door. 
The fabric on the seat is machine washable but does involve taking the frame of the seat apart to remove. However, this is one of the more affordable options so if you don't mind the extra work it could be a good option. 
As a transitional seat, this can see your baby from newborn to the time they're able to sit unassisted. It offers a wide base to avoid tipping in bigger tubs, but it small enough to fit in larger kitchen sinks as well.
What we liked:
More affordable option
Offers three positions
Folds flat
Fabric is machine washable
What we didn't:
Difficult to change positions
Not the best fit for some sinks
The base has potential for sliding in the tub
Removing fabric to wash can be a hassle
Most Versatile – Summer Clean Rinse Baby Bather
This choice boasts the option of using it on the countertop as well as the sink or bathtub. If you're wondering about its drain hole, the clean rinse design allows the water to drain back out as you pour it over your baby (similar to the drain spout on a dish rack). 
The soft, smooth material is comfortable for baby and this design also offers three positions. A  solid back that dries quickly allows for easy cleaning and mildew resistance. 
Summer Clean Rinse is designed for babies up to 20lbs, but only 13lbs for use on countertops. Your baby will probably be much too busy to hang out on the countertop as they grow and develop anyway. 
Without anchors, this choice requires vigilance in the tub as it could float without enough weight to hold it down. Additionally, the contoured shape at the bottom of the seat has the potential to cause some discomfort for males babies. 
What we liked:
Can use on the countertop, sink, and tub
Easy drainage and cleaning
Folds flat for storage
Three reclining positions
What we didn't:
Not as secure in the tub
Can crush boy parts if they slide down
Best on a budget – Summer Bath Sponge
This a great option for tight budgets. The sponge offers a soft, slip-resistant cushion for your baby in the tub or sink. However, this won't support your baby in a reclined position like other sponges on the market. Its slight incline is just enough to support your baby's head and neck though. 
Summer Bath Sponge can also be used as added support/cushion in baby bathtub options. So, it could be a great option if your baby hasn't quite grown into their tub yet or if you desire a minimalist approach to bathing. 
Its quick-drying material offers easy clean up after wringing out the excess water. Summer does not, however, state that the sponge is machine washable and therefore has the possibility of developing mildew. At that point, it's best to toss and purchase a new one (since it's very affordable) because mold and mildew can cause a myriad of problems. 
What we liked:
Affordable option
Easy cleanup after bath
Versatile for the tub, baby tub, or sink use
Comfortable
What we didn't:
Not recommended for machine wash
Can develop mildew