Are you an outdoor family? Does your crew go camping frequently or sit outdoors and watch the birds visiting your yard?
You should consider investing in high quality binoculars. Don't invest in just any pair. Instead, find kids binoculars your child can easily utilize as they study the world around them.
If you're unsure of what to look for in good binoculars, you're in the right place. We'll tell you how to check for shock proofing, magnification, and much more.
Let us help you pick out kids binoculars that your child is going to love! Here are some options you might want to consider:
The Best Binoculars for Kids – Our Top Picks
Note: Our individual reviews are below, but you can also click any of the links above to check current prices on Amazon and other retailers
What to Look for in Good Kids Binoculars
Sizing for Small Hands
Kids have small hands. They need a set of kids binoculars that will allow them to maintain a firm grip and avoid dropping them. If one set would fit your child's hands better than another, it deserves closer consideration because it could make using them more enjoyable and easier to handle.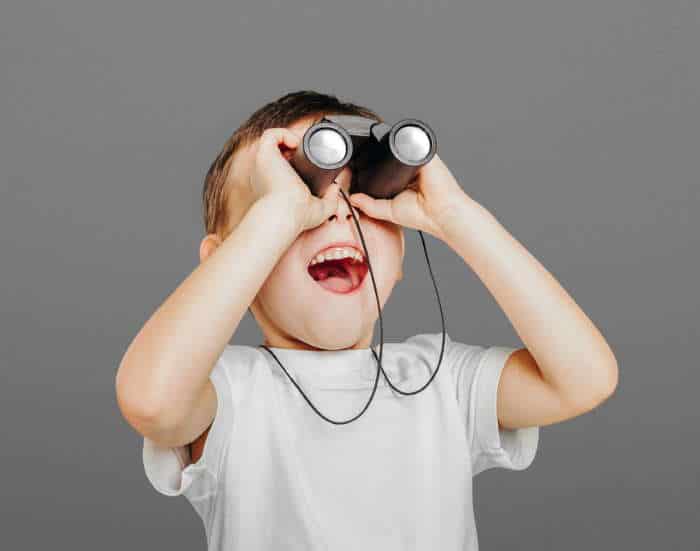 Neck Strap
Your child is human. They're going to make mistakes and sometimes we all get "butter fingers." I know I do! By giving your child a set of binoculars that come with a neck strap can help them avoid breaking their binoculars when they accidentally slip from their hands or when they're running around. Let your kid be a kid and choose some with a neck strap.
Shock Proofing
Shock proofing is when the binoculars are coated in rubber. This not only helps with grip, but it also absorbs the shock if or when they hit the floor.
This could give the toy binoculars greater longevity in your household and allow your child to enjoy them without fearing they'll break them.
Eyecups
Eyecups come as an attachment on kids binoculars. They're usually made of soft rubber but sometimes they can be made of metal as well.
The eyecups come in three different varieties. The first style allows you to twist the eyecups to make them come closer to your eyes or move further away. Rubber eyecups flip up and down for the same purpose, this is especially useful for spectacle wearers as they often need to get their spectacle lens closer to the binocular lens to get the full view. Being able to fold the eyecups down allows for this.
The final style of eyecups are stationary and wrap around the binoculars.
Easy to Use Focusing
Be sure the focusing mechanism is easy to use on any kids binoculars you buy for your child. In most cases, they'll look through one eyecup and maneuver the focus dial for the correlating eyepiece on the top of the binoculars.
They'll repeat the process for the other eye. Keep this part of the process simple because if your child can't easily focus their binoculars, they'll struggle to see through them, and may avoid using them all together.
Robust Carrying Case
You should seek out kids binoculars which come with a sturdy carrying case. Binoculars are meant to be used outdoors.
By providing your child with a nice carrying case, it will encourage them to take the binoculars outside while keeping them safe in transit.
Water Proofing
Nothing is more frustrating than when water gets trapped between glass. It makes it to where you can't see a thing.
This is why waterproof kids binoculars are important. If your child uses them outdoors, you don't want to risk ruining them if moisture gets trapped in the optics.
Eye Relief
Eye relief is the distance between your eye and the end of the optical of the binocular. If you wear glasses, sometimes your eyes can be pushed back too far and block your view.
This is why you'll want to check for a longer eye relief when purchasing kids binoculars, whether you wear glasses or not. It will ensure you get the full view you're searching for.
Magnification – What the Numbers Mean
When looking at kids binoculars it is normal to see the magnification explained as # x #. The first number is the magnification. If it is a 5, it means the object will appear five times larger than its original size.
The second number is the width, in millimeters, of the lens view. If the number is 30, it means the lens will adjust to where you can see 30 millimeters across when viewing the object at five times its normal magnification. Here's a great guide on the subject of magnification numbers if you're interested.
This second number also determines how large or small the lens is, determining the amount of light that can flow through it. This all will impact the way objects are viewed and with how much clarity.
What is Field of View?
Field of view means how much you can see when using your binoculars. It will sometimes be presented in degrees and other times in feet. Either way, it means how much of an object you can see when you are standing 1,000 feet away from it.
What Does BAK4 FMC Actually Mean?
FMC means full multi-coated lenses. This is a coating which will help with allowing light through the lens while stopping reflections. If your child is a bird-watcher, understanding the coating options and the benefits can help with making the best choice with binoculars. 
BAK4 is a type of glass used for prisms. It equates to a clearer view when looking through the binoculars. Put this specialty glass with full multi-coating together in your binoculars, and it will help you to get an excellent view.
Why Does Objective Lens Size Matter?
Objective lens diameter or size matters because it equates to how clear and close of a view you can get of what you're looking at.
The stronger the magnification with the larger the lens, the more light will pop through and provide the image you're looking for. With lower magnification and smaller lenses, you won't get enough light, and can sometimes have a blurry view.
Kids Binoculars – Our Reviews
Let's Go Binoculars for Kids
This is an actual set of binoculars durable enough for younger children but can be used by adults, too. These binoculars have a strong rubber coating to protect them if they're dropped and have a patented grip meant especially for children.
They come with soft eye pieces constructed of soft rubber meant for comfort and protection for the eyes. If you're concerned about glare, you won't have to be with this selection. They contain FMC for prisms to ensure you can get a clear view, especially when watching birds from afar.
Perhaps the best feature of these binoculars are the 8×21 magnification. Remember, this means the binoculars can see things up to 8 times their normal size, and the width of the view will be 21 millimeters. That should help get an adequate view of whatever you're looking at.
The only downside to these binoculars is that it's a well-known issue that some struggle with the focusing option. If you're new to binoculars, it may take some practice getting these to focus. If you need quality, durable binoculars, these could be a great choice.
What we liked:
Rubber eye pieces for comfort and safety
Shock proofing to ensure durability even if dropped
FMC prism for clear view
8×21 magnification
What we didn't:
Might be difficult for some to put these binoculars into focus
Obuby Binoculars for Kids
If your child needs a small pair of kids binoculars to take with them on their outdoor adventures, these could be a good fit. To start, the binoculars are coated in rubber. This makes them slip-resistant and shockproof which is perfect if they get dropped outdoors.
As mentioned, these are a smaller set of binoculars, that should easily fit in the hands of younger kids. They do come with a neck strap to help avoid accidental drops. The binoculars are also waterproof which is fun for underwater adventures.
With 8×21 magnification they should allow your kids to see things clearly from a good distance. This could be a great tool for sporting events where the seating is further away or for a fun bird watching tool.
If you're in the market for small, durable binoculars for kids these might deserve your attention. Not to mention, they come in lots of fun colors!
What we liked:
Smaller kids binoculars perfect for small hands
Rubber coating to make them easier to grip and shock proof if dropped
Neck strap to avoid drops
Waterproof
8×21 magnification
What we didn't:
The focus requires a few moving parts which could prove difficult for small children to figure out on their own
Occer Compact Binos
Here's a choice that isn't designed specifically as a pair of binoculars for kids. Instead they offer nice features that the whole family could enjoy.
They're waterproof, FMC (fully coated) and come with a neck strap and pouch. This will help keep your them safe while in use and when in storage.
The biggest drawback with these compact binoculars is their claim to have good low light vision capabilities. Let's be clear, you aren't buying binoculars with a night vision scope here, they have 21mm objective lenses and will be as good in low light as most of the other x21 binos on this list.
What we liked:
Large, comfortable eye pieces
Fully multi coated lens
Adjustable eyecups for those who wear glasses
Waterproof and comes with a neck strap and storage pouch
What we didn't:
Not as great in low light as advertised
Educational Insights Kidnocular
Here's a great way to introduce your children to the proper use and function of binoculars.
They're meant for children three and older and provide 2x magnification. Admittedly, this isn't great for seeing things clearly at a far distance, but for beginners and for very young children just showing an interest, it should be a good place to start.
If your child struggles with focusing binoculars, these are frustrating focus-free! Again, this might impact the view through them, but it beats struggling with blurry vision for binoculars that are too advanced for the user.
These kids binoculars come with a neck strap that breaks away easily for safety. Perhaps the best feature of the binoculars are the large eye pieces.
The large eye pieces make them easier to use and they're surrounded by rubber for a comfortable fit. If your child has been begging for their own binoculars but aren't quite capable of handling the "real deal" just yet, consider these.
What we liked:
 Focus-free for easier use
 Large eye pieces surrounded by rubber for comfort
 Breakaway neck strap for safety
 Great for smaller children
Noptix Kids Binoculars
This set of binoculars for kids could be great if you have a child who loves nature. They come with 8×21 magnification. This means they'll magnify objects up to eight times their normal size and have an objective lens with a 21-millimeter width.
They come with coated lenses for extra clarity. The binoculars themselves are coated in rubber for a better grip, but it also helps with their shock proofing. As if all this isn't enough, the binoculars are waterproof, easy-to grip due to their smaller size, come with a carrying case, a neck strap to avoid dropping, and a sticker book to help with bird identification.
Also, if your child struggles with the typical focus wheel on top of some binoculars, this design may work for them. These binoculars have a larger wheel next to the eye pieces which should provide easier control when focusing.
The only drawback to this set has nothing to do with the binoculars. It is with the added materials. The bird id sticker book is a fun addition, but if your child is a serious bird watcher, they may need more information than the sticker book can provide.
What we liked:
Waterproof, shockproof binoculars that are small and easy to grip
Easy to focus wheel
8×21 magnification
Neck strap and carrying case to protect the binoculars
What we didn't:
Bird ID sticker book is a nice addition but may not be enough of a resource for someone really interested in bird watching
National Geographic Binoculars
Do you need easy-to-use binoculars that are lightweight and great for on-the-go? These binoculars might be what you've been searching for. They come with a nice carrying case to keep them protected when not in use. Plus, you can attach the wrist strap to ensure they aren't dropped when in use.
These binoculars also provide 6×21 magnification and fold down eyecups for use by those who wear glasses.
They also have a focus wheel between the eyepieces which should provide greater control when trying to focus on something. One drawback to this product is they are not advertised as shockproof. However there is some soft rubber coating on the sides of the binoculars which provides a sturdier grip.
What we liked:
Fold down eyecups so the binoculars can be used by those who wear glasses
Lightweight binoculars
6×21 magnification
Easy focus design
Comes with a carrying case and wrist strap