Is your child showing greater interest in science? Or maybe you'd like to encourage this line of thinking with hands-on educational toys or equipment?
A microscope could be a great way to do this. Depending upon your child's age, you may want to invest in a real-life microscope. If they're younger, you can still explore your options for microscopes that fall under the toy category, or even something mid-way between the two.
Whichever route you take, we've gathered a variety of options to help you figure out what might work best for your child in this roundup.
The Best Microscopes for Kids – Our Top Picks
National Geographic Student Microscope – Our choice – best microscope for kids overall, comes with activities, prepped slides, extra slides for exploring your own interests, and is easy to use.
Educational Insights My First Scope – Best for younger kids as it's constructed of plastic, provides 8x magnification, and has extra large eyepieces.
Learning Resources Digital Scope – Best wired digital kids microscope. Woule make a great addition to any classroom or a fun way to explore objects as a family.
Takmly Wireless Digital Scope – Best wireless digital microscope for kids that connects to a variety of devices and can be taken with you anywhere to examine your surroundings
Science Kits for Kids Beginner Microscope – This microscope provides the highest magnification level from our list. It's an entire kit perfect for home or the classroom.
Educational Insights GeoSafari Jr Talking Scope – An interactive toy (not a proper scope) for best for very young kids. This microscope is a fun way to teach new facts.
Celestron Kids Let Your Child Explore – Best microscope for kids option for out and about fun
Carson MicroMini – An everyday carry kids microscope for "that microscope phase!"
Note: Our individual reviews are below, but you can also click any of the links above to check current prices on Amazon and other retailers
Kids Microscope Reviews
National Geographic Student Microscope
A good educational product for your child! This microscope has all you need for a fun learning experience.
To begin, this scope comes with clear lenses which are simple to switch in and out. It comes with a 10x magnification lens and a 25x magnification lens. They pop in and out of their holders for a fast and easy swap between views.
This microscope does come with a focus option and a light option. The lighting option is two-fold. You can light from overhead and beneath the slide. The only drawback is the lighting can be slightly abrasive for some slides, making it difficult to see the slide.
By placing a piece of parchment paper beneath the glass plate, it can help dull the light and make viewing the slides easier. The microscope includes a variety of slides. You get both prepped and empty slides. This is a great mix because your kids can view the premade slides or have the freedom to explore their own interests.
This product supplies a fun activity with it as well. There's a kit which allows you to see the life cycle of brine shrimp.
When you're all done with the microscope, use the supplied dust cover to keep it protected until the next time you're ready to explore the hidden gems around you.
What we liked:
Easy to use
10x and 25x magnification lenses
Focus option
Over or under lighting option
Prepared slides and activities, but you can also prepare your own slides
What we didn't:
Might take a little tweaking to make the lighting effective for every specimen
Educational Insights My First Scope
Is your child a little too small for a full-blown microscope? It might be a good idea to start with a toy option to introduce the concept and begin showing them there's more than meets the bare eye.
If this is your goal, this toy microscope could be a great fit for you as it's meant for children three and up.
Even though this is a toy, it does come with some neat options. There are large eye-pieces where your child can view the objects beneath the scope using both eyes. This scope doesn't require the coordination to only use one eye for focusing.
This microscope comes with 8x magnification, an LED light, and a focus option. It doesn't come with slides however, so you must encourage your child to find fun items to place under the microscope.
There are a few drawbacks to this microscope. The magnification may not be much stronger than a typical magnifying glass, and the plastic may not be able to take a ton of rough handling. If you'd like for your child to have an easy-to-use microscope to begin exploring scientific basics, this scope could be a great help.
What we liked:
Extra large eyepieces which allow children to view items under the microscope using both of their eyes
Contains a focus option and an LED light
What we didn't:
Magnification isn't much stronger than a magnifying glass
Product may not be able to handle the wear and tear of a three-year-old
Learning Resources Digital Scope
Do you need a fun way to integrate microscopes into your classroom? Are you a parent trying to come up with more educational activities?
Either way, this handheld microscope could be a solution inside the classroom and out. This scope is designed to plug into your computer's USB port. There's software which must be installed on your computer. Once your computer is set-up, hover the microscope over objects, and they appear on your computer screen.
This scope can magnify items up to 54 times their original size, take pictures, and videos as well.
It does have a focus option. You simply spin the top to adjust clarity of an item. This microscope comes with LED lights and two different adapters for greater clarity depending upon the items you're investigating.
The only drawback to this microscope is that you must hold it in place. For smaller children, this could prove difficult to do if they're trying to handle a microscope in one hand and manipulate objects in the other.
If you need an affordable microscope option that incorporates technology, this could be a great choice for you.
What we liked:
Can be plugged into your computer or interactive white board to display items under the microscope easier
Magnifies up to 54 times the object's original size
Focus option, and lighting option
Takes videos and pictures
What we didn't:
Might be difficult for younger children to hold steady in one hand over an object
Takmly Wireless Digital Scope
This is a unique idea for a portable microscope. If you'd like to look at items on the go, this could be the scope for you.
It connects to Wifi and can be used on your computer, smart TV, laptop, or cellphone. The only issue is when you must hook it up to a device, such as your cell phone, which requires an app.
The app isn't great and has attracted a lot of negative user reviews which might put you off. Otherwise, this microscope claims to have a 1000x magnification (how would you ever know?), has LED lighting and dimming options, can zoom in and out with a touch of a button, and has the ability to take photos and videos.
With all of these features, you might assume this microscope comes with an outrageous price tag. Surprisingly, it's rather affordable for all the bells and whistles.
If you'd like to own a microscope that can go with you anywhere, this could be an excellent choice.
What we liked:
Connects to Wifi to examine specimens no matter where you are
LED lighting and push-button focus
Takes photos and videos
Can be used with your laptop, smart TV, cellphone, or tablet
Science Kits for Kids Beginner Microscope
This beginner compound microscope could serve many purposes around your home or classroom. Whether you have a creative child who likes to explore what's going on around them, or you need a microscope for more hands-on learning.
Because this is a proper compound microscope with it has the highest magnification level on our list. It can magnify at 100x, 400x, and 1200x. It allows your child to look at items in 3D. It's a cool feature because your child can dissect what they're seeing by simply looking through a lens.
This set comes with a microscope, glass slides, collection vials, specimen box, and tweezers. It also contains an LED light which displays beneath the slides for an even better view.
The only real complaint we have about this microscope is the brightness of the light. Though it helps get a better view, it can cause your eyes to feel strained due to the overwhelming brightness.
What we liked:
A complete kit with everything your child or students will need to take a closer look at the world surrounding them
Compound microscope with the highest magnification level on the list: 100x, 400x, and 1200x
What we didn't:
The LED light can be too bright for some scenarios
Educational Insights GeoSafari Jr Talking Scope
Do you have a preschool aged child that you'd like to prepare for kindergarten? This might be a fun way to pique their interest in science. This talking microscope is a great attention-grabber and might really encourage your child's curiosity.
This is more of an educational toy than a typical microscope. It talks to your child as they view different slides under the scope. This microscope comes with two different modes­: a quiz mode and a fact mode.
The fact mode will provide interesting information, while the quiz mode tests what your child has retained. This kit supplies 20 different slides with a total of 60 images. The slides easily click into place beneath the scope.
This microscope offers large eye pieces for easier viewing and speaks in four different languages, English, Spanish, French and German. There's also an easy slide out drawer to hold the slides within it.
What we liked:
Fun toy for preschoolers to pique their interest in science early
Large eye pieces for easier viewing
Speaks four languages,
Fact or quiz mode
Celestron Kids Let Your Child Explore
Do your kids like to look at items on the go? Are you afraid having a typical microscope would be less fascinating to them?
You might want to consider this pocket-sized microscope. This microscope is meant to look at items anytime, anywhere. It provides a 60x and 120x option for magnification.
Unlike other microscopes, this model doesn't come with a mount for slides. If you have a steady hand and an ability to focus, it might still work with slides. This microscope could prove difficult to be used by younger children for these reasons as well.
You must hold the microscope very still to be able to zoom in and see clearly what you're attempting to look at. It also comes with smaller eye pieces, making it less kid-friendly as well.
If you'd like to take a microscope with you everywhere you go, give this option a closer look. You might be amazed at what you can find to look at that's all around you.
What we liked:
Pocket-sized microscope
60x to 120x magnification
What we didn't:
Doesn't have a mount for slides
Might prove difficult for smaller children to use as it requires a great deal of hand-eye coordination to hold steady
Carson MicroMini
Does your child have a curious nature about them? Then encourage it by giving them a portable microscope to look at the world in a different way while they're exploring!
This microscope is a pocket-model that can go with your child everywhere. Though it's small, it still has a variety of features.
It contains an LED light to see better, and it comes with a focus knob to see items more clearly. This microscope offers a 20x magnification as well. You can purchase this pocket-sized scope in a variety of colors too.
Perhaps the greatest feature of this scope is it comes with a cell phone adapter clip. This allows your child to take photos and videos of what they're seeing.
As it's a portable kids device, it's going to get some wear and tear, but… thankfully, it comes with a limited lifetime warranty. The biggest downfall to this microscope is the focus knob can be a little too easy to maneuver making it difficult to achieve and maintain a clear focus.
If you need a smaller microscope to take learning everywhere you go, this could be a great fit for your needs.
What we liked:
Pocket-sized microscope to take learning anywhere
Digiscope adapter clip
LED light and focus knob for better views
What we didn't:
Can be difficult to keep items in focus
A toy, a proper compound scope, or a digital scope?
There are a variety of options when choosing the best microscope for your child. Which option you choose will have a lot to do with your child's age and the stage of learning they're in.
In the age range of four to six, a toy microscope might be the best fit. It's a less expensive option which means, if the microscope gets broken, it won't be a large deal. A toy style microscope is a great choice for this age. It's educational and a great way to introduce your children to the fun world of science. Kids are also naturally curious at this age, and a microscope is a great way to encourage their curiosity.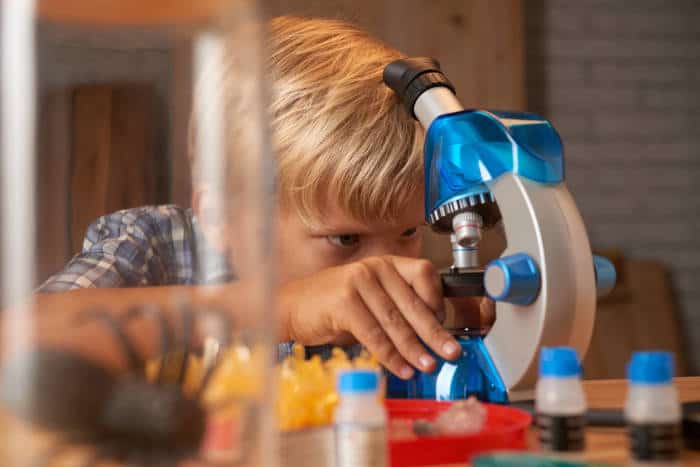 A beginner compound microscope is a great option for children between the ages of seven and ten. Kids at this age are in school, learning about science on a regular basis, and are learning the basics of science in the world around them. This type of microscope allows them to dig into what they're learning on their own terms. It will pique and continue to encourage their curiosity. Plus, it will help them build upon what they're already learning in their schoolwork.
Another option is a stereo microscope. It has a lower optical resolution power, meaning they don't enough magnification capabilities to view specimens. Like compound microscopes, stereo microscopes are also suitable for kids.
A digital microscope is a more expensive option but is great for combining science and technology. This microscope would be a great fit for children ages 11 and up. By age 11, most children are tech-savvy, have a firm grasp on basic science, and are ready to dive deeper into what interests them. Digital microscopes hook up to most computers or tablets and allow children to examine their chosen specimen on a digital screen for a better view.
Depending upon your child's age and interest level, there's a microscope that should help them explore the world around them.
What do scope magnification power numbers mean? 
Some microscopes have multiple barrels that can be spun around to get the appropriate gaze at what's under your scope.
If you're unfamiliar with these numbers, it's important to grasp a basic understanding to better utilize the microscope. The upper left number is the factor at which an object is being magnified. For instance, if you see the number ten, it means the object is being viewed at ten times its original size.
The upper right number is how open or closed the lens is. When looking through a microscope, there are times the hole is larger than others. Depending upon the number of the barrel will depend upon how large the opening is for your viewing of an object.
This also controls how much light comes through when viewing the object. If you wish to focus on one portion of a specimen, you might desire a smaller hole for viewing. It will allow for a better view of this particular portion of your slide.
The lower right number is the thickness of the glass cover slip. The lower left number is the tube length in millimeters. This will determine how close-up or far away you view what's under your microscope.
Understanding the numbers on the side of the barrel can help you decide which is the best pick for what you're viewing.
Do you need prepared slides or activities to follow?
This is a personal choice and will depend upon your child's preferences. When I was younger, I wasn't adventurous when it came to science.
I liked to know what I was looking at and didn't want to get dirty finding specimens to look at under the scope. If this describes your child, they may benefit from prepared slides or activities that allow them to sit, look, and learn.
However, my children are completely opposite from me when it comes to embracing science. They love it and want to understand all they can. Therefore, they prefer to create their own slides and explore what grabs their attention. If this is how your kids learn, too, don't hinder them.
Let them create their own slides and go where their minds lead them. It may be how they learn the best, and you don't want to hinder the process by making them follow something too rigid and of less interest to them.
Other features to look for:
A light source
It's important to choose a microscope with a light source because this allows for better viewing. If your child can't view the slides to suit them, they probably won't use the microscope as regularly as they would if they had better lighting.
Choosing a microscope with this option could be the difference between your child embracing their curiosity of science and simply skipping over it.
Focus
The focus option on a microscope is key to viewing what's under it. If you can't shift the microscope into focus, it's the difference between a blurry slide and seeing the wonders on the slide crystal clear.
Again, this isn't an option you'll want to skip over if your children are really into exploring the world around them.
Magnification Levels
We bought our youngest son a microscope as a birthday gift a few years back. He absolutely loved it! One of the features he loved the most was the magnification levels.
He created his own slides and being able to view them at different magnifications made his day every time he used it. Being able to see a variety of things up close is fascinating to some kids. If your child likes to dig deep and find their own answers, better and more diverse magnification levels would be a great choice.