Most parents either love Play-Doh or would rather send it down the road to Grandma's house. Either way, it's hard to deny that it's been a staple in toddler and preschool play for decades. And for good reason! After all, have you ever met a kid that didn't absolutely lose their mind for the stuff? You can squish it, you can roll it, you can cut it, you can mold it…The list goes on. 
Aside from the obvious fun, Play-Doh is surprisingly very educational and encourages independent play, creativity, motor skills, sensory development, and quiet time for parents. It's nontoxic and free of most allergens, making it a relatively safe option for young children. Plus, it doesn't involve a screen, loud music, or batteries!
Even for younger toddlers, homemade playdough can be an excellent option for sensory or STEM/STEAM style play and there's an abundance of easy recipes to be found on the web. Edible recipes make it even safer for toddlers still prone to putting toys in their mouths. Overall, it's one of the most adaptable modes of play and most affordable.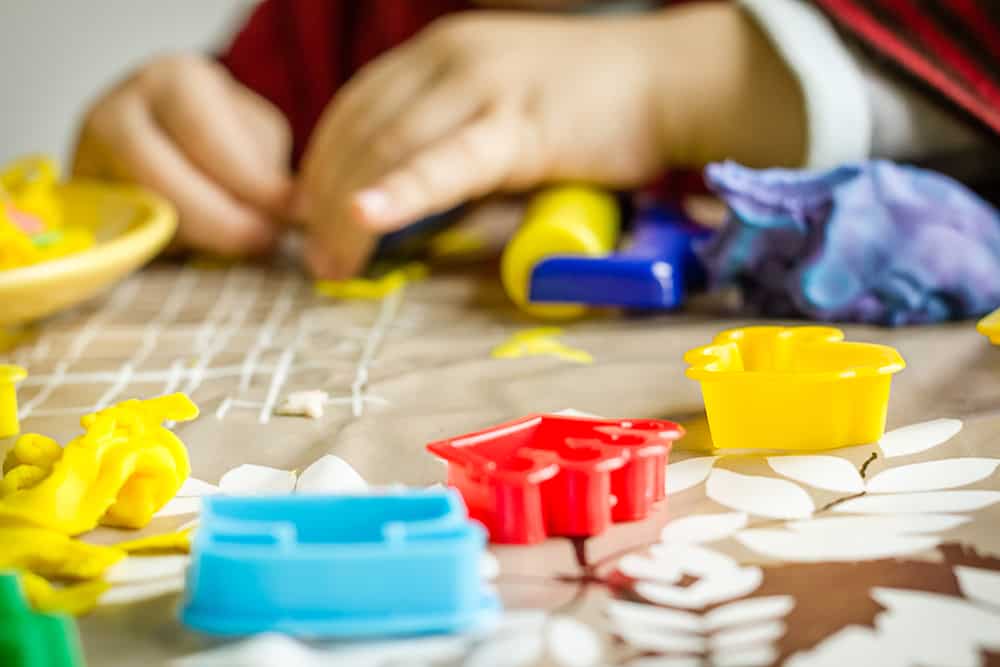 That's why we've researched both Play-Doh and play dough (yes, there is a difference) and outlined recipes, playsets, and accessories for introducing the best Play-Doh sets to your kids. 
Best Playdough Sets – Our Picks
Note: Our individual reviews are below, but you can also click any of the links above to check current prices on Amazon and other retailers
What age can I introduce play doh to my child?
The Play-Doh you can purchase in store has a recommended age of 3+ for use. With that being said, Play-Doh is nontoxic and relatively safe for toddlers to play with under supervision, which is still recommended even for toddlers and preschoolers over the age of 3. 
Homemade playdough can also be made from safe household ingredients. This could be a good option for younger toddlers (ages 12+ months) or those that still have a habit of putting things in their mouth. 
Playdough vs. Play-Doh!
Play-Doh is the trademarked, household name brand everyone has known since the 1950s. It's sold in stores and comes in different Play-Doh modeling compound colors and a myriad of Play-Doh playsets that simulate cooking, dentistry, salon play, etc. The exact ingredients are unknown but it is nontoxic and free of nut and dairy allergens. 
Play dough sets, on the other hand, is homemade, completely customizable, and describes the actual material you play with. The name encompasses many recipes and uses with the main difference between "Doh" and "dough" being a trademark of the Hasbro company. 
How can you make your own Play-Doh?
The most basic ingredients include water, salt, cream of tartar, and flour. A common variant to the recipe is corn starch. However, you can tweak the recipe depending on the desired consistency of your mix. Having the freedom to pick and choose ingredients is especially helpful for younger babies and children with allergies!
Here's a tutorial for concocting "soft playdough" with an unexpected ingredient (hair conditioner) from YouTuber Becca Beach:
If you're feeling a bit more adventurous or have a child prone to eating everything, here's a video on making edible playdough from Millennial Moms:
Is Play-Doh STEM learning?
Play-Doh/Dough are excellent choices for introducing STEM and STEAM for toddlers and preschoolers with many school curriculums utilizing the material. In terms of just playing with the materials, they're involved in sensory play, imagination, using tools, and for those keen builders… building. Even just rolling the material into balls or flattening it into a pancake qualifies as learning. 
If you'd like to introduce extra components to Play-Doh play, rolling pins, cookie cutters, plastic cutlery, and kid-safe scissors can be good STEM choices and encourage independent, hands on playtime. 
Outside of simple play, STEM can be introduced when making your own playdough. By measuring and combining ingredients your child will learn math, chemistry, and technology in one fun activity. 
Here's an educator's take on using Play-Doh for learning from Fun Hands-on Learning:
Is Play-Doh Safe and even Edible?
As stated, Play-Doh is nontoxic. So while it's not recommended that you consume a Play-Doh fun tub it's not likely to cause harm unless you have a specific allergy to an ingredient. Name brand Play-Doh is free of nuts and dairy but may irritate individuals with wheat or gluten allergies. 
Edible playdough, however, is safe for consumption and is easy to make. It should be noted that it's not recommended to consume raw flour, so recipes relying on that ingredient involve cooking the mixture in some capacity. For another safe option, many edible recipes rely heavily on corn starch as an alternative to flour. 
What to look for:
Themed sets vs Accessory Packs
If you want an all-inclusive Play-Doh experience, Play-Doh sets with theme may be the way to go. They generally play to one theme, include the necessary Play-Doh, accessories/tools, and offer instruction/direction for play. 
These might be a pizza kitchen, ice cream shop, or even Baby Shark focused sets as Play-Doh, the name brand, has made quite the effort to be creative in the variety of their themed sets. There is even a Play-Doh Kitchen Creations that lets younger children enjoy imaginative play by baking or making burgers!
The company has also produced a wide array of accessories such as cookie cutters, toolkits, storage, activity tables, specialty Play-Doh colors, party sizes, and even holiday varieties. Play-Doh's range of possibilities is truly expansive and allows for autonomous and creative play for a wide age range. 
Amount of Play Doh included
The size of themed sets varies, as do the prices. In smaller sets, there may be two cans of Play-Doh. While the pricier sets may have up to 8 or 9 cans included. If you worry about needing more or what to do if your Play-Doh dries out, additional cans are extremely affordable. 
Playdough Set Reviews
Play-Doh Play 'n Store Table – Best for Keeping Tidy!
For ages 3 and up, this could be a safe bet to introduce Play-Doh and branch out into more creative STEM-focused play. This fun Play-Doh set features a tabletop-type workspace with storage for tools and cans of Play-Doh. 
This Play-Doh playset includes over 25 tools and 8 cans of Play-Doh, making it an all-inclusive play experience for your toddler or preschooler. For parents, it can make cleanup and containment easier as well because it gives a designated space for little hands to interact with their materials. 
What we liked:
Includes workspace and storage
Includes tools and Play-Doh
Tools encourage creativity and motor skills 
Speeds cleanup by encouraging playtime in one area
What we didn't:
Higher price than other sets on the market
Play-Doh Basic Fun Factory Shape Making Machine
Also recommended for ages 3+, this shape making Play-Doh set focuses heavily on the technology aspect of STEM learning. The main appeal of this set is the tool that enables kids to squeeze the Play-Doh into fun shapes. Think of it as the pasta maker equivalent for Play-Doh. 
This set includes 2 cans of Play-Doh and 2 shape-making "rails" with 10 different shape options. With countless shape combinations and fun patterns to try, your child can combine new and interesting pieces to exercise their creativity, practice evolving motor skills, and enjoy an open ended play. For kids just dipping into STEM play, this could be a good introductory set to encourage your child's imagination.
What we liked:
Affordable set
Comes with 2 cans of Play-Doh
Introduces the technology aspect of STEM
10 shape options and helpful teaching tool for shapes
What we didn't:
One of the smaller Play-Doh sets with limited play options 
Tiny crevices in machine make it harder to clean
Play-Doh Bakery Creations
Rated for ages 3+, this bakery set allows your child to simulate baking cupcakes like mom or dad. It's one of the larger Play-Doh sets and comes with a number of accessories, including 8 Play-Doh Cutters. 
The cupcake set also includes 8 molds, 3 cutters, a texture roller, frosting tube, rolling pin, server, 2 plates, knife, fork, and a display stand. With this many avenues for play, this could be a good option for kids that grow bored of toys easily.
What we liked:
Simulates real life activity
Many options for play
Assortment of accessories included
Variety of Play-Doh colors included
Motor skill development
Play-Doh Wheels Firetruck – Best for Boys
Again, rated ages 3+, this is a mid-size Play-Doh set that appeals to lovers of firetrucks and vehicles in general. It includes 5 Play-Doh colors including a swirled blue can that's made to look like water for dowsing pretend fires. 
The truck itself uses the water cannon to blast pretend water. Play-Doh can also be squeezed into fire hoses from the back of the truck while the molds on the side of the truck allows kids to make firefighter related shapes.This set also comes with safe, plastic scissors and ladders that can be used to mold shapes.
What we liked:
Appeals to kids with car and truck fascination
Teaches functions of firetruck
Teaches mechanics and technology
Kids can enjoy playing with the truck even without Play-Doh
What we didn't:
Pressing Play-Doh through the hose and back of truck can be difficult for small children and can require adult assistance
Play-Doh FUNdamentals Box – Best for STEM/STEAM
This set is one of the best Play-Doh toys that will pique your child's interest. It is marketed as a preschool playroom box and includes many favorite accessories from Play-Doh's other sets. It also allows children to explore and review letters, numbers, shapes, animals, and colors. One glance at this set and it's clear that the educational emphasis is an obvious benefit disguised as fun play. 
The Fundamentals Box includes the Fun Factory tool and shape rails, stampers, cutters, roller with attachments, decorating tool, scissors, knife, a rolling cutter, and 10 cans of colorful Play-Doh. 3 playmats are also included in this extensive playroom set. 
Suggested for ages 3+, this could be a great learning tool to introduce preschool fundamentals while encouraging STEM skills and fine motor skills.
What we liked:
Includes the Fun Factory Machine
Over 50 pieces
10 colors of Play-Doh
Educational components
Playmats can encourage focused play and easier cleanup
What we didn't:
Some tools aren't as functional as others and are somewhat unnecessary
Strokes Art Clay and Dough Tools – Best on a budget
This is an accessory toolkit that can be utilized when playing with traditional Play-Doh or a dough of your own creation. Made small and ideal for kids' hands, these could be useful choices for introducing tools and enhancing daily practice of motor skills. 
With 6 included tools, your child will be able to cut, roll, and shape Play-Doh, dough, and clay. Though the affordable price is part of the appeal, the construction of these tools reflects that and some of the rolling tools don't function as smoothly as more expensive tools.
What we liked:
Safe introduction to cutting tools
Encourages motor skills
Can be purchased separately and used for many molding products
What we didn't:
Construction and function of tools is questionable