Oh baby bath time. How you come with so many rubber bath toys, specific tear-free shampoos and washes, bathtubs that range from simple to extravagant, and towels. Yes, those cute towels we wrap around our babies that make us pull out our cameras, snap a picture, and share it on social media. And boy do those heart-faced reactions come gushing in. Because nothing is cuter than a squeaky-clean baby wrapped up in a towel; especially a hooded towel. 
So if you're looking for the perfect towel that is soft, can absorb the most amount of moisture, and keep your baby warm after a bath, you're in luck! We've listed our best baby towels to make life as a new parent just a little bit easier. 
Our picks for the best baby bath towel!
Note: Our individual reviews are below, but you can also click any of the links above to check current prices on Amazon and other retailers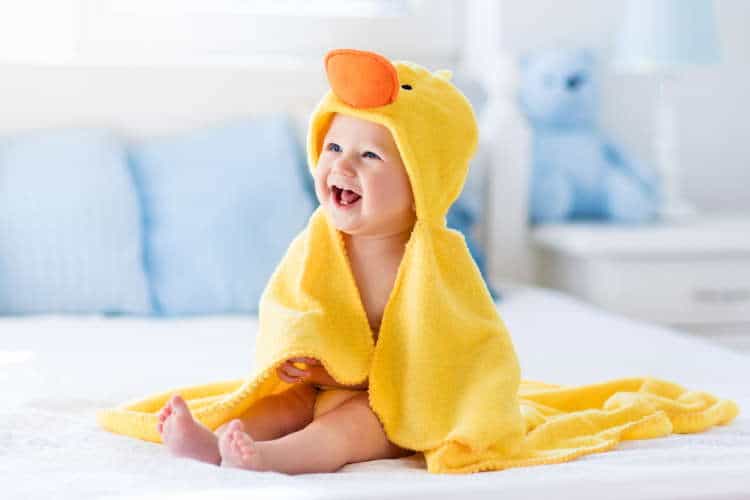 Towel Materials
When parents shop for baby products, they're almost always looking for the cutest finds. You know the cutest, most plush blankets, the cutest pajamas that make babies irresistibly snuggly, and even the cutest little nightlights that go with the theme of their nursery. Cute, cute, cute. And almost all baby bath towels are ridiculously adorable, mostly due to the precious bare baby bodies they're wrapped around. Go ahead and give yourself a pat on the back parents, because you made those beautiful little babies.
But besides the aesthetics of baby washcloths and towels, you also have to consider the materials before purchasing. You don't want to dry off your baby only to find the towel was scratching and scuffing up your baby. Yikes. 
Let's go over some of the fabric terms before we begin. Because you know, not everyone is a connoisseur of textiles – and personally, we don't expect you to be. You've already got a lot going on in that busy head and home, new parents. 
Many products made of fabric will include a tag that reads something like this: "made with all natural material." Natural fabrics include cotton, linen, silk, wool, and cashmere. They're noteworthy because they are both comfortable and breathable. If you've already shopped around for some baby towels, you probably noticed most are made from cotton. 
There are also fabrics that are synthetic.This means that the fibers were made by humans through a process of chemical synthesis. The result? Fabric that is more durable and can pick up dyes easier than natural fibers. Synthetic fabrics most commonly include nylon and polyester. Many items are made from a blend of both natural and synthetic fibers and most commonly you'll see baby towels made from both polyester and cotton, if not cotton alone. 
Lastly, there is a group of fabric that isn't quite natural or synthetic in the most common sense. These are cellulose fibers which can be obtained from the bark, wood pulp, or leaves of plants. The result is often referred to as rayon fabric and imitates the look and feel of natural fibers. They're often advertised as being more eco-friendly than most other fabrics because they come from renewable sources and are more sustainable. 
Cotton. This is the fabric people are most familiar with. Check the tag on the back of your t-shirts – we're almost certain you'll see cotton written on there. Cotton is often the fabric of choice in the world of textiles because it is long-lasting, soft, absorbent, and budget-friendly. Cotton is a great choice for bath towels because it is gentle on your baby's soft body and can absorb and dry quickly. 
Polyester. This is a synthetic fiber that is has great resistance and strength and is often blended together with cotton. Depending on the type of weave, polyester fabrics can range from soft-textured to rough, so make sure you shop wisely.
Bamboo. Fabrics that claim to be bamboo are usually not made by mechanical crushing of the plant. Rather, they are made from cellulose which is extracted from bamboo; think bamboo leaves and inner pith of bamboo trunk. The Federal Trade Commision rules that unless yarn is made from directly from bamboo fiber, it must be called rayon. But if towels are claimed to be made from bamboo, the result is usually very soft and very absorbent for your little one. 
The low-down about organic materials
You've heard of organic food. More and more grocers are selling organic fruits and vegetables which claim to be grown without any pesticides, herbicides, or other chemicals. 
But what on earth are organic baby washcloths? Well, the process in which they are grown is identical to organic foods. Textiles that are considered to be organic are grown in controlled settings – no chemicals, pesticides, insecticides, herbicides, and maybe some other -cides that we can't think of are used on them. Only natural fertilizers, soil, and water are used during growth. 
95% of a product's fabric must contain the organic fabric in order to be considered organic.
Parents look for organic fabrics in many things such as clothes, blankets, and you guessed it, towels. This is so no harmful chemicals touch their children's new, soft bodies. It's especially something parents with babies who have sensitive skin look for. 
Organic fabrics make great washcloths. Oh, the amount of washcloths you will collect. Many baby towels often come in sets with matching washcloths, too. You'll use them to wash your baby's face and body during bathtime, keep your baby's head warm, to cover your baby in order to avoid accidents (boy moms, you know what I'm talking about), to clean off drool and spit up, to use as burp cloths, and so, so much more. Washcloths are versatile and have infinite uses. So it's important to buy washcloths that are non-scratching, and organic fabrics claim to do a great job at that. 
Many towel sets are made with cotton terry cloth. This means the cotton is woven or knitted in a way that created loops to absorb great quantities of water. Although terry cloth is almost always made of cotton, it can sometimes contain polyester as well.
If a product claims to be made from organic material, always look (or ask) for a certification.
Towel weight
Excuse me, what? Is this a new trend like weighted blankets?
No.
Towel weight is the equivalent to thread count in bedsheets. Towels come with a special number, tagged as GSM, or grams per square meter. This number tells you how heavy, or light, the fabric actually is. It's a great way to measure the quality of a towel. The higher the number, the heavier the towel, and the higher capacity for absorption.
Towels normally range between 300-900 GSM. 750 GSM and above are considered to be luxury towels – they're heavy and absorb quickly. The downside is that they take longer to dry. Towels with a GSM between 300-450 are lightweight towels that are usually used for dishwashing or other household cleaning. Then we have the middle range – that's where most bath and beach towels sit. Between 450-750 GSM. 
Wash care for baby towels.
Babies have sensitive skin. It's important you're aware of the products you use to wash, massage, and moisturize your baby. It's also important that parents use gentle clothing and towels in order to prevent any scratching or rashes. 
It may seem trivial, but keeping baby towels clean and fresh will protect from skin scratching and rashes – and those can very easily affect your child's health. 
It's good practice to keep your child's load of laundry separate than the rest of the family's. At least while they're infants. Adult clothing might sport dirt and scents that could transfer to your baby's clothing – and that's not so great for sensitive skins. 
Detergents
Many parents opt to buy laundry detergents that are specifically catered to newborn clothes – they're usually free of dyes and perfumes, along with any other harsh chemicals. They're gentle, but often can be a little weak in taking out tough stains. But going for detergents that are free of these harsh chemicals is often the best practice. 
If you don't want to purchase two separate detergents for your family, try safer and cleaner ones that can be used for all of your laundry loads. Look for some keywords such as gentle, chemical-free, dye-free, no perfumes or scents, etc.
And when you're washing baby towels, skip the fabric softener, that always makes it longer for your towels to dry.
If you've got a particularly foul smelling towel, set your wash up on the hot cycle and add a cup of vinegar to the load. This will remove any bad odors.
How often should you wash baby towels?
So you've given your baby a bath. And now you're juggling with putting dinner away, washing the dishes, getting your older kids to bed, fixing lunches for school. Whew! We know how chaotic those last few hours of your day can be. But amidst it all, don't make the mistake of tossing the wet towel somewhere. It can sit and collect mildew and wreak havoc on your nose. Best practice is to hang the towel to dry after each use. 
And once you've dried off your freshly bathed baby with the towel 2-3 times, it's time for a wash. Using the same towel more than that without washing can cause your little one to break out in a rash and/or be itchy all over. The bacteria that inevitably collects on towels can irritate sensitive new skin. 
How often should you bathe your baby?
Many parents include an evening bath as part of their baby's nightly bedtime routine. It isn't actually necessary for you to baby to bathe every day. A bath 2-3 times a week is sufficient enough to keep your newborn clean. But if you'd like to keep your nightly routine which includes a bath for your baby, that's perfectly fine too. Just make sure not to give your baby more than one bath a day – that can dry out her skin.
Between baths, you can keep your baby clean by using a good quality wet washcloth. Cleaning your newborn's privates is important – ensure you use warm water and a soft cloth often.
Our Top Baby Bath Towel Picks
Organic Bamboo Hooded Baby Towel by San Francisco Baby
This hooded towel by San Francisco Baby is made from 100% organic bamboo – it's soft, cuddly, and eco-friendly. No BPA found here. You can use it on the most sensitive skin without worrying about any scratching or reactions.
It's a gender-neutral towel equipped with cute ears that would help turn any bath time into a newborn photo op. It can make for a great incentive to get out of the bath too – especially for those babies who would spend all day in the bath if they could.
This San Francisco Baby towel is larger than most newborn towels so you and your little one can enjoy years after the newborn stage. With a GSM of 500, this towel offers decent absorbency while also being plush and soft. You can purchase this in either grey or pink, or in a set with a washcloth.
Because of the material it's made from, this towel gets softer with every wash.
San Francisco Baby offers a wonderful lifetime guarantee: if you aren't fully satisfied with the towel, they'll refund your money, no time limit. That screams boat loads of confidence on behalf of the company. And there's no harm in purchasing the towel either.
What we liked:
100% organic bamboo
500 GSM
Soft and plush towel that is gentle on your baby's skin
Unisex design with cute animal ears
Comes with a lifetime guarantee – if you don't love the product at any point, San Francisco Baby will refund your money while you keep the towel
Makes a great parent for new parents
Can be purchased alone or in a set with a washcloth
Machine washable
Hudson Baby Unisex Baby Animal Face Hooded Towel
Okay, this adorable towel makes us gush with oooohs and awwws. Seriously, we especially like the elephant design one a ton. Ba dum tss.
This hooded towel by Hudson Baby is made from 100% cotton and sports an adorable animal face on its hood. Need something winter-themed? There's a bear in a scarf. Go to the beach often? There's one with a scuba turtle. There are even four different types of unicorn hoods. With over 60 different options, you'll be sure to find one you and your baby both love.
The towel's large size make it ideal for bigger babies and/or for prolonged use. 100% woven terry cotton means that this towel is also gentle enough for everyday use. Its lightweight feature is great for traveling.
So pick your baby's favorite character and dry away.
What we liked:
Made from 100% cotton
Gentle enough for everyday use
Comes in dozens of different animals/characters
Machine washable
Adorable enough to get baby excited for bath time
Affordable
What we didn't:
Isn't as thick as many other baby towels
Packaging is a bit much to get through
Natemia Extra Soft Rayon Bamboo Baby Hooded Towel
Remember when we talked about Rayon? You know, fabric made from cellulose fibers of bark, pulp, or leaves of plants to imitate natural fibers. This baby hooded towel made by Natemia is made from high quality Rayon that comes from bamboo. It's soft and plush and sure to be gentle on your baby's delicate skin.
The hood is embellished with bear ears for added fun. We all know how cute babies are after baths. Throw on a towel with bear ears and you might even get baby fever all over again!
With a 500 GSM, this towel sits in the middle range of towel weight and has a decent enough weight to absorb and dry off your baby quickly. In fact, it absorbs water three times as fast as ordinary cotton. And when you're rushing between dinner, bathtime, and your baby's bedtime routine, those extra minutes spared from quickly drying your child can really add up. 
If your baby has sensitive skin, there's good news. This towel is odor resistant and gets softer with each use. No rough scratching or scraping here. 
And if you're a fan of products that grow with your child, this is a good choice. This generously sized towel measures 35" by 35" so you can use it even throughout the toddler years. 
This towel might be pricier than most towels you'll find at the store. But we find that it holds its worth – it is more long-lasting than some of the more affordable options.
What we liked:
Made from natural bamboo
Extra soft and absorbent for even the most sensitive skins
500 GSM
Larger than most hooded baby towels – 35"x35"
Grows with your baby, from infancy throughout the toddler years
Machine washable
Gets softer with each wash
Gender neutral
What we didn't:
A bit pricier than most towels
Burt's Bees Baby Hooded Towel
Yes, Burt's Bees makes more than just beeswax lip balms. In fact, they've got a whole line of newborn and baby clothing, swaddles, burp cloths, blankets, crib sheets, and more! These hooded towels are made from 100% breathable cotton. The material is designed to stay soft even after many washes.
The single ply knit terry fabric makes for a soft and gentle towel that won't be too harsh on your baby's skin. On one side it is smooth terry knit and on the other it is looped terry knit.
The Burt's Bees hooded towel can be purchased in either a single, or double pack, and in a variety of colors and patterns. You can choose from a striped pattern towel or one with bees. Or if you want to keep things simple, you can opt for a solid-colored towel.
With almost any product that comes in contact with your baby's precious skin, we recommend washing first. This Burt's Bees hooded towel may need to be put in the wash a couple times for some fine threads to shed and come out.
Pair this towel up with Burt's Bees organic bathrobe and you've got the perfect cutest duo for your baby.
What we liked:
Made with 100% cotton
Organic, breathable material
Comes in different colors/patterns to choose from
Reasonably priced
What we didn't:
Size isn't as large as some other towels so you may not be able to use it throughout toddler years; it might even be difficult to fully wrap a larger baby
Towel is very light so it doesn't quite absorb as much
Organic Bamboo Baby Hooded Towel by Miniboo
Let's talk luxury. What makes a towel luxurious? And is there such a thing as luxury towels for babies?
Well, this towel sure makes us think so. From its premium, ultra soft bamboo material to its hypoallergenic design, this towel by Miniboo will make your baby swoon. The bamboo is combined with cotton to create a durable yet soft towel. And with a GSM of 500, you don't have to keep going over your baby's body in an effort to absorb all the moisture after bath time. 
We especially love that you get 35 square inches of extra soft and thick material to work with; every bit of your baby's body is sure to be covered. That also means that it will grow with your child. No need to toss it after a few months. 
The hood comes in a cute bear design that is gender neutral. Make sure that phone is charged after bath time. You won't be able to resist a picture. 
What we liked:
500 GSM
Made from organic bamboo combined with cotton to give you a soft finish
35 square inches give you extra material to fully wrap your baby or older toddler
Long-lasting so you don't need to keep replacing your baby's towel
Machine washable 
3 x more absorbent than the average baby towel
Comes in a cute bear design that in gender-neutral
What we didn't:
It'll set you back a few extra dollars compared to most towels you can find at the store
Luvable Friends Animal Face Hooded Towel
Here's another towel that comes in a variety of hooded animal designs – just like the Hudson Baby towel. They've got lions and penguins and pandas – oh my!
This Luvable Friends towel is made from 100% terry cotton – which helps prevent any rough scratching or scrubbing. And that's one of the things you'll need to be looking for when it comes to buying baby bath towels.
It also is generously sized and measures 30 by 36 inches. That means you'll be able to use it with older babies and toddlers as well.
After a couple of uses, toss it in the wash because it's machine washable. Side note, it's 2019 – everything should be machine washable.
What we liked:
Comes in a variety of animal hoods/colors
Made with 100% terry cotton 
Large size that can be used for older babies and/or siblings
Machine washable
What we didn't:
Although it isn't rough, it isn't as soft as you'd want a baby towel to be
We noticed the quality doesn't quite match some of the other towels listed; these towels fray quite a bit