Almost any store you walk into these days carries a pack of washcloths. Because they're just so darn versatile. There are so many things you can do with a washcloth. From cleaning up spills, to wiping down your counters; from cleaning your baby's tush to exfoliating your face (not particularly in that order), they're great additions to any home. 
Especially a home with a baby. Babies have soft, delicate skin that needs to be cleaned in the most gentle ways. During the first few weeks of your baby's life, you'll want to avoid the use of baby wipes altogether and that's where washcloths show their magic. They are gentle, absorbent, and help wipe away any dirt. 
Continue reading for more information on baby washcloths and to see our best baby washcloths recommendations!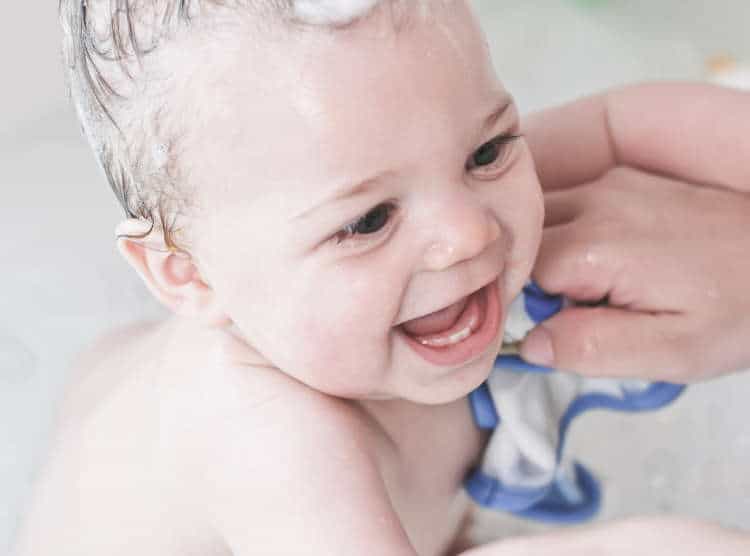 Our picks for the best baby washcloths!
Note: Our individual reviews are below, but you can also click any of the links above to check current prices on Amazon and other retailers
Washcloth materials
You probably already own some average washcloths and they're tucked away in your linen closet. Or, if you're a washcloth addict, you probably have one in every single room. Go ahead and pick one up. Feel it in between your fingers. Gentle wipe the back of your hand with it. How does it feel? Is it rough?
If you've had your washcloths for quite some time now, they might not be so soft anymore. This is especially true if you've bought the cheapest pack you can find. Regular low-priced washcloths are usually made with low quality fabric. And over time, they became rougher, and harsher to your skin. Which makes bathing with them quite unpleasant. And perhaps this is why you've found an alternate use for them. Maybe you use them to wipe down your counters now. Or clean the dust off of your console tables. In that case, use them until they shred to pieces, right?
But if you're still using them in the shower, it's time to toss them out. It was probably time to toss them out months ago. You aren't being gentle to your skin at all. And even when you first bought them, those low-priced washcloths were causing more harm to your skin than you'd like to think. 
Now you've got a baby at home. And she's got delicate, sensitive skin. So only the most gentle, softest baby washcloths will do. Although many people don't like buying towels or washcloths that are specifically designed for babies, it's a great idea to purchase and use them at least for the first several weeks. Why?
A baby washcloth is made from high-quality soft fabrics. These materials tend to get softer with each wash, or at least keep their softness. 
When purchasing baby washcloths, you'll probably run into these materials:
Bamboo. These washcloths are made from soft, absorbent bamboo. This fabric is made from cellulose which is extracted from bamboo (leaves and inner pith of the trunk). There are many products that claim to be made from bamboo but aren't. Actual bamboo fabric is very soft and very absorbent.
Terry cotton. Cotton is the most common and versatile fabric in the world. Terry cloth is long-lasting, soft, and budget-friendly if made with enough percentage of cotton. Terry refers to how the fabric is knit or woven; terry cloth has loops that can absorb large amounts of water. 
Muslin. Muslin is a loose, plain, finely-woven cotton fabric that dates all the way back to Ancient India. It is breathable and durable and has a stretchiness that snuggles around your baby.
Microfiber. This is a synthetic fiber which is made from polyester, polyamide, or a combination. It is a perfect choice for household washcloths as it easily cleans dirt and grime. Beware though, some microfiber cloths can be too harsh for your baby's delicate skin.
Many parents also opt to purchase organic baby washcloths. Textiles are considered to be organic if they've been grown in controlled settings. That means no chemicals, pesticides, insecticides, or herbicides. These materials are grown using only natural fertilizers, soil, and water. These materials are considered to be hypoallergenic as well. Hypoallergenic fabrics are made without any harsh chemicals and have less irritants than most other fabrics out there. Hypoallergenic organic baby washcloth is perfect for babies with sensitive skin. 
Do you need washcloths for a baby?
We find washcloths to be essential items for babies. Maybe you don't need washcloths that are specifically designed for babies. And some people may even say that you don't need washcloths at all. But here's the thing: they make your life much, much easier. Especially during the first few months. Heck, we're still using washcloths with our little one after 2.5 years. 
While you're still at the hospital, the nurse will most likely teach you how to give your newborn a sponge bath. You won't be sitting your baby in a running bath, but rather cleaning them with a super soft, wet cloth. And this is when you'll really wish you had a washcloth if you never purchased any. 
And in the first few weeks of your baby's life, you'll want to avoid baby wipes while cleaning them during diaper changes. Wipes can simply be too harsh for newborns. Wet a soft washcloth with warm water and clean your baby's bottom and privates during diaper changes this way, instead. 
Other uses for baby washcloths
We know what you're thinking. "My newborn only needs a bath once or twice a week so 1-2 washcloths should be enough." Pro parent tip here: you'll want a few more. Baby washcloths are so versatile. They're relatively inexpensive and can help with so many things when you've got a new baby in the house. 
Cleaning gums. Although newborns don't have teeth or eat actual solids until after some months, they still need their mouths cleaned out. You can use a warm, wet washcloth to wipe your baby's gums after each feeding.
Soothe teething gums. Gums are so important, we thought we'd bring them up twice. You've probably purchased some textured teething toys in an effort to relieve some of your baby's very real, and very hard-to-witness pain. And that's great! But we've noticed that a chilled, wet washcloth does wonders to help soothe a teething baby. You can even dip the washcloth in breast milk. The cold washcloth will also soak up the inevitable drool that comes with teething. 
Use as burp cloth. There are specially made burp cloths out there, and you could very well use them. But if you already have a set of washcloths, or ten, they'll get the job done just fine. In fact, they're more absorbent than most burp cloths. Win-win.
Pee-pee guards. Oh we're very serious. If you're a boy mom, you know exactly what we're talking about. Washcloths can be used during diaper changes so your little boy doesn't spray all over. We've seen one too many accidents during diaper changes, and a soft washcloth really does the trick. 
Washcloths vs washing mitts
Washing mitts? Think oven mitts, but for bathtime. 
A washing mitt is a small piece of cloth, usually made from similar fibers as a regular towel/washcloth but shaped like a pouch. Your hand fits right in to make cleaning and scrubbing easier. Many adults use washing mitts as a means of exfoliating their face or body. Washing mitts are also great options for babies; especially newborns. 
Washing mitts allow you to have more control while cleaning your baby. It often can be easier to wipe down your little one while wearing a washing mitt instead of a washcloth that can often end up in a ball. With washing mitts, getting into your baby's nooks and crannies, and those cute little rolls, seems more doable. They also usually produce more of a foam than using just your hands alone when you bathe your baby.
They don't usually come in large packs, however, like most baby washcloths do. They do come in many fun, animal prints though! And we'll take whatever gets our kiddos more excited about bath time.  
Washcloths, on the other hand, are far more common, and popular. Especially due to their versatility. You have many more options to choose from when it comes to material, color, or brand. They do a great job in aiding with the entire process of cleaning, but you don't have a great control over them. Washcloths can tend to slip, slide, bunch together much more than washing mitts. 
And because they tend to come in large packs, you're likely to have other lying around. They come in handy for a number of things, as we mentioned before. 
How many baby washcloths will you need?
There's no magic number when it comes to how many baby washcloths you should own. That number depends on a lot of different factors.
Do you have multiple babies at home?
Do you only want to use them for baths?
How often do you do laundry?
And even if there was a magic number, it definitely isn't one. Or two. Veteran parents know that you'll be using quite a few per week. Now why isn't one washcloth enough? Or two?
Here's a scenario. You're bathing your baby and you pull out the two washcloths you have, fresh out of the laundry. One you place over your baby's bottom to cover accidents, while the other you use to gently scrub her down. After the bath, you transfer her into one of those best baby hooded towels. 2-3 days later, she's ready for another bath, but you never got around to washing those organic baby washcloths. Sure wished you had some backups right?
Even between baths, you might be reaching for baby washcloths often to gently clean your baby's face, bottom, or nose. 
We recommend buying a dozen washcloths and starting from there. That amount won't set you back much in terms of money, but will be able to meet many of your needs. From that point, you'll be able to gauge whether or not you need to purchase any more. 
How often should you wash baby washcloths?
This depends, sort of. If you're using a washcloth to wipe your babe's hands and face, you could use it twice before throwing it for a wash. If we're talking about the washcloths used during bathtime, we recommend washing after each use. And if you've got a newborn at home, you're probably already doing laundry pretty frequently. Because, babies. And blowouts. And spit-ups. 
A hanging used, wet baby washcloth can very easily harbor bacteria. When you leave them to dry each day, you're also creating a perfect idea for mold and bacteria to thrive in. And each time you do use the washcloths to clean your baby, all the dirt collected on them creates even more germs. 
This is why it's pretty handy to have a few extra washcloths hanging around the house or in the diaper bag. Because if it isn't laundry day, and the thought of reusing a washcloth on your baby's sensitive skin disgusts you, you can pull out a fresh, clean one instead. 
How often should you wash your baby's face?
So you probably already know that you shouldn't bathe a newborn every single day. That can dry up your baby's skin. Instead, aim for 2-3 times a week for a bath.
In between baths, however, make sure you're cleaning other areas that need special attention. Aside from her bottom, you'll want to wash her face daily. Now by wash, we certainly don't mean use face wash and splash water. All you need to clean your baby's face is some warm water, and a soft washcloth/wash mitt or hooded towel. Or even cotton balls if she's only a few days old. 
Start by wetting a soft washcloth with warm water. Gently wipe your baby's chin, cheeks, eyes from the inside corner to the outside, and forehead. Remember not to scrub your baby's skin and instead gently pat and wipe it. 
Our Top Baby Washcloth Picks
KeaBabies Bamboo Washcloths
If you don't know where to begin or not sure which washcloths to buy, here's a perfect starting point.
These washcloths by KeaBabies are made from premium organic bamboo fibers and are luxuriously soft and thick. With a GSM of 500 – pretty impressive for washcloths – you'll feel satisfied that your baby is being washed and cleaned by high-quality material. Because of the premium bamboo material, these squared cloths won't cause any irritation to your baby's delicate skin. They're also an ideal choice to use on babies with sensitive skin and/or cradle cap.
That 500 GSM we talked about? That's textile lingo for towel weight. Or grams per square meter to be exact. 500 for washcloths is a great number when it comes to weight and absorbency. It's a pretty good number for regular towels, too. Unlike other baby towels, these organic bamboo washcloths are made thicker, making them one of the best organic baby washcloths – you'll be sure to get a great lather during your baby's bathtime. And if you're using one of these for alternate purposes (you know, because there are so many things you can do with them), their thicker cloths clean up spills and spit-ups pretty well.
These come in a pack of 6. And if you're like me, you might want to snag one just for yourself. They're surprisingly soft to the touch and feel wonderful on the face. They even work great to remove your makeup. Just make sure you're washing after each use! And try not to get your baby's washcloths mixed up with yours, or the household ones.
What we liked:
Incredibly soft and thick material
Made from organic bamboo
500 GSM
Generous size of 10" by 10"
Ideal for sensitive skin
Very absorbent
Multi-functional 
Makes a great baby shower gift – they even come in a cute little gift box
Reasonably priced
What we didn't:
Honestly? We can't think of a single one
Bamboo Baby Washcloths by Hiphop Panda
We had some pretty good expectations from a brand named Hiphop Panda. Seriously, that name screams just f-u-n. And we're here to tell you, Hiphop Panda did not disappoint.
These washcloths are 100% rayon made from natural bamboo. Naturally antibacterial and hypoallergenic, they're comprised of 2 ultra soft and absorbent layers which are great for on your little one's sensitive skin. Moreover, they're twice as thick compared to cheap, average baby washcloth you'll find on the market and absorb 200% more moisture than cotton washcloths.
Because they're hypoallergenic, they are resistant to odors and are 100% free of any chemicals, no BPA, latex, lead, or phthalate here! And aren't we all striving for safer and eco-friendlier products?
You can purchase these washcloths in white, grey, or white with grey trim. They're machine washable and can even be tumbled dry low. Make sure you wash before first use. And if you're not 100% satisfied, they'll return your money.
Fair warning though – you might want to snag an extra pack of these for yourself because they are incredibly soft. Each face wash using these washcloths feels more like a massage rather than another boring chore.
What we liked:
100% rayon made from bamboo
Luxuriously soft
Made with two layers
Hypoallergenic and free from any chemicals 
Eco-friendly
Absorbs 200% more moisture than cotton washcloths
Fast drying
Reasonably priced
Comes in cute packaging
What we didn't:
The two layers are only stitched together at the edges so the washcloths can become slippery during other uses around the house such as cleaning or wiping down counters
Kyapoo Microfiber Baby Washcloths
Here's a set of washcloths that isn't made from bamboo, but rather microfiber. Coming in a pack of 10, these Kyapoo microfiber washcloths are made of breathable ultra-soft coral fleece. They are highly absorbent and are easy to dry. There's also no pilling with these – and that's one of our biggest gripes with so many washcloths. Oh the amount of pilling we've seen.
These bright colored 12" by 12" washcloths are large enough to cover more of your baby's body or even for an adult to use. They're quite absorbent and fluffy, and don't tend to shrink even after many washes. Try using them for yourself, we dare you. You'll probably end up setting aside one, or four, of these washcloths for your own use. They're great at removing makeup too. And we're all about multipurpose products. This one fits the bill quite well.
What we liked:
Breathable soft coral fleece
Very soft and absorbent
Comes in a pack of 10
Fun, bright colors – can be easily separated for different purposes
Generously sized at 12 square inches
Machine washable
What we didn't:
Their extra absorbency and softness might reduce the amount of lather. We found that cutting the washcloths into 2-3 smaller pieces can help with this
Baby Muslin Washcloths by Mukin
Veteran parents know the low-down about Muslin – it's a soft and cozy material that many swaddles and receiving blankets are made from. Muslin, also known as Malmal in southeast Asia, is a plain woven cotton. It dates back to Ancient India and was once considered a luxury lightweight, and almost sheer fabric.
These best baby washcloths by Mukin are made from 100% organic muslin cotton. However, instead of the traditional silk-like sheer, these washcloths are thickened with six layers for additional softness for your little one. That makes it ideal for babies with sensitive skin and/or even those with cradle cap, eczema, or baby acne. They're generously sized for washcloths and measure 12 inches squared.
It makes a great shower gift as it comes in a colorful pack of 5 and is gender-neutral. If you aren't completely satisfied, these best baby towels come with a 30-day money back guarantee. All of Mukin products also come with a lifetime guarantee, so there really isn't any risk.
What we liked:
100% organic muslin cotton
Doesn't contain any formaldehyde, chemical bleach; made with non-irritating natural dyes
Hypo-allergenic 
Extra soft
Comes in a pack of 5 colorful washcloths
Large size of 12" by 12"
Machine washable
Multi-functional
Money back guarantee
Good for washing/exfoliating your own skin
What we didn't:
Doesn't last as long as some other washcloths; after several washes, they do tend to break apart/unravel a little
Not the best absorbency