Have you ever found yourself constantly checking the water of your baby's bath? Feeling the water coming out of the tap until your arm falls numb? Swishing your arms around in the baby tub not sure if it's too hot, too cold, or just right? We've been there too Goldilocks. 
Luckily, there are bath thermometers that can give you an accurate reading of your baby's bath water every single time. No guesswork, no sitting your baby in only to take him right out after he screams because of the uncomfortable temperature, and no more yucky, cold water. Bath thermometers help ensure a warm, safe bath for your little one. 
Got some questions? Hold that thought. We've got all the information you'll need about baby bath thermometers, and even some recommendations too!
The Best Baby Bath Thermometers – Our Picks
Note: Our individual reviews are below, but you can also click any of the links above to check current prices on Amazon and other retailers
Do you need a thermometer for a baby bath?
Baby thermometers take a lot of the guesswork out when it comes to the ideal bath temperature for your baby. Bathing a newborn can be daunting enough, and making sure the water is just right can add on to the apprehension. If the water is too hot, it can scald your baby's delicate skin in just seconds. Too cold, and you'll find your baby shivering. 
The best way to avoid either of those scenarios would be to invest in a baby bath thermometer. Now, you don't necessarily need a baby bath thermometer. But it definitely is one of those baby tools that comes in handy, especially for first-time parents. And even more so if you're already a little overwhelmed when it comes to giving your newborn a bath. It's a small price to pay if it means you'll have a peace of mind and your baby is safely sitting in water that is comfortable for her skin.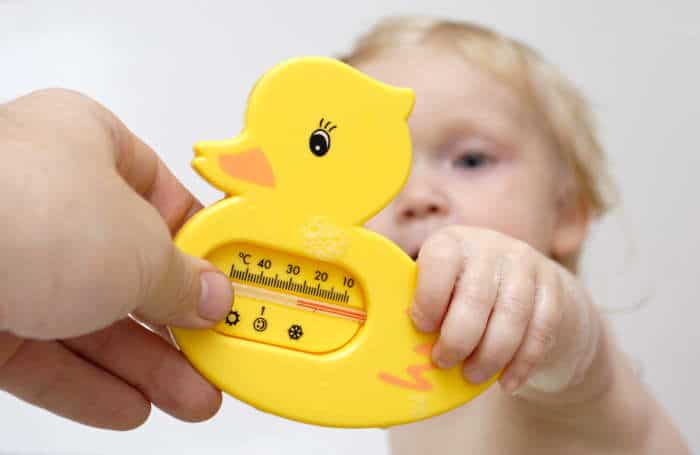 Baby bath thermometers will give you accurate reading every time without having to dip your hands in the water multiple times. Not only are they convenient to use while running the bath initially, they're great for testing the waters throughout your baby's bath time. Oftentimes, the water temperature can drop after a few minutes. If you have a thermometer, you can easily know when to add more warm water, and how much. 
What temperature should a baby bath be?
This is where a baby bath thermometer really becomes useful. It will give you an accurate reading that you just can't guess with dipping your hands in.
Ideally, you want your baby's water to be just above 100 degrees fahrenheit (37.7 celsius) – this is the perfect temperature to prevent any chilling or burning sensation. 
Babies tend to lose body heat quite quickly, so it's best that you have the right temperature down right before putting your child in. Whether you're using an infant bath tub or placing your baby in the sink, it's always best practice to fill up with just enough water that the bottom of your baby's body is covered. 
What if I don't have a thermometer?
We get it. Sometimes you have a full list of baby products on your registry and a baby thermometer never even crossed your mind. You bring your baby home, lay out all the bath products and get ready to give your little one her bath. And then it hits you, you don't even have a thermometer to check the temperature of the water. What do you do? How do you make sure the water is not too cold or not too hot? 
You use your elbow.
Yup, you read that right. You use the elbow test to determine if the bath water you ran is the correct temperature. 
The elbow test is when you dip your elbow into the water. If it feels too hot or too cold on your elbow, it isn;t the correct temperature. You're looking for warm water here.
The theory behind the elbow test is this: oftentimes our hands have been so desensitized to heat by using them to run the tap, check the water is warm etc, that they are not able to accurately gauge the temperature when the bath is full. We're able to tolerate much higher temperatures and might think that hot water is warm and ideal for our baby's bath when in actuality it may be far too hot. Our elbows are more sensitive and can do a better job at checking baby's bathing water temperature correctly. 
The more you run the bath for your baby, the better you'll be able to determine the right temperature for your baby. Of course, you can simplify things by purchasing a thermometer explicitly made for baths. 
Safety Tips
Each day, more than 300 children are admitted into the emergency room due to injuries sustained from hot, scalding water. More than half of those injuries come from hot water (including hot bath water). 
Like we mentioned earlier, it's unfortunately far too easy for baby's skin to scald while running a bath. If the water is hot enough, it only takes a second for your baby's skin to burn to such an extent, that their skin could peel off. So what are some ways you can minimize the chance of this happening?
Always run cold water first. When filling a tub (or sink, or infant bath tub) with water, always begin with cold water and then top off with hot water to reach the right temperature. What's the logic behind this?
If you add hot water first, you run the risk of a baby or child accidentally falling into the tub and suffering from what could be life-threatening burns. By adding cold water first, you eliminate that risk. Once you add both the cold and hot water, mix them together so there are no hot spots. 
In 2007, Vicki Anderson of Birmingham, Alabama watched while first responders airlifted her two-year old son to the hospital after he fell into a running bathtub. While Vicki was filling the tub from the hot water tap, she left the bathroom to get to her children who were shouting. 
In the one minute she turned around to say something to her older daughter, her 2-year old had gone into the bathroom and dropped a toy dinosaur into the bath. He went after the toy and fell into the tub –  and immediately began screaming. When Vicki rushed into the bathroom, her son was in the corner of the tub and much of his skin peeled off into the water. 
Initially the doctors had given her son a 7% chance of survival, but he survived; only years and years after frequent visits to the hospital and even a 2-month coma. You can read the full story here. 
Set your water tap to never exceed 112 degrees F. Some homes are equipped with water systems that can be controlled. You can set a maximum temperature for the hot water so you don't even have to deal with scalding water in the first place. 
Never leave your baby unattended. Once you've started your baby's bath, you shouldn't leave until you've taken her/him out. Even if it's for something as quick as grabbing a towel. A child can very easily open the water tap and if the water flowing is hot enough, it can burn them within seconds – less than the time it takes you to grab a towel. 
It's best practice to collect all bath supplies before you even run the water. That means the baby wash, bath toys, towels, etc. This way you won't have to leave your baby to collect any items. 
Always take your baby out before adding more water. Over time, the bath water will start dropping in temperature. And if your baby's bath isn't finished, you might want to add more hot water to get the right temperature again. If that's the case, make sure you take your baby out for a few seconds. Otherwise, the hot water can burn their skin when mixing into the sitting water. 
What to look for 
Isn't a thermometer just, well, a thermometer? Why can't you just grab any off the shelf on Aisle 15? 
Well technically, you could. But if you're really looking into purchasing a thermometer especially for your baby's bathtime, it's best to know what features to look for. And what sets a great thermometer apart from a good one. 
Accurate reading. This is a no-brainer. Obviously you want a thermometer that will get you an accurate reading each time you use it. That means there's no guesswork on your end either, You should clearly be able to read the temperature.
Min/max temperature alarm. We find the best bath thermometers to have a built-in alarm that sets off somehow if and when the water is simply too cold or too hot for a baby.
Does it pull double duty? If you're bath thermometer can also be used for the room, that's great. We love products that can serve more than one purpose. And if that thermometer also works as a bath toy? Well, we've clearly got a winner.
Baby Bath Thermometer Reviews
NUK Bath Thermometer – Best Classic Style
If you're a veteran parent, you're probably familiar with the German company NUK. They make many feeding products including pacifiers, bottles, and cups. They've also come out with a classic designed bath thermometer. Made with shatterproof material, this thermometer retains its shape even after several uses.
It reads like a classic thermometer with digit marks on it. Because it is made and manufactured in Europe, the temperature is only in Celsius. If you live in the US and are used to Fahrenheit, you could still utilize the emotion faces on the left side which indicate at which point the water is safe or not.
It's a classic, non-digital bath thermometer that accurately does its job. What else could you really ask for?
What we liked:
Gives accurate reading
Shatterproof and shape-retaining
Fun, cheerful design
BPA-free
Does not need batteries
What we didn't:
Temperature can only be read in Celsius
MotherMed Floating Whale Bath Thermometer – Best Toy Version
This baby bath thermometer is made by MotherMed and is whaley, whaley cute. A bright blue whale accurately detects the water temperature within 1-2 seconds and takes out all the guesswork for parents. No need to wait a long time to see if the water is comfortable for your little one. Babies won't be able to detect that this is anything more than their bath toy.
The top of the whale showcases easy-to-read digits in Fahrenheit and will flash if the water reaches extreme levels – whether it's too hot (above 100 degrees F) or too cold (below 90 degrees F).
What we liked:
Has an easy-to-read display on the top of the whale
Cute design that turns this thermometer into a bath toy
Gives an accurate temperature reading within 1-2 seconds
Display flashes if the water temperature is too hot or too cold
Floats on the water
Battery comes securely sealed in the whale
What we didn't:
Temperature can only be displayed in Fahrenheit
Elepho eFloat Electronic Thermometer
This electronic thermometer by Elepho is a floating bath toy shaped like an elephant which helps you monitor your baby's bath water temperature for the entire duration. It features an automatic on/off function; when the device is placed into the bath water, it automatically turns on and will automatically turn off when not in use.
The large digital display allows you to see the temperature clearly. Like most other bath water thermometers, it has a built-in alarm (visual and audio) that lets you know when the water is either too hot or too cold. 
Every five seconds, the thermometer provides an accurate reading of the water temperature – no need to constantly take the thermometer in and out yourself. 
What we liked:
Has a large digital display that is easy to read
Built-in alarm lets you know when the water is too hot or too cold
Thermometer checks the temperature every five second for accurate reading of the water
Is also a fun, functional bath toy that can float in water
Auto on/off
What we didn't:
Although this is supposed to automatically turn on when placed in water, we noticed that sometimes it takes a few minutes for it to provide a reading
Munchkin White Hot Safety Bath Ducky – Best on a Budget
"Munchkin" is another one of those companies that many parents are very familiar with. And this rubber ducky thermometer is also very popular in many households. It's simple, effective, and costs less than your favorite coffee drink. 
It doesn't come with any bells and whistles that you've already seen in the above list. It simply has a white hot safety disc on the bottom of the disc that will reveal the word "hot" when the water in the bath is simply too hot for a baby. 
All you have to do is place the duck into the tub/sink and then lift up to check the blue-colored disc on the bottom. If the word "hot" is displayed, just add some cold water to lower the temperature. Or you can wait a few minutes for the temperature to decrease on its own before putting your baby in. If you don't see "hot" written, and the water feels warm and comfortable to you, it should be fine for your baby. 
This is a water-tight duck. That means that there won't be any water getting into it which eliminates the possibility for mildew. It's also just a fun little duck for your baby to play with while taking his/her bath.
So if you don't want to dish out the money to buy a bath water just yet, this might be a great addition to help ease your mind when it comes to your baby's bath temperature.
What we liked:
Very affordable; if something happens to one, you can very easily replace it
Includes a white hot safety disc that will read hot if the water temperature is above what is considered safe for a baby
Water-tight and mildew resistant
Classic rubber-duck that is always a favorite during bathtime
What we didn't:
Over time, the ducks may become ineffective. We've noticed that sometimes the word hot is still displayed even when the duck is resting at room temperature
Blue Flower Bath & Room Temperature by Philips – Best for Celsius Readings
Almost all countries around the world have adopted the metric system. Come on, United States, get with the program already! So it makes sense for many parents to want a thermometer that displays temperatures in Celsius. 
This very pretty digital flower thermometer by Philips is an aesthetically pleasing way to check your baby's bath water temperature. The screen displays nothing but the temperature – no extra fuss. It floats in water and doubles up as a bath toy. This thermometer can also be used in your baby's nursery for an accurate reading of the room temperature.
Be ready to dish out some serious bucks for this uniquely designed thermometer. As much as we love the way it looks, we do wish it came with a bit more features.
What we liked:
Large display shows temperature in Celsius
Fun, attractive design that can also be used as a bath toy
Accurate reading
Sturdy and well made
What we didn't:
Pricey
Does not feature an alarm that indicates if the water is too hot or too cold