A cozy little playhouse is probably at the top of every child's wishlist. There's something about having a space of their own where they can play pretend and let their imaginations run wild. Whether they want an indoor tent, a plastic playhouse with all the gadgets, or a sturdy wooden playhouse that ages as well as them, there's bound to be something on the market that fits their "must-haves." 
Playhouses are great for teaching real-life skills and encouraging independent learning. They provide an outlet for imagination, playing in groups, and role playing with useful skills they'll need as they grow. In addition to childhood magic, they're also great investments as they're one of the few toys that maintain their appeal through rapidly changing stages. 
That's why we've gone through temporary options, and indoor, and outdoor playhouses to provide you with some of the best choices on the toy market. Have a look at our roundup below before you make a purchase of your own.
The Best Toddler Playhouse – Our Picks
Note: Our individual reviews are below, but you can also click any of the links above to check current prices on Amazon and other retailers
The benefits of playhouses for kids
STEM
You might not think a playhouse is as enriching as other STEM activities such as LEGO, or those that involve tools like a kids workbench, a heavy mathematics emphasis, or are heavily based in science. However, there's quite a bit your child can pick up on if you let them assist from start to finish. 
The playhouse will require assembly, that's a given. If you let them assist with building, they get a fun crash course in engineering, math, and physics. They learn how things move, what makes the walls stand, why the doors swing, etc. Kids will love helping you count and sort nuts, bolts, and components too. Some houses on the market are even made to build and take apart again and again. 
In addition to the building aspect, your child can introduce science around their playhouse if it's outside. We planted a small garden around our backyard playhouse. Kiddos can participate in a STEM lesson while they enjoy digging in the dirt, handling plants, finding worms and bugs, and learning about the science behind those real-life wonders. 
Language & Social Skills Development 
Imagination is one of the most important features of childhood. Too often, kids are happy to retreat into themselves and stare at a screen. Having an indoor or outdoor playhouse, however, is a great way for them to engage in imaginative play, parallel play, play together, learn household routines, and practice being little adults. 
They learn communication and mirror the homemaking skills they see their parents engage in. So while they hone vocabulary and fluency through play, they also learn about tone and body language as they build friendships with other children (or Mom & Dad if playmates aren't available). 
Motor Skills 
When playing in playhouses, kids get to practice simple but useful skills that prepare them for everyday life. You may not put much thought into turning a doorknob, opening a window, or stepping over the threshold of a door, but toddlers need to. Those are valuable skills and the faster they become automatic, the quicker they can move onto bigger and more exciting things. Those simple movements are the building blocks for more complex activities. 
What ages are playhouses good for?
Playhouses are great for kiddos all the way up through grade school. As long as they can fit inside, children are likely to enjoy their own child-size space. There's something magical about having a tiny house that's scaled down for childhood. 
Specifically, playhouses are typically great for children ages 1+. If your little one is pulling up or walking on their own, they're probably capable of enjoying a playhouse (just watch for sharp corners or hazards if they're still wobbly with their steps). 
Indoor or Outdoor play?
Many houses are dual purpose. It's really up to you and the space you have available. Indoor playhouses made from plastic houses are light and easy to assemble (generally). So, you can build them wherever you want and move them later should you need the room or want to play inside during the winter season. Certain wooden houses are as intricate as real constructions, so you'll want to be sure you have an ideal location when you start building.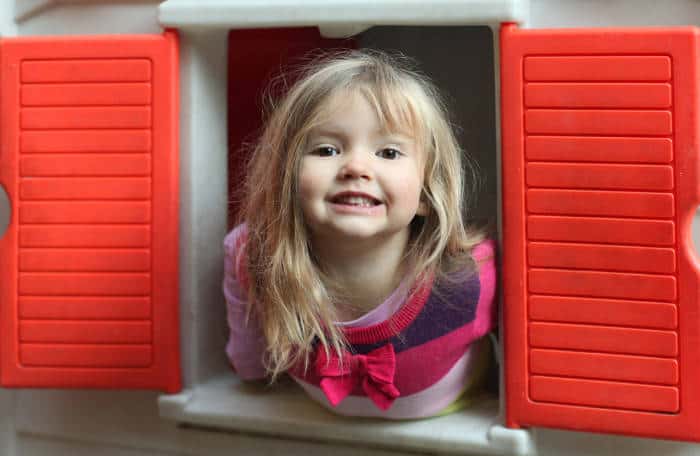 Aside from the typical plastic or wood playhouses, there are several options for strictly indoor play. Pop up tents, forts, or houses are great options for indoor play and allow you to set up and tear down in minutes. This is great for young kids with shorter attention spans too because every time you bring it back out, it's like a new toy again and they spend hours playing inside. 
In short, take a look at your backyard or patio before deciding on where to place your playhouse. Also, take the seasons into account. If your seasons are harsh and don't allow for many months of mild weather, you might want to set up a play space inside or safe from the elements. 
Wood vs Plastic Playhouses
Wood playhouses are fairly pricey when compared to their plastic counterparts. With that being said, they're durable and aesthetically pleasing. You can often customize them to match your own house or decor if you have the time and will power to tackle the project. They're obviously more complex to build, but you're rewarded with a solid construction when you're through. 
Plastic houses are light, easy to move around the yard, easy to disassemble, and easy to hose off. That's an important feature if you have kids that love to get messy (which is the best part of playing outside, really). They do fade in the sun after enduring season after season, but with a little spray paint, they're easy to revive. 
Consider the pretend play options
There are endless options for the props and features of playhouses these days. You can choose from kitchens, grills, built in picnic tables, mailboxes, doorbells, clocks, fireplaces, phones, etc. inspire pretend play! Some even have an attached picnic table! You should consider what types of pretend play your little one likes to engage in. Do they enjoy yard work, cooking, or playing house with baby dolls?
Toddler Playhouse Reviews
AirFort
Remember the days in gym class when you got to play with the giant parachutes? This is a scaled down version that uses air from a box fan to stay inflated. If you're looking for something that is extremely easy to set up, this is an ideal choice. You simply attach the fort to the fan with the included velcro strips and turn on the fan.   
(Full disclosure: We have one of these for our four year old and two year old. They love it and usually make it a game to run in and out under the sides.) A great feature of the AirFort is its size. You can fit multiple kids inside and with a ceiling height of 50" tall, many children can stand up completely while they play. You can also choose from 8 different colors, so you can coordinate with bedroom/playroom themes. 
Cleanup is easy too. We usually roll ours up into a burrito shape and stuff it back into the drawstring bag. We've had several pop up tents over the years, but the AirFort is definitely easier to store and takes up less space in the playroom. 
What we liked:
Easy setup 
Works with any box fan 
Large size 
Ceiling height of 50" 
8 color choices
Easy cleanup 
Doesn't take up much space while storing
What we didn't:
We didn't find any. The AirFort is a great choice for all ages.
Bankers Box
If your kids grow tired of their toys quickly and you find yourself constantly selling them on Facebook or in yard sales, this cardboard playhouse could be a good choice for your house. This pick is also a fun choice for creative kids that love to dig into art supplies. The white playhouse can be colored in with crayons, markers, or paint. This particular playhouse's dimensions are 38"L x 32"W x 48"H. 
While this is constructed with corrugated board, this fun playhouse is still sturdy. Parents of young kids will appreciate the fact that the door is rounded and free of sharp edges. This Bankers Box house is easy to put together with two simple pieces and simple to deconstruct and fold for storage.
Kids will love that the doors and windows open like a real life home as they play pretend and grow their imagination. When your little one decides they're tired of the toy or they simply outgrow it, you can dispose of it without worrying about how much money you spent or how to sell it on the internet.
What we liked:
Working doors and windows
Easy construction
Completely customizable. Color with crayons, markers, or paint 
Easy to construct and deconstruct for storage 
Sturdy corrugated cardboard 
Great temporary option
What we didn't:
If you are continually taking it down and putting it back up, the cardboard may become worn and less sturdy
Hide N Side Play System
Now, this pick is like the playhouse version of an amusement park. It has a little bit of everything and could be a good choice if you have the room to spare. The Hide N Side Play System features tents, tunnels, and ball pits that connect for an exciting play experience. There is also a basketball hoop and a target wall, complete with 4 velcro dart balls for endless fun. 
The setup is easy as every portion is a pop out which is also easy to fold for storage. It is quite expansive when set up, but if you have the room, it will keep your kiddos busy for hours. This playhouse is perfect for ages 2+ and is effective in getting children up and moving, which is important for all areas of development. 
What we liked:
Lots of cozy hangout spaces 
Fun tunnels and ball pits 
Basketball hoop and target wall games 
No sharp edges or hard materials 
Perfect for toddlers all the way up to grade school age
What we didn't:
It's a large setup, though if you have the room, it's a great choice.
Little Tikes Cape Cottage
For outdoor play, this Little Tikes Cape Cottage is a cute choice for boys and girls ages 2+. Its sweet white and blue color scheme mirrors current decor trends. This cottage has a little Dutch door, windows that open, a mail slot, a flag holder, its own plaque with house numbers. 
Kids will enjoy using their imagination and the realistic touches encourage imaginative play that are perfect for improving language and social skills. The dimensions on this house are 42.75" x 35" x 49", which is comparable to other houses on the market. This cottage, made of easy-to-clean plastic is a good choice for either indoor or outdoor use as it's easy to clean and hose out from the baking of mud pies to silly string fights. 
What we liked:
Easy assembly 
Stylish modern design 
Working doors and windows
Mail slot and flag holder 
Easy to clean 
Great for outdoor play
What we didn't:
We didn't find any cons. This is a great choice for a plastic playhouse and Little Tikes is a tried and true brand.
KidKraft Wooden Playhouse
If you're feeling ambitious about your assembly skills, this KidKraft Wooden Playhouse is a sturdy and realistic addition to your backyard. Kids will love the features of this garden playhouse, including an outdoor picnic table, working door, mailbox, chalkboard, and an outdoor grill. 
The wood is made to last against the elements with reinforced panels and water resistant roofing. The manufacturer recommends this playhouse for ages 3+. Now, onto the part I'm sure you're curious about. The manufacturer does state that assembly will require two people and they estimate 4-6 hours. That may seem like a great deal of effort, but the payoff is an exceptional playhouse with beautiful cedar that will hold its beauty for years.
What we liked:
Decent size; 70.9" x 48.9" x 62.25"
Sturdy picnic table 
Working door, mailbox, and flag holder 
Chalkboard wall and pretend grill 
Weather resistant wood 
Aesthetically pleasing look that won't clash with backyard decor
What we didn't:
There could be a learning curve with the assembly process
Step2 Crazy Maze Ball Pit Playhouse
This is probably one of the most entertaining ball pit options on the market. It combines a plastic playhouse design with an intricate maze to toss the balls into. Kids will be entertained with the action and noise while they learn valuable information about movement, gravity, and cause & effect.
In terms of accessories, the Crazy Maze includes 20 plastic balls, a pour pitcher, and boiling pot. The inside features simple household fixtures and a small mail slot. The house is great for STEM because of the network of tunnels and perfect for pretend play because it encourages role play and social interaction. The rounded edges in this playhouse are perfect younger toddlers too which is why the manufacturer recommends an age range of 18 months +.
What we liked:
Sturdy plastic playhouse that's easy to assemble and clean 
STEM learning with intricate ball tunnels 
20 included balls, pour pitcher, pot 
Great for role play and pretending 
Household fixtures and mailbox slot
What we didn't:
We didn't find any. This is a fun choice.
ECR4Kids Climb and Hide
Need a toddler-sized playground/playhouse combination? This could be a great choice. Its colorful pieces with smooth, rounded edges are perfect for little ones to climb and rough house on. This has a slide and several cubby holes to hide in and crawl through. As an added bonus, the slide is actually reversible with stairs on the opposite side. That's great practice for toddlers that are still learning to navigate the world. 
The weight limit on this particular jungle gym combo is 66lbs. It's recommended for 3+ years and could be a great choice for indoor or outdoor play. This setup is easy to assemble and does not require any tools. Overall, this playhouse encourages imaginative play and is excellent for physical activity, social learning, and motor skill development.
What we liked:
Slide and stairs combo 
Plenty of climbing space
Bright colors
Easy assembly, no tools required
Indoor or outdoor play 
Smooth, rounded edges for safety
What we didn't:
We didn't find any cons. This is a standup choice!