Our lives are hurtling toward more technology whether we like it or not. More of us are working from home and attending virtual school than ever before. That's bound to trickle down to the smallest members of the family. They mimic what they see in their environments and right now, that's laptops and tablets. 
Lucky for parents, most kid-friendly tablets and laptops are educational and reinforce simple lessons of letters, numbers, and words. However, they differ in their durability, portability, content, and screen setup. Finding one that works for both of you, though, can buy some valuable quiet time during that Zoom meeting or conference call. 
That's why we've narrowed down the major list of toy technology to some of the best toddler laptop toys on the market. Have a look at the best toddler computers and toy laptops below! 
The Best Toddler Computers – Our Picks
Note: Our individual reviews are below, but you can also click any of the links above to check current prices on Amazon and other retailers
The benefits of computers for toddlers
Like a real laptop, toddler laptops and computers can offer educational benefits. Technology is an integral part of our lives, whether we like it or not, and it is here to stay. More and more, computers are utilized in schools and they are used early! 
When children are allowed to practice with toy laptops, they learn the basic mechanics of typing, clicking, and following along on a computer screen. Aside from motor skills, most toy laptops are programmed with multiple channels for learning. 
Depending on the type of device you choose, you can offer your little one vocabulary and language lessons, counting and numbers, animals and their respective sounds, colors and shapes. Most toddler laptop computers integrate learning with fun and entertaining games to keep kids fully engaged. They certainly check a few of the boxes for STEM learning and often, they offer learning stages for when they're ready to graduate to the next step. 
Toys vs real devices
Toys have an advantage with little ones, especially if they haven't mastered the art of the word yet. Buying something like a Kindle (without child-friendly programming) for a child that's not ready for reading full books isn't ideal. You'll constantly be intervening and trying to keep them on the right screen which will lead to frustration for both of you.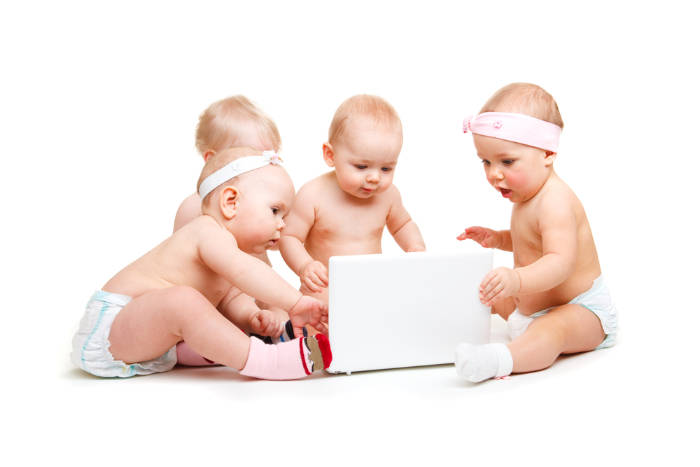 Additionally, they'll have the opportunity to click on YouTube Kids whenever they like which makes keeping them on educational tasks a challenge. Toy computers offer fewer choices and structure that eliminates the YouTube temptation and still keep your child entertained. If you do let your little ones loose on YouTube often, you ought to consider reading through these lists of educational and learning channels we've picked out for babies and toddlers!
Plus, there's the issue with durability. A real device is not ideal for young toddlers who have no concept of being gentle with expensive technology. The best toy laptop is made to stand up to the abuse children dole out. They're also powered by batteries and don't (usually) require charging with a USB cord which is better for kids prone to yanking out cords. Charging cords can pose risks in themselves with the possibility of accidental shock always looming if the child doesn't comprehend the danger. 
Do you want them to be multi-lingual ?
You may want to scope out options with a multi-lingual feature. Kids under the age of 7 have an easier time learning a second language. So, anywhere you can integrate vocabulary words and usage into fun activities and games, is always a good idea. Look for programs that repeat words in both languages and allows your little one to learn through repetition. 
Toddler Computer Reviews
Leapfrog LeapTop
If you want a toy laptop that's virtually indestructible, this one could be a good choice.  Speaking from personal experience, ours has been through two kids and it still works as well as the first day we gave it to them. This particular device lets them type like a normal computer and then flip the screen to use it in tablet mode. 
This kid's laptop toy also teaches the alphabet as well as counting numbers from 1-10. In tablet mode, there are fun games where they tap the screen for engaging interactions. Another great feature of the LeapTop, is the ability to customize the toy to aid in learning to spell his or her name. This toy is a great choice for encouraging role play. Again, from personal experience, my toddler always runs to grab this LeapTop when I sit down to write. He pounds on the keys and pretends to "work" at the same time. 
What we liked:
Durable
Convenient handle for carrying 
Laptop and tablet combination 
Teaches alphabet and numbers 
Teaches the spelling of your child's name 
Touch screen
Great for role play activities
What we didn't:
We couldn't find anything!
VTech Little Apps Tablet
This setup is more of a first learning tablet, though it does feature actual buttons rather than strictly having a touchscreen. It comes in two colors and the screen actually changes colors during play. The VTech Little Apps Tablet also has 12 learning activities which feature progressing learning modes or levels that will cater to your little one's current ability. Along with music, this tablet offers counting activities, words, daily life lessons, and letter practice. 
Parents will appreciate the volume levels and an automatic shut off feature that will save the battery life. Aside from that, this VTech is also a durable toy for rough and tumble toddlers and preschoolers. The activity levels span ages 24 months to 5 years, making it a great transitional choice for the toy box. 
What we liked:
Durable tablet 
12 learning activities 
Teaches days of the week, calendar activities, counting, letters, vocabulary, and music 
Volume control 
Automatic on/off 
Great for ages 24 months to 5 years
What we didn't:
The keys are a little cumbersome
Boxiki Kids BiLingual Tablet
This tablet focuses on language development and it is a great choice for parents that want to encourage bilingual learning. It teaches English and Spanish while leaning into the visual learning style. 
By pressing the buttons, your child can learn numbers, letters, and simple words in both English and Spanish. The LCD screen provides a flashy boost to keep kids engaged and learning. Meanwhile, they get to practice listening and comprehending the sounds of the words and letters. Through games, songs, and quizzes, your child is introduced to advanced toddler lessons that will offer a solid foundation for both languages. 
What we liked:
Bilingual learning 
Teaches numbers, letters, and words
Uses songs, games, and quizzes to solidify lessons 
LCD screen lights up to reinforce visual learning and keep kids engaged
Advanced toddler lessons
What we didn't:
This one may be too advanced for younger children (12-18 months)
VTech Tote and Go
This VTech "computer" is most like a desktop. It features the usual screen and keyboard, but unique to the Tote and Go, this laptop has a mouse. That's a great feature for introducing older kids to the basic motor skills needed to operate a mouse. With technology being introduced almost immediately in public school, that's a major plus. 
The VTech Tote and Go offers 20 learning activities that promise to teach vocabulary, spelling, critical thinking, shapes, and common animals. It also features songs and games. The bright keys are a great feature as well as it encourages typing skills. With varying shapes and colors, they will be excellent tools for getting them interested in the toy and keeping them entertained. It also looks to be a sturdy option and features a handle for carrying, making it a great toy for the car.
What we liked:
Sturdy laptop toy 
Features a mouse 
Great for enhancing motor skills 
Brightly colored keys 
20 learning activities 
Songs and games 
Handle for carrying
What we didn't:
We didn't find any. This could be a solid choice.
VTech Baby Laptop
For the youngest little learners (as young as 6 months), the VTech Baby Laptop is a great choice to introduce them to technology while letting them pound, hit, and toss the toy all around the room. Its bright keys are easy for your baby to see and punch, which is great for building positive associations between the action and respective sounds or music that plays. 
The sounds and songs teach concepts such as shapes, emotions, and objects, making it a solid introductory toy. This one also comes with a removable mouse for little hands to practice maneuvering. And with over 90 songs, your baby won't get bored with this one for quite a while. 
What we liked:
Sturdy laptop for babies
Chunky, easy-to-see keys 
Plays over 90 songs which reinforce language 
Teaches concepts such as shapes, objects, and emotions 
Removable mouse
What we didn't:
Likely wouldn't be the best choice for older toddlers who crave a more realistic toy
Fisher Price My Home Office
This set is perfect for role play that mirrors what it looks like to work from home, making it a perfect gift for kiddos that have been watching their parents switch gears in the wake of the pandemic. Additionally, this is a great option for parents that aren't keen on having them in front of a screen or handling electronics all day. 
This laptop is made solely for pretend play as it is a wooden laptop toy with Velcro apps they can rearrange on the screen. It also comes with a headset, pretend cell phone, and pretend coffee cup. So, your little mini me can work right alongside you.
What we liked:
Screen free pretend play 
Mirrors work at home environment 
Removable velcro apps 
Headset, phone, and coffee cup included
What we didn't:
This is great for imagination, but lacks the programs that electronic counterparts can offer.
Osmo Little Genius
If you already have an IPad and want to ramp up the educational quality of their screen time, the Oslo Little Genius could be a fun and effective tool to do so. While it is an investment, this is a valuable purchase that readies your child for preschool and kindergarten. 
It tackles lessons for early math skills, early reading, and essential life skills. One of the main benefits of Osmo is that it combines tactile, auditory, and visual learning styles with technology. 
Along with Osmo, you get the base and reflector pad for IPad, cardboard costume pieces, silicone sticks and rings, silicone game mat, storage for game pieces, 6 game applications. Kids are drawn to tech as it is, why not turn screen time into school time?
What we liked:
Teaches early math, early reading, and essential life skills
Immersive games and quizzes make learning fun 
Hands on activities that tackle the kinetic aspect of learning 
Introduces them to useful technology
Kindle Fire 7
If you think your little one is ready for the real deal, or at least want something that is virtually indestructible, the Kindle Fire 7 Kids Edition could be a good choice. While it's not a toy, this version is perfect for kids. It offers the engagement of real technology that is "kid proof" thanks to its sturdy case. In addition to that, if it breaks, you can send it back and Amazon will replace it thanks to their 2-year-worry-free guarantee. 
This package includes one full year of Amazon+ which offers games, apps, books, audiobooks, videos, and quality educational content from several channels. You can utilize WiFi or download the content so you can view on the go. Plus, like any tablet, you can set it up with whatever language you desire. Once your child has the motor skills to operate a touch screen, this could be a great choice for long car rides, a few minutes of screen time before bed, or story time with the family. 
What we liked:
Real tablet 
Kid-proof thanks to the sturdy case 
2-year-worry-free guarantee, so if it breaks, send it in for another one 
Use WiFi or download content 
Comes with 1 year of Amazon+ 
Option for multilingual learning
What we didn't:
We didn't find any. This could be a great package for a first tablet.