In our family, the time my brother sawed the back off of his child size rocking chair is a story that continually gets repeated… But hey, tool sets are tried and true toy classics for a reason! Chances are, if someone in your family has saved toys from childhood, the tool set has held up better than some of the others. Of course, safety standards have probably been updated since the 1980s or 90s, so purchasing a new one is probably a good idea.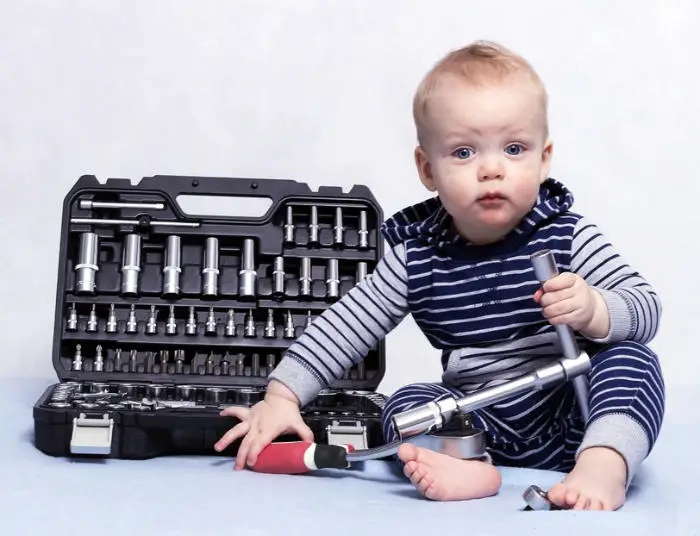 If you want to keep your kids busy for hours without feeling guilty about how they're spending that time, a tool set can be an educational and fun option. Kids tool sets are also easy to share with multiple kids because they include several kid-safe power tools like a phone drill press and a handful of building pieces. Some even include realistic tool sounds, kids tool benches and safety goggles to truly encourage imaginative play. Not only do they learn valuable life skills from practicing with tools, they also gain the confidence to use them!
With everyone doing their shopping online these days and spending more time at home than ever before, ordering your tool set is no-brainer. That's why we've done the footwork and narrowed down the best kids' tool sets based on features and acceptable age ranges for the most popular tool sets on the market.
Toddler Toolsets – Our Top Picks
Note: Our individual reviews are below, but you can also click any of the links above to check current prices on Amazon and other retailers
The learning benefits of Toolkits
As a mom of both (one girl and two boys) I can attest to the attraction of tookits for kids. From their point of view, they get to bang, clang, and pretend saw wood just like Mom or Dad. Plus, depending on the set, even younger toddlers can play. They tend to be one of the toys that age with your child as they learn and discover new ways to use the tools. 
Parents often realize that toolkits are excellent options for STEM learning. If you're new to the world of STEM, that stands for Science, Technology, Engineering, and Math. It's an important part of play because children's neurological development is rapid and malleable from birth to 5 years. In other words, exposure to these key areas of learning leads to better outcomes later on and better understanding of science, technology, math, and engineering. 
So, while infants, toddlers, and preschoolers have a ball building and demolishing their creations, the wheels inside their head continually turn and expand their knowledge of the world. 
 t's easy to see that tools are great instruments for toddlers to practice and develop motor skills. From practicing with a toy hammer to learning to screw nuts and bolts together, their little brains get to exercise the necessary skills to develop hand-eye coordination. Tool sets also encourage critical thinking, imagination, and independence. Research has also shown that an early introduction to STEM learning leads to better language skills! 
If you're a stack of LEGO sitting around (who hasn't) heres a cool list of STEM activities you can do with LEGO to keep your little one entertained, have fun and teach them something in the process.
What age can I introduce a tool kit to my child?
Generally, you can introduce a tool kit around 2 years old (though some kids are ready anywhere from 12-18 months). Some of the simpler sets are suitable for younger infants, depending on the size of the components. You don't want the nuts, bolts, or screws to be so tiny that they pose a choking risk. 
In our house, we set the smaller pieces aside in storage until our toddlers were ready for them. Ultimately, you can follow the individual guidelines of your chosen toy tool set and decide for yourself based on the maturity and dexterity of your toddler. 
Are tool kit toys safe?
Most tool kits on the market are quality-controlled and safe for the ages advertised on the packaging. With that in mind, these toys are best suited for supervised play. 
Especially with younger toddlers, you want to be sure nothing small is going in their mouths. Also, there's no guarantee that your little one won't chuck the hammer or screwdriver across the room if you aren't there to say "not a good idea, Bud." 
Also, with so many options to sift through (such as plastic vs. wooden) , you definitely have the opportunity to purchase something you're comfortable with and your child will enjoy. 
What to look for
Plastic vs Wood Toolkits
This is really a personal preference and both varieties have their own advantages. Plastic tools tend to be cheaper. For younger kids, they're often easier to play with because they're lighter and don't hurt as much if accidentally tossed across the room or if they hammer their own finger. Sometimes plastic tools even have battery-operated functions that imitate the sounds/lights of real tools. 
Meanwhile, wooden tools are a bit heavier. That's also their advantage because they're extremely durable. Wooden tools/toys can be saved for future children and even refinished if need be. Also, for those that are environmentally mindful, wooden tools can be a more attractive choice. Their simplicity is great for encouraging imaginative play as well. 
Are there example projects or activities included?
Many tool kits that include nuts, bolts, and creative components, also include instructions and guides for building projects. These are excellent opportunities for flexing your child's listening skills, comprehension of basic instructions and encorage
With some instructions including images of the completed project and the broken-down building steps, even children that can't read yet can try their hand at building. 
Suitable age ranges
Most sets on the market start their recommended age range at 2 and go up to 6. More advanced sets with many pieces may start around 3. These are just manufacturer's suggestions though, and you can make your own judgements based on your child.
Battery or hand power
You can purchase fairly realistic tools if you're willing to spend a bit more. Several sets on the market include battery-powered drills, saws, and flashlights. Most kids thoroughly enjoy the tools that mimic what they see in Mom or Dad's toolbox. 
Keep in mind that simple hand powered tools have their appeal as well. For one, you aren't required to purchase batteries for those. They also encourage them to use their imagination! Plus, screwing in the bolts by hand is instrumental in developing those motor skills we talked about earlier. Gaining that dexterity will come in handy come preschool time when they begin writing with a pencil. 
Reviews of Our Toddler Toolset Picks
Learning Resources New Sprouts Fix It!
With an age range of 2+ years old, the Learning Resources tool set is a great option for an introduction to tools. They're brightly colored and made from lightweight but durable plastic, making them perfect for tiny hands to grasp. They're also soft enough that bumps and bangs shouldn't cause any real damage.
Within the set which includes a handy toolbox, you'll find a saw, wrench, hammer, screwdriver, and a drill that mimics the sound of the real thing. This set is simplistic compared to others on the market, making it a good choice for younger toddlers.
What we liked:
Brightly colored 
Soft plastic design suitable for tiny hands
Includes a saw, wrench, screwdriver, hammer, and drill
Drill makes fun noise
What we didn't:
One of the simpler sets (making it more suitable for younger kids!)
Doesn't include building plans
TOMY John Deere Deluxe Talking Toolbelt
This little gem is not necessarily a "toolbox" but includes a fun toolbelt to keep the tools organized. It will make your little one feel like a real carpenter. This one is also suitable for ages 2+. 
The tool belt itself, which is adjustable, is battery-operated and makes three sounds. Also included is a hammer, wrench, screwdriver, tape measure, pliers, and a ratchet. The tools feature chunky handles with soft rubber grips, making them excellent options for introductory tools. 
What we liked:
Soft, chunky design
Tool belt makes fun sounds 
Tool belt is adjustable so even the smallest contractor can wear it 
Suitable for young toddlers (2+) 
John Deere design looks just like mom & dad's
What we didn't:
Older toddlers might want something with more pieces
BLACK+DECKER Junior Kids Mega Tool Set
Starting at ages 3+, the Black+Decker set includes a whopping 42 tools and accessories! Constructed from lightweight plastic, these toys could be perfect for introducing your toddler to trade tools. 
This set includes a fun helmet, two saws, a hammer, wrenches, screwdrivers, a clamp, a drill/drill bits, nuts, bolts, nails, and even fake wood. With so many diverse pieces, this is bound to keep your toddler busy and learning for a while. 
The Black+Decker set is also one of the more realistic sets on the market, which may appeal to older toddlers that see parents taking on household projects!
What we liked:
Includes 42 toys
Lightweight plastic design
Drill that mimics the real thing
Realistic color/design that looks like Black+Decker tool
What we didn't:
The drill doesn't spin completely around
Kidzlane Tool Set
For ages 3-6, this set is made from durable plastic. It also features realistic tool functions and sounds. It includes a drill, drill bits, nuts, bolts, goggles, tape measure, hammer, wrench, and a ratchet. As an added bonus, this set comes with a sturdy case to store all the pieces. 
With 20 pieces and a handy case, this is a fun and affordable option for toddlers and preschoolers alike. They're also quality-controlled and tested in accordance with international safety standards. 
What we liked:
20 realistic pieces
Battery-powered drill that works and makes noise
Sturdy carrying case for easy clean up and storage 
Safety tested
What we didn't:
Fewer pieces than other sets on the market (perfect for parents that favor minimalistic toy sets)
Melissa & Doug Take-Along Tool Kit
Onto the classic wooden tools! This one is designated for ages 3-5 and offers a handy toolbox to store and tote the parts to the set. The sides of the box are also designed to hammer/screw components into. 
It features 24 pieces and includes a hammer, wrench, screwdrivers, nails, screws, nuts, and bolts. These are sturdy-built and offer long-lasting wooden construction of all of the pieces. The Melissa & Doug company is a classic and this set meshes well with the upgraded workbench set they offer. 
What we liked:
Beautiful wooden design
Environmentally friendly
Sturdy build that can be passed down to other children
Parts can be used for larger workbench set from Melissa & Doug
What we didn't:
Manual tools that don't make battery-operated noises
Fisher Price Drillin Action
This drill set is intended for ages 2-6. It's made from durable but lightweight plastic and features a battery-powered drill. Along with the drill, this set includes 3 different drill bits and screws to match, making it an excellent option for introducing your toddler to early engineering. 
It also includes 2 pieces of plastic "wood" for your toddler to practice on and a handy toolbox to store the drill and accompanying pieces. With a functional drill and practice pieces, this could be a great opportunity to work on fine motor skills while encouraging imaginative play! 
What we liked:
Battery-powered and functional drill 
Realistic drill bits and matching screws
Practice pieces
Toolbox for carrying and storage
What we didn't:
This set doesn't include other tools