If there's ever been a tried and true way to keep kids busy while active and having fun, Nerf guns definitely check those boxes. They provide the entertainment and motivation to stay off the screens and get their little hearts pumping. Between make-believe games and simple target practice, they spark hours of excitement and fun. Plus, they're one of the best toy options for entertaining multiple kids. 
While playing with others, they're engaged in imaginative play, competition, and hand-eye coordination. It's definitely a high-energy toy but even when they're knee deep in a Nerf war, they're actually developing vital accuracy skills that can translate to other uses later in life. Maybe they don't grow up to be a sharpshooter, but those developed aiming skills may translate into being an excellent shot in basketball or great hitter in baseball. 
They're loads of fun, we know this. However, if you've ever given a Nerf gun to a young child, say age 5, you know that the loading and priming can be an exhausting affair. Often, their small hands just don't have the dexterity or strength to get the gun ready to fire. That's why we've taken the time to look at small Nerf guns that are easy for young kids to load themselves (and save you from continuously loading it for them). 
We've also rounded up some alternatives to Nerf guns and weapons that shoot foam darts. Popper toys, that shoot foam balls, can be a great alternative for young children as they're often easy to operate and don't hurt as much when you take an unfortunate hit from the foam ammo. So here's our list of the best nerf guns for kids by age group.
NERF Guns for Toddlers and Young Kids (By Age) – Our Picks
Note: Our individual reviews are below, but you can also click any of the links above to check current prices on Amazon and other retailers
Toddler NERF Gun Reviews
Nerf N-Strike NanoFire
The manufacturer's suggested age for this gun is 8+. However, the compact size makes it more appealing and functional for a small child. In fact, the handle is somewhat small for an older child or adult to hold, which is what lands this pick on our list for toddlers and younger kids. 
This best budget Nerf gun includes three darts with only one to be loaded at a time. The other two can be stored in handy holders on the handle. Fire the toy by priming the handle that works with a simple, pull-down motion and pulling the trigger. It's simplistic but powerful enough to actually shoot the darts across the room. 
As an added bonus, this gun comes in two colors (blue and red).
What we liked:
Simple loading and firing
Small, compact size for easy handling
One of the most lightweight Nerf guns
Comes with 3 darts and storage for 2 in the handle
Choice of color
Ideal Nerf gun for younger kids
What we didn't:
If you're buying for an older child, big Nerf guns could be a better choice
NERF N-Strike Elite Firestrike Blaster
This choice is a little bigger than the Nerf N-Strike NanoFire, but still relatively small when compared to most Nerf guns on the market. Fortunately, the firing action is still just as simple for young kids to master as well. 
This Nerf blaster gun features a priming handle that is pulled back before squeezing the trigger. With only one chamber to worry about loading, even smaller kids can figure out the mechanics of loading and shooting. 
A unique feature to this gun is the light beam targeting function. This can make aiming easier for little kids that haven't quite mastered the skill yet. With storage for two extra foam darts, you'll have an easier time keeping track of ammo too. 
What we liked:
Small size
Simple load, prime, and fire mechanics 
Best Nerf Blaster for age 6+
One chamber to load
Light beam aim assist
What we didn't:
The light beam does require batteries (2 AAA)
NERF DinoSquad Stegosmash
This NERF DinoSquad blaster has a priming handle that is supposed to be the tail of a Stegosaurus. The great thing about that is that it makes that handle larger and easier to grip for small hands than most other NERF designs.
This one comes with 5 NERF darts but one of the other great features for little ones is that it also allows you to store the 4 you aren't using in the front of the handle.
The only thing you could really complain about with this is the fact that it doesn't really have a sight. All along the top of the blaster where the sights are are Stegosaur fins. They look cool and any dinosaur loving child will appreciate them, but if you're trying to teach your little ones about iron sights, or how to aim properly then you won't have much luck with this design!
What we liked:
Large easy to pull priming handle
Stegosaurus themed
Stores 4 darts
Foam Ball Popper Blasters
Unlike the older age requirements for some select Nerf blasters, this shooter can work for ages 3 and up. It also differs in its ammo selection. These particular guns use foam balls like a popper toy rather than foam darts (If you worry about getting hit in the eye with darts, this could be an alternative). 
Additionally, this set includes 2 blasters and 24 foam balls, making it a sound choice for those parents that need to entertain more than one child or perhaps wanting to get in on the action themselves. The foam balls come in two colors which make it easy to keep score in whatever game your little one comes up with. 
This blaster works by pulling the two handle grips together and forcing them apart. It doesn't require much strength to operate and could be a good choice for little ones that don't quite have the coordination to pull the priming handle on a traditional Nerf gun. The balls are also easily slid into the chamber before firing.
What we liked:
Easy to fire
Easy to load
Set comes with 2 blasters
Set also comes with 40 balls in 2 colors
Foam balls are soft when they hit you
Marvel Spider-Man Web Shots Spiderbolt NERF Powered Blaster
This is a Marvel / NERF crossover blaster that's one of the only blasters on the NERF (Hasbro) website that's actually listed as suitable for ages 5 and up. It looks more like a crossbow than a blaster. That crossbow design leads to a much more friendly priming action for younger kids and toddlers.
There's a large handle on the front, and a large priming handle at the back. Using these together gives a youngster the full strength of both arms to when pulling to prime it. If their feet are small enough they can even hold it down on the floor and pull the primer with their back and upper body (much like you'd prime a crossbow).
There's a host of other Spider-Man gear called 'web shots' gear that matches with this blaster too. If your little one is a Spidey fan, this would be a great choice.
This blaster fires standard NERF darts too, so it's compatible with all the other ones your older kids may or may not have lying around the house. This usually comes with 3 darts if you don't have any and you can carry all 3 darts by attaching them to the blaster.
What we liked:
Very easy priming action (think crossbow stirrup)
Spider-man themed
Web-shots gear available
Holds 3 darts and supplied with 3 darts
What we didn't:
Trigger isn't pulled with the same hand that holds it
Hog Wild Popper Toy
This popper isn't exactly a gun, but does shoot foam balls up to 20 feet across the room. The mechanism is simple and only requires squeezing the toy itself to propel the popper. As long as a unicorn shooting rainbows from its mouth doesn't offend your delicate sensibilities, this could be an excellent alternative that is easy to operate!
This toy also comes with 6 balls so you'll always have ammo on hand. Once you run out (aka the balls get lost in the black hole that is the toy box) this particular brand sells refills on the balls. The brand also offers the same popper toy fun in multiple animal designs, making this a decent choice for multiple children. Collecting the different animals can be half of the fun.
What we liked:
Soft foam balls
Easy to load and squeeze to shoot 
Fun, quirky design that kids will enjoy
Multiple designs to choose from with Hog Wild brand
What we didn't:
Less aiming accuracy than other popper toys/guns
Are Nerf Guns Safe for Toddlers?
This question requires a bit of common sense on the part of the parent or guardian. Yes, there are risks when you introduce toys that introduce flying objects that soar through the room at any notable velocity. 
With that in mind, most Nerf darts/bullets like the Nerf Mega Darts are soft and do not hurt upon striking skin. The most concerning injuries when playing with Nerf guns are injuries to the eyes and face. That's why the use of goggles or safety glasses is recommended for playing with Nerf guns. 
If your little one is simply shooting at targets (exploding LEGO ones are a great idea), this probably isn't much of a concern. However, once they're a little older and playing with other children, the use of eye protection is definitely worthwhile. It's also a good idea to teach safety rules when playing with any type of toy gun (i.e. don't aim for faces, not too close of a range, don't shoot Mom's priceless vase). 
Also, choosing a Nerf gun with an appropriate amount of power behind it in relation to your child's age can increase the safety of it. A three-year-old probably doesn't need the biggest automatic blaster you can find. Not only will they struggle to operate the gun, the darts will have more force behind them. So, look at the size of the Nerf gun when considering safety and the ease of use. 
Can a 3 year old use a Nerf gun?
Can they? Well, good luck telling them they can't or shouldn't. Toddlers are generally captivated and naturally drawn to the mechanical action and reaction of Nerf guns hitting targets, walls, or sticking to windows. They love the noise and sudden surprise of the dart shooting through the air. 
However, their small hands tend to struggle with priming the gun and pulling the trigger. Often, the components are stiff or too large for them to successfully engage. This leads to frustration on their part as well as the parents.
Because guess who gets stuck cocking the gun and reloading over and over and over…

That's right, you do! 
So, in order to save you both frustration and heartache, it's a good idea to check out smaller guns with simplistic designs and functions. The large guns that shoot several darts at a time could be tricky for little hands to load and springing for the high-power battery options might be overkill when your toddler is fascinated enough by the manual options. 
The manufacturer's recommended age ranges will vary based on the gun. Many age ranges hang out around 8-14. However, with smaller and simpler designs coming into the market, there are a few that are suitable for toddlers starting around age 3. Many of the popper toys that shoot foam balls have much lower age recommendations of 3+ and are definitely worth considering as well. 
What to look for in a toddler Nerf gun
When shopping for Nerf guns that won't require hours upon hours of you loading and priming the darts, there are a few specs to look for: 
Easy to prime, not too stiff: Some guns are hard for even adult hands to pull the priming mechanism. Does the gun have a pull plunger design or will it require a pump action? Additionally, the ease of loading the darts into the gun is worth considering. 
Light weight to hold: For toddlers, it's a good idea to examine the weight of the gun. The lighter the toy, the easier it will be for them to hold it up and aim. If it's too heavy, toddler frustration can quickly put a damper on playtime. 
Small handle to grip: This is perhaps the biggest factor to consider because if they can't hold the gun and pull the trigger, then what's the point? The distance from handle to trigger is vital when purchasing a Nerf gun for little hands. If they have to stretch too far to reach the trigger, they won't be able to actually squeeze it hard enough to shoot the dart. 
Simple action: The simpler, the better for little ones. Having multiple chambers and buttons isn't ideal for toddlers. It's generally better to look for guns like the Nerf Mega Talon Blaster that shoot one dart that's easily loaded with a "soft" trigger and easily primed plunger. For an introduction into Nerf guns, a revolver design may be too complex for loading on their own, so look into guns that only require sliding the dart into the barrel before priming.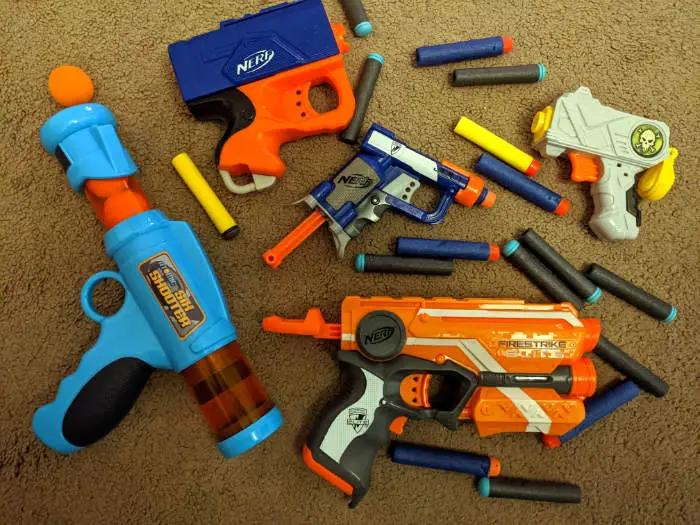 Alternatives to Nerf guns for Toddlers
Popper guns: If Nerf guns and darts seem aren't your cup of tea, popper toys that shoot soft balls instead of darts could be a fun alternative. They still offer the aim and shoot action of guns and are usually easier to shoot as they often use pump action. Some poppers even come in shapes other than guns but still offer the same thrilling activity and break from screen time! 
Water pistols: For a fun and refreshing outdoor activity, water pistols could be a fun alternative to Nerf guns. They mitigate the risk of being hit in the eye with darts or balls while still providing hours of fun and a chance to cool down in the scorching heat of summer.
Crossbow/bow toys: A couple great alternatives that happen to offer an introduction to archery are the foam dart bows and crossbows. In addition to the fun of shooting targets, these toys can also enhance hand-eye coordination.