Spy toys have been around for a while. Sure, while we were kids, they were a little less high-tech, but it was still the same concept. We had gumball machine rings and cheap magnifying glasses that came in cereal boxes. Obviously, spy toys have come a long way since then!
Why have they been around so long? Well, they're actually great learning tools and outlets to introduce kids to science. These days we call that STEAM (science, technology, engineering, art, and mathematics). Kids get a chance to exercise logic, critical thinking, and observation, among many more skills. Kits that include costume components are also great. They encourage pretend play and role playing. 
Spy kits differ in their components, missions, scientific explanations, and outfits. Sometimes they lean into forensic investigation and others mirror secret spy movies, but all appeal to lovers of mystery.
And it just so happens, we've managed to go through the major kits on the market and narrow down a list of the best for you. Have a look at our top picks below! 
Best Kids Spy Kits – Our Picks
Note: Our individual reviews are below, but you can also click any of the links above to check current prices on Amazon and other retailers
Kids Spy Kit Reviews
Thames & Kosmos Master Detective Toolkit
This spy kit, which is recommended for ages 8-15, comes in an easy-to-pack plastic case that will help your child keep all the pieces together and orderly. It's geared more towards forensic investigation than top secret spy, but the pieces may double for whatever games and pretend play your kid(s) wants to engage in.
Thames & Kosmos Master Detective Toolkit comes with a mock crime to solve, as well as a 32-page experiment manual to assist in teaching the science behind investigation. Also, the kit includes a magnifying glass, a flashlight, an invisible ink pen, fingerprint dust, crime scene tape, plaster for capturing footprints, test tubes, and tweezers for collecting evidence, and papers to write up a crime scene report. 
It's an in-depth kit that provides a good introduction to forensic science and investigation and would likely make a great gift for kids that radiate toward science. While it may be less suited to younger kids that would rather play pretend, this is perfect for the specified age range of 8-15.
What we liked:
Includes a mock crime 
Comes with a manual that outlines how to use the investigative tools 
Includes: magnifying glass, light, invisible ink, crime scene tape, fingerprint dust, plaster, test tubes, tweezers, and paper for recording evidence. 
In-depth introduction to forensic science 
Comes with a sturdy plastic case to keep the pieces together
What we didn't:
Less suited for younger kiddos
Kids Spy/Detective Outfit Role Play Kit
For the younger audience (age 6+), the spy/detective outfit kit could be the perfect addition to the dress-up closet or trunk. It comes with all the essential secret-spy tools. 
You'll find spy glasses, a hat, a jacket, and the classic magnifying glass. It also comes with spy tools which includes a booklet to collect and record fingerprints, an invisible ink pen, a light to illuminate invisible ink, evidence cards, tape for lifting prints, and an informational guide book. 
This is a great kit to introduce intellectual thinking, investigation, and hands-on play. It's also helpful in encouraging socialization and provides an outlet for parent-child play. 
What we liked:
Better suited for younger children while retaining its scientific value 
Comes with dress-up pieces (hat, jacket, glasses) 
A guide book is included to introduce investigation techniques and science
Includes fingerprint collection book, lifting tape, magnifying glass, invisible ink, light, and evidence cards
What we didn't:
We didn't find any. This is a fairly versatile set.
Spy School Sneaky Surveillance
The Spy School Sneaky Surveillance jumps up from the previous set to an age recommendation of 8+. It also differs in the sense that it's geared more toward actual spy gear than crime scene investigation. 
Its pieces include mirrored sunglasses, spy scope, a listening device disguised as a yoyo, pencil box periscope, and an undercover box disguised as a checkers kit to keep it all together. Another great feature of this kit is the included activity book with 20 missions to keep the fun and scientific exploration rolling. Kids will. learn about observation, optics, light, and codes. Overall, this is a great kit that encompasses the benefits of STEAM toys and play. 
What we liked:
Intro to STEAM learning with tools that teach light, optics, and observation
Tech includes a periscope, spy glasses, listening device, and an undercover box to store pieces in 
20 included missions within the activity book 
Great for role play and socialization
What we didn't:
This kit is inexpensive and the tech reflects that. While they are fun spy gadgets, don't expect it to match the quality of earbuds from Best Buy.
Spy Guy 10 Piece Set
This is one of the best kits for smaller kids and is recommended for ages 3+. It's great for kids that aren't patient or careful enough to do tedious experiments or mess with fingerprint dust. The equipment is all constructed from plastic and more durable for play. In the Spy Guy 10 Piece Set, you receive a look around camera, an eye mask with "spy eye", a disc shooter, 3 discs, and 3 spy ID cards. 
What we liked:
Suitable for younger kids (ages 3+) 
Plastic toys that hold up to rough hands
Includes look around camera, eye mask with spy eye, a disc shooter, 3 discs, and 3 spy ID cards
What we didn't:
The toys are smaller than they might appear in product photos
Project MC2 Pretend Play Super Spy Kit
If you're interested in the educational aspects of a spy kit, this Project MC2 package could be a great choice. It's recommended for ages 6 years+. 
Inside, you'll find a black light pen, fingerprint dust, fingerprint brush, ink pad, magnifying glass, spy notepad, crime scene tape, and acetate stickers. This science-geared kit includes the basics for a great investigation and leans into critical thinking rather than flashy lights and sound effects. Also, if you have Netflix, this is based on the show Project MC2 which is focused on STEM careers and learning with a group of young female role models. 
What we liked:
Includes spy kit basics (black light pen, fingerprint dust/brush, ink pad, magnifying glass, notepad, crime scene tape, and peel & stick acetate stickers 
Focused on STEAM with emphasis on tech, critical thinking, and scientific method 
Modeled after popular Netflix show which can encourage your kiddo to jump into action
What we didn't:
We didn't run across any negative features. This seems like a solid choice!
Why spy kits are good for your kids
If you're looking for a way to get kids interested in STEM learning, deductive reasoning, critical thinking, and logic, spy kits are great doorways to unlocking their minds. People love a great mystery. That's why so many adults are addicted to true crime television and podcasts. Our brains enjoy following a trail of clues to a satisfying (or not so satisfying) conclusion.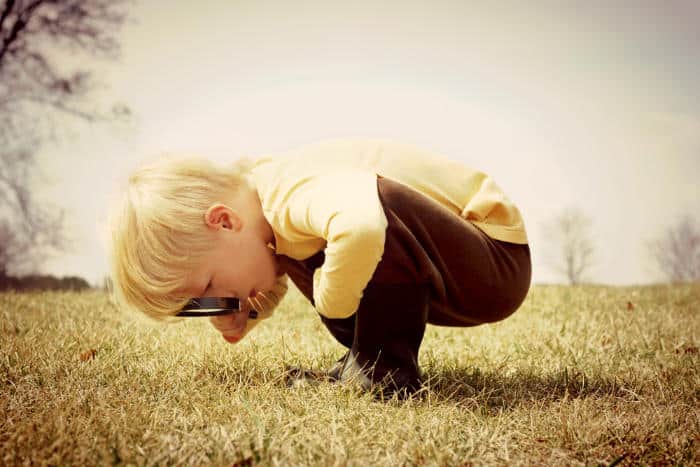 Spy kits are great for planting that seed for children and introducing them to scientific observation and experimentation while packaging the learning into a fun game. Let's not forget the benefits of playing pretend and role play games. Spy kits let kids get into character and develop storylines to go with the spy gadgets within the kit while also offering an outlet for social interaction and developing friendships. Plus, they're great for story-building and getting the family involved with creating a narrative that leads to an investigation with suspects and clues. 
Whether they're playing a top-secret government spy, pretending to be a detective in the FBI, or using fingerprint dust to clear a crime scene, they're utilizing logic and hands-on learning. It's an excellent combination to get them off the phones or tablets and up moving around. Plus, spy kits provide for an easy indoor play experience. That's something we can all use to help in the midst of the ongoing pandemic. 
What spy gear toys does a good kit need?
Invisible ink
Everybody probably had some version of this in their childhood. Whether it was included in a spy kit or a standalone set from the monthly book fair in grade school, invisible ink is a pretty basic "spy tool." It's just as the name states. You write something in the ink and watch it fade away, only to be revealed by special glasses, a blacklight, or water. 
Motion alarm
You can let your kids set up a "sting" operation with the help of a motion detector. These are generally small, plastic devices that are powered by a battery. They utilize a sensor to alert the stealthy spy to any intruders or rival spies. 
Utility belt
Every top spy needs a tactical belt to hold their tools and top-secret spy gadgets. They can't be fumbling around while they're trying to evade detection or catch the bad guys. So, look for a kit that has an adjustable belt to hold their most precious devices. 
Listening device
This lets the spy, hidden from view, listen in on their target's conversation. They can gather intel, plan a heist, attack or, simply listen for clues about what hides in the boxes under the Christmas tree. Also, if they're focused on hearing a pin drop through their listening device, maybe that will buy a bit of peace and quiet for the household. 
Binoculars
One isn't a spy unless they have binoculars to eye their assigned target. Maybe your kid just wants to catch a parent by surprise out in the garden or ambush their sibling in the hallway. Either way, a set of binoculars is a "must" for any quality spy kit. 
Fingerprint dust
Spy kits with fingerprint dust let your child take a crash course in investigation. The science behind how fingerprints are left and lifted is not only interesting but introduces them to some of the duties detectives use while on the job. It's hands-on and makes them feel like real-life spies (or law enforcement). 
Blacklight
Handheld black lights are useful for reading invisible ink, if that's included, but they're also great for scouring a location for clues. They can reveal the sight of spills, footprints, or hidden messages on the scene. Again, this is educational too because it teaches the kids about the features of UV light. 
Other things to look for in a good kids spy kit
Decoder ring
These are classic spy gear toys, and kids have been pulling them from cereal boxes for decades. It's great for introducing them to the principle of written code, but it's also just "cool." They get to pretend to send and receive coded messages while decked out in their spy gear with a spinner ring on their hand. 
Sunglasses
Any super spy on television can be seen with styling black sunglasses. Usually, they perform a high tech function that analyzes danger, highlights foes, or displays messages from other spies. The glasses in your kid's spy kit won't be nearly as advanced, but they are essential to the look of a super spy. They may have designs printed on the inside of the lens to look like computer screens or tiny flashlights on the rims. Some even have specialized lenses for viewing secret messages in 3D or invisible ink. It's worth checking to make sure your spy gear includes a pair. 
Communicator watch 
This is basically a digital watch that gives the appearance of it being a communicator. Some more expensive kits might feature models that actually work as walkie talkies, but most are just pretend. Some have reading devices for hidden messages. While others might house secret compartments for clues. 
Walkie talkies
Any good spy has someone to report back to. It's more fun and 'spy like' to do that with walkie talkies. They just make conversations feel more secret (even though, technically, they probably aren't!). Few younger kids kits come with these as part of their spy gadgets, but it's easy enough to get hold of some toy ones (if you don't own some already) to complement the spy gear toys in any pre-assembled kit.
Earpiece
These are more fashion than function. They likely won't do anything, but they add to the super-secret spy costume. Every good spy needs to be able to get vital intel in their ear. 
Can you make your own kids spy kit?
Of course you can! And the great thing about DIY spy kits is that you can customize the pieces to suit your kid's age and skill. Some common pieces you might consider throwing in there include a flashlight, pen, notepad, clear packing tape, baby powder, a little makeup brush, cheap sunglasses, a dollar store digital watch, and an ink pad. 
Here's an informational DIY video that shows how to make spy kit elements from the YouTube channel The Paper Girls Show + Curious Jane: DIY Spy Science:
For an easy decoder, check out this toilet paper roll tutorial from Kids Activities on Youtube: