If you have a tablet or an IPad, you might not realize how handy a portable kids' DVD player can be for your family. Streaming isn't always available. Think about low cell service or dwindling batteries. Maybe you don't want to sacrifice your IPad to greasy toddler fingers or don't want to shell out the money for more expensive options. 
Portable DVD players that don't require the internet can be absolute lifesavers. Whether you want to attach them to the headrest for road trips or let your kids relax on the couch, they can watch movies and shows right at their fingertips. Plus, many of the players on the market these days feature games as well. So, you can tackle two devices at once! 
There are plenty of excellent choices on the market that work for kids and adults alike. Have a look at our top picks below before you take the plunge on purchasing your own!
The Best Portable DVD Players for Kids – Our Picks
Note: Our individual reviews are below, but you can also click any of the links above to check current prices on Amazon and other retailers
Kids Portable DVD Player Reviews
HDJUNTUNKOR 10.1" Portable DVD Player
This portable DVD player is versatile and easy to operate. It functions as a tabletop/laptop player with a swiveling screen for optimum viewing, but also folds to be used on the back of a car's headrest. 
In addition to the viewing options, the HD screen offers a clear picture to view media from several sources including DVD, CD, SD, and even USB, among many more. And with 5 hours of battery life, you can likely get through two movies without charging. When you run out of juice, this player also has the option of using a car charger or AC adapter to keep the movie night going. 
This DVD player also features break-point memory. So, forget having to fast forward to the right spot every time you have to stop on that road trip. The handy car bag is also included with the player, as well as a remote.
What we liked:
Two modes of viewing
Supports DVD, CD, SD card, and USB (as well as many other discs) 
5 hours of battery life 
AC adapter and car charger option 
TV connection cords included 
Headrest bag included
Break point memory
What we didn't:
We didn't find anything. This is a versatile and well-made DVD player.
Jekero Portable DVD Player 14.1"
Jekero offers another versatile choice in this portable DVD player. It features a swiveling screen that is LCD and high resolution for bright and clear pictures. Additionally, the screen is slightly larger than other players on the market at 14", which is great for older adults and viewing from further distances. 
This player is also great for TV connection and comes with the necessary cables. In addition to those components, the player comes with a remote, an RCA cable, a DC adapter, car charger, and a gamepad. Oh yeah, you can play games on this one, which is a great and unexpected feature. 
The player also supports DVD, CD, Blu-Ray (as well as all region discs), SD cards, and USBs. It also offers breakpoint memory and great audio with two 3" speakers.
What we liked:
Swiveling screen allows for different viewing options 
High resolution LCD screen 
Larger screen at 14" 
Comes with remote, RCA cables, DC adapter, car charger, and gamepad 
Supports all region discs including DVD, CD, and Blu-ray. 
Has a SD card slot and USB port
Breakpoint memory
What we didn't:
We didn't find anything. This player has a great picture and sound.
Zesty 9" Portable DVD Player
This DVD player is made specifically for kids and comes in bright, flashy colors. It's equipped with a 9" swivel screen for viewing from any direction and is perfect for car rides with the included headrest holder. The screen also folds flat for tablet mode which comes in handy for kids on-the-go. Another great feature of the Zesty happens to be the game function if you connect it to a gamepad. 
Along with the typical disc formats (DVD & CD), this player also supports USB and SD cards. Oh, and don't worry about staying charged on the go. This DVD player comes with a car charger, a home charger, and a rechargeable battery for when you're nowhere near an outlet. This one also has breakpoint memory for when movies have to stop unexpectedly, so you can come back whenever. 
What we liked:
Bright kid-friendly color and design 
Swivel screen that also folds for tablet mode 
Comes with a car headrest mount holder
Plays disc formats, USB, and SD cards 
Comes with car charger and home charger 
Breakpoint memory
What we didn't:
No cons. Another solid choice for kids.
Ematic 9" Nickelodeon's – Paw Patrol Theme
If there's a way to take a kid-friendly DVD player and make it even more kid-friendly, this Paw Patrol themed setup is probably it. Not only does it come with your kid's favorite characters, it also comes with a handy carrying bag and TWO sets of headphones. That's great for siblings or friends that want to share. 
Even with it's cartoonish appearance and packaging, it features full sound and a great picture. A unique component of this player is its text-to-speech capability. This can help kids develop literacy and accommodates multi sensory engagement. 
What we liked:
Extremely kid-friendly 
Bright colors and characters 
Comes with carrying bag 
Comes with two sets of headphones 
Full stereo sound
What we didn't:
This does not play Blu-Ray discs and is not as high quality as other choices
Things to look for in a good dvd player for kids
Portability
This may be a bit obvious, but if you're looking to buy a portable DVD player, it should be easily portable! Look into durable screens, convenient controls, and ways to attach the DVD player to car seats if need be. Another great feature to search for in a truly portable DVD player is a handy case or carrier to contain the entire setup and your DVD collection. 
Battery life / rechargeable?
This is an important factor to consider when you're looking at function (wind down time before a nap, car rides, a small break from mom & dad, etc.). If the players require a plug, that might not be compatible with the backseat of your car. And if you forego a player with a mess of cords, there is the matter of batteries. Does it take disposable batteries or is it powered by a rechargeable battery pack? 
While batteries might seem like the least of your concern when you're simply in search of quiet time and entertainment for your little one, battery life is vital for surviving long road trips. Not having to constantly charge or switch batteries is also a lifesaver for your sanity. 
Screen size
You don't want your kids to strain their eyes while they watch Mickey Mouse. So, look for a screen that is large enough to see from a couple feet away without compromising on its portability. 
Swivel screens
These types of DVD players feature a base from which the screen extends, allowing you to turn the screen whichever way you desire. This is great if you're holding the player on your lap or it's setting on a table. You can turn it toward the audience or avoid the glare of harsh sunlight. Whatever the reason, it's definitely a helpful characteristic worth considering. 
Screen viewing angle
Again, where are you watching? Who is watching? These are important factors when deciding on what kind of screen you want to look at and what angle is best for your setup. Look at screens that are compatible with backseats, tabletops, lap desks, etc. Also, check to see if the screen is large enough or swivels to allow multiple viewers. 
Sound quality
It's no secret, little speakers are less-than-ideal for an immersive cinematic experience. However, when it comes to watching movies on-the-go, it's just one of the sacrifices you make in the name of entertainment. 
Look for quality speakers that don't have the annoying "rattle" so many portable players seem to be ailed with. Speakers can be good, even with limited size. So, don't settle for one with a rattle or a buzz simply because it's a portable player. 
Blu-Ray compatible
Let me age myself for a moment. When I was a child, we had tapes. DVDs were a huge deal when they came out and something like Blu-Ray was like the more expensive version that only my rich friends paid for. 
These days, pretty much everything is available in Blu-Ray and finding DVDs that aren't is probably a challenge. In fact, you DVDs and Blu-Ray Discs are being somewhat phased out with the addition of so many streaming services. 
That's not saying DVD players are obsolete. They're still useful if you don't have internet service or the service is patchy on car rides. (In my home state of West Virginia, decent internet is like a prized treasure because the mountains and hills make connectivity a challenge) So, even with less reliance on discs, they still fill a useful niche in the entertainment realm. 
TV Connection
Like the older sibling of screen mirroring, connector cables can let you show the movie on your larger television screen. Check to see if the DVD player has that capability.  Also, double-check as to whether the necessary cables are included with your player. 
Car Mounting
Check to see if the DVD player comes with a car headrest mount already included. If not, you'll want to look into mounts that are compatible with the particular player you're considering. It's pretty much a given that it will be used in the car, so you might as well find something that will make viewing easy.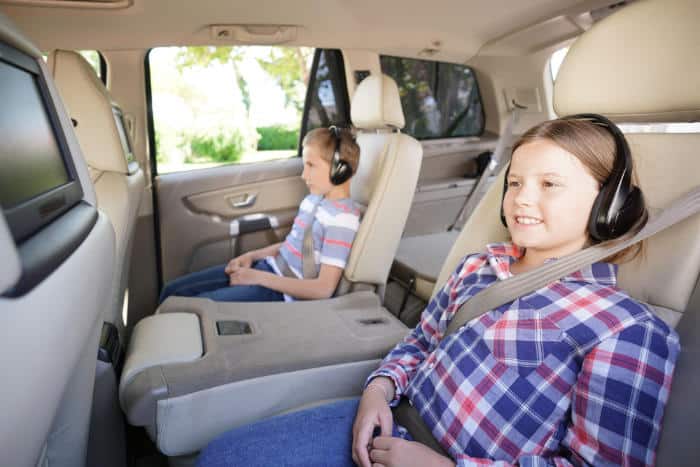 Remote controls
While you don't have to have a remote for a portable DVD player, they can be useful. If you have the player secured to the seats in the car, you might not want to readjust the screen to get to the controls. Also, if you want to use it while lounging in bed or across a hotel room while on vacation, a remote can come in handy. 
Memory (Break-Point)
By memory, we mean stopping and restarting at the same spot. For example, your kiddo just finished watching the part where everyone's favorite ice princess climbs a mountain and builds an ice castle. If you stop it there, will it restart in the same place when you come back to it? That's a helpful feature when you're manning the controls of a toddler's movie time.