This pandemic nonsense is getting to be as hard to handle as the rainbow track on Mario Kart. I know you guys know what I'm talking about. We're all just barely hanging on around every brightly colored curve. 
And now we have winter weather and in so many parts of the country, we're stuck inside with antsy and bored children. It's a challenge, to say the least. You're probably looking for ways to keep everyone entertained, while not becoming a complete screen zombie. 
Well, we have a little secret…video games aren't all bad. Nope. They're actually beneficial to cognitive development in a few key ways. Playing video games actually enhances executive functions such as decision-making and planning. They help kids recognize patterns and think logically and they're excellent at encouraging imagination. 
See? There's no reason to feel guilty about stocking up on consoles and games. With new games being released every day, you're bound to find a title you can feel good about letting your kiddos play. Oh, and maybe, just maybe, you can find a few games for yourself. Parents need time to chill out too, after all.
The Best Gaming Systems for Kids – Our Top Picks
Nintendo Switch – Best for families and young kids – The latest from the family friendly gaming console maker, portable or connected to your TV
Nintendo Switch Lite – Best for holidays / travel – A handheld only switch for less money
Wii U – Best value – All the benefits of the Wii (and more) for a bargain price. Great family fun.
JAMSWALL Handheld Retro – Best retro option – 400 classic games for TV and 2 players – relive your childhood with your kids
PlayStation 5 – Best for teens and gamer families – The latest and greatest gaming console (in our opinion). With a bit of tech savvy you can keep younger kids away from more adult content using parental controls.
Note: Our individual reviews are below, but you can also click any of the links above to check current prices on Amazon and other retailers
Kids Gaming System Reviews
Nintendo Switch
This small, handheld gaming system is beyond versatile. It transforms from a portable, handheld gaming unit, to a tabletop version, and to a system that can be connected to a TV for the whole family to see and enjoy. 
It comes with two controllers, which is great for families where multiplayer capability is essential to keeping the peace. Nintendo Switch is also touchscreen and support local WiFi multiplayer, making it perfect for gamers that also enjoy the best tech. When in Local WiFi mode, the platform can support up to 8 gaming consoles. 
Another great benefit to the Switch and Nintendo, in general, is the wide selection of family friendly and age appropriate titles. Plus, Mario is a classic that should definitely be passed down to the next generation of gamers. 
Nintendo really make consoles for kids and families. It's their target market. Which is why if you're looking to get the best video game console for kids, and you have the budget, this is where you ought to start.
Included in the box: Game console, dock, 2x Joy con controller, wrist strap, HDMI cable (for tv connectivity), AC adapter.
What we liked:
Handheld 
Tabletop mode
TV mode
Touchscreen capabilities
Multiplayer capable (up to 8 consoles using Local Wi-Fi) 
Family friendly game console
Nintendo Switch Lite
For people that only want the handheld version and don't want to spend the extra cash for tabletop and TV play, the Nintendo Switch Lite offers premium gameplay at a more affordable price. If you only want handheld, why pay for what you don't use, right? The Nintendo Switch Lite is a solid gaming console with a built in control pad, akin to the "vintage" Gameboy. 
However, a key difference between Gameboys and the Nintendo Switch family, is the versatility across models. You can play all of the Nintendo Switch games as long as they are handheld compatible. Like the Nintendo Switch, the Nintendo Switch Lite is also WiFi capable. These little gaming systems are perfect for toting around in backpacks, on commutes, and even pulling out of a desk drawer during a work lunch break. They also come in bright colors (coral, yellow, gray, and turquoise).
As you read through this list of consoles for kids, consider that if you want to save a little money and keep your kids away from your living room TV, but still give them access to most of the latest and greatest games, this is probably the system you ought to get. However there is no HDMI cable in the box as it doesn't support connection to a TV or a larger screen, if that's something you're going to want someday, consider the full Switch or some other game console!
Included in the box: Game console, 2x Joy con controller, wrist strap, AC power adapter.
What we liked:
More affordable if you only want handheld playing time 
Can play all handheld compatible Nintendo Switch games 
Small size makes it completely portable 
Bright colors (coral, yellow, gray, and turquoise)
Family friendly game titles
What we didn't:
Doesn't support connection to a TV
Wii U
I'm certain you've heard of the Wii. It was a smash hit in 2006. We were bowling, dancing, and creating Mii avatars all over the place that holiday season. It was the first Nintendo's first go at the motion sensors and it caught on like wildfire. 
However, there was a less-known successor to the Wii empire, the Wii U. It's underrated because it never really caught on with hardcore gamers and casual gamers were content with their Wii setups as they were.
The key difference between Wii and Wii U has to do with the controller. It features a screen alongside the motion detectors. Another benefit of the Wii U is the upgraded graphics. Keep in mind, this version came out in 2012 and in the tech world, graphics and upgrades move quickly. 
With that being said, this is perfect for a preschooler because gameplay is intuitive. It takes little practice to understand that you point and tilt the controller to make your character move. This console gets you and your kids up and moving instead of staring idly at a screen. Another great feature is its compatibility with all Wii games, so you'll have plenty to keep your kiddos busy and entertained!
For more tips on setting up a premium Wii U gaming center in your living room or playroom, check out this in-depth explanation of the Wii U.
What we liked:
Same great company, Nintendo 
Wii game compatible 
Upgraded controller with screen
Upgraded graphics 
Intuitive gameplay that is easy for little kids to master
What we didn't:
Getting dated, only great for younger kids who don't care about that stuff
JAMSWALL Handheld Retro
As a 90s baby, it's hard to imagine this game console is considered "retro." But alas, Gameboys are a thing of the past and this vintage spin on the original Gameboy and Nintendo controllers is a great option for reliving your fondest memories while introducing the classics to your kids. 
This handheld game console contains 400 retro games. Unlike the toys of yesteryear, this can be plugged into the TV while also plugging into another controller. Together, you get the old school multiplayer experience with your favorite games. Alone, the handheld console is compact and easy to tote for play on-the-go. A battery life of up to 5 hours continuous playtime, should be able to save you when boredom strikes and keep the good times rolling, no matter your location.
What we liked:
Nostalgic games that span generations 
Compact handheld design
Comes with second controller for multiplayer gaming 
Connects to the TV 
400 classic games 
At least 5 hours of battery life 
What we didn't:
Nothing! The classics are always winners.
PlayStation 5
This is a splurge-worthy game console that appeals to older kids and parents alike. If your family considers themselves gamers, this is an obvious choice. With the latest and greatest titles dropping month after month, you'll always be on the forefront of the video game market. 
Aside from staying up on the trends, you get to enjoy some of the most groundbreaking graphics and features of an ever-evolving game collection. One look, and you'll likely be astounded by the realism within the games, especially if you're just now coming back to gaming after a long break. 
Prepare for complete game immersion. The newest generation of PlayStation controllers has the best haptic feedback and adaptive triggers. Advanced sound is also a continually great feature of the Sony PlayStation and can be enjoyed through TV speakers or headphones. 
If you're decent with technology, you can also ensure younger kids are only seeing age appropriate content, as the PlayStation platform has parental controls. Aside from gaming, you can also stream TV and movies through the PlayStation, making it a versatile choice for families.
What we liked:
Games that appeal to young kids, teens, and adults 
The best of the best on the market 
Immersive graphics, sounds, and haptic feedback from the controller
Parental controls available 
TV streaming
What we didn't:
This is a hot ticket item and might be hard to track down for a while.
Is playing video games bad for kids?
We're often slammed with negative propaganda about the consequences of game consoles and video game play. Screen time = bad. It sends some parents tossing the electronics in the trash and other parents eye rolling about the stringent recommendations. 
Both parties can relax, because video games actually have some benefits when used in moderation. Of course, entertainment is at the forefront of the debate, especially in a time when so many of us are stuck at home. However, there are more cognitive benefits that don't get much air time, though they should.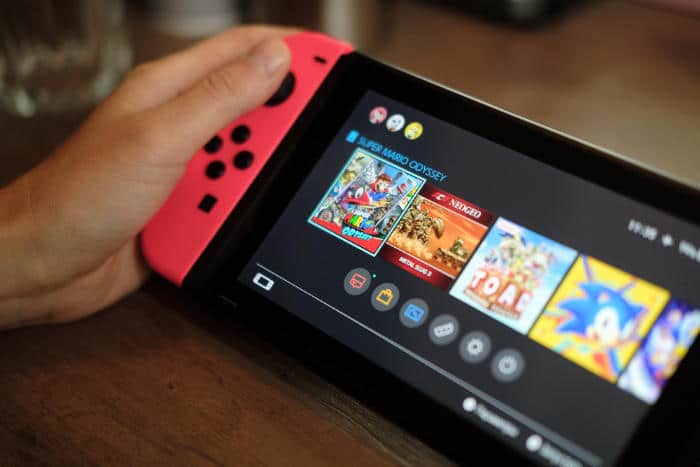 Video game play can improve planning, pattern recognition, logic, math, and design. When you take a step back, it's easy to see the STEM learning that goes on during intricate gameplay. Programs like Minecraft, especially, are great about encouraging skills that lend themselves to careers in engineering or architecture. 
Games are also great for watering the seeds of imagination, social growth, and decision-making. They allow for a safe outlet to try new things (under the supervision of parents). Memory, concentration, and multitasking is also improved by gameplay. 
When you think about how much of the job market is online or intersects with technology, it's easier to see the pros of a video game console. Interests in coding, game design, writing, animation, and programming can all get their roots from video games. As long as you limit the play and get them outside in the real world too, it's safe to say gaming systems are okay! 
Things to look for in a kids gaming system
Family Friendliness
Nintendo probably ranks the highest at making family friendly games with family friendly themes. They're easy to play, yet present plenty of challenges if you wish to master every level. Think of Mario. He's been delighting young hearts since 1985, and he's still a favorite that spans generations. Nintendo is great because they offer a few games consoles that are easy for younger kids to learn. Wii and Wii U, for example, are great options for smaller family members and adults alike. 
Nintendo isn't the only option for families, but it certainly stands out. You can also look into games for PlayStation which are rated suitable for younger audiences. 
Parental Controls
The ability to restrict access to certain programs, capabilities, and networks via parental control options is essential for families. For example, if mom or dad like to play Call of Duty on the PlayStation, you'll want to be sure little Jimmy or Sarah can't sign right on.  Good consoles allow you to restrict access to games above a certain age rating (PEGI, ESRB) to certain users.
If your games console comes equipped with a web browser, this is even more important. Online safety is a growing interest in today's society. Unfriendly characters are easy to miss if you aren't paying attention, so be sure you setup parental controls and are "plugged in" to your child's video game activity. 
Versatility
Did you know you can watch television on your games console? Some have the capability to download Netflix, Hulu, or PrimeTV. PlayStation even has their own live TV streaming program. On a personal note, my family hasn't paid for traditional cable or satellite TV in almost four years. We've taken advantage of PlayStation Vue, Hulu live, and Prime Video, saving us from senseless money-spending and endless commercials. 
Most of the streaming programs compatible with gaming systems also have special profiles for kids. That makes keeping tabs on programming easier, even for the busiest parents. 
Multiplayer Options 
Some games console systems, such as the Nintendo Switch support multiplayer use straight out of the box. This is a great feature for families with several players. You don't want to start a sibling squabble the minute you bring it home. 
Other systems, however, require the purchase of additional controllers which cost a pretty penny in some cases. Look into the cost vs. the price of systems with 2+ controllers included when browsing the market's options. 
Availability of games
All games consoles have their exclusive titles, in addition to games that span multiple systems. Older kids will want the newest, most coveted games. Usually, little kids won't need or care about the latest and greatest titles though. You can get nearly everything on a PlayStation or Xbox, but the latest titles come at a premium. Most consoles (PlayStation / Switch) will still get versions of the biggest games like Fortnite, for example.
Portability
How easy is it to pack up your games console and take it on vacation? To the grandparents' house? Nintendo Switch is very portable and easy to fit into a case which fits comfortably in a backpack. 
Xbox and PlayStation aren't as portable, but you can buy carrying cases and backpacks to make portability easier. These are great for cushioning against unforeseen dangers as well. It might be a good idea to consider a carrying case for older kids that like to tote gaming systems to friends' houses or might be taking their system to college in the near future. 
What do their friends have?
Many parents might not realize that even if it's the same game, you can't play online across platforms on all games. There are some cross-platform games being introduced, but that certainly doesn't include all titles on the market. 
This is becoming less of a thing as time goes by, but playing online with friends is fun, especially for older kids and adults! Having the same games console as your friends still allows more opportunity for social interaction, more to talk about, and more games to play together.