Video games, IPads, IPhones…We live in an age of technology and it's only getting more advanced. Plus, let's not forget the way we've had to lean into technology even more in the last year. Unfortunately, that leads to a lot of time sitting and pacing about the house. 
So, how do you blend activity and connectivity? Have a gander at these awesome action camera options for kids (or adults). If you want to encourage your kids to get out there and take their bike or board down a ramp, tell them they can record the action and send it to their friends later. You'll have them out there searching for the best shot and off the couch in minutes. 
And for kids that aspire to be the next big toy review influencer, several action cameras are perfect tools for that YouTube channel or vlog. Plus, the ability to film on a camera limits the time spent on the phone or tablet and removes the constant temptation of social media and mindless videos. 
However, camera shopping can be a daunting process for those of us that aren't technologically literate. We might not understand the storage or image resolution as our eyes glance over the specs and features. That's why we've done most of the work for you, laying out the most important capabilities in terms you most definitely understand. Have a peek at our top picks for the best GoPro cameras! 
Kids Action Cameras – Our Top Picks
The Best GoPros for Kids

GoPro Alternatives
Note: Our individual reviews are below, but you can also click any of the links above to check current prices on Amazon and other retailers
GoPros for Kids Reviews
GoPro Hero 7
Okay, you're ready to dive into GoPros. The Hero 7 features smooth frames with its image stabilization features. It's also waterproof (without a special case) up to 33 feet deep. You can also count on the camera surviving drops and tumbles as it's designed for rugged use. 
Oh, and say you or your kiddo's hands are busy navigating down a mountain bike trail or paddling a kayak, this GoPro camera works with voice commands. It also employs advanced camera settings such as noise reduction to take beautiful shots. This device is also capable of time lapse shots. 
And as far as connectivity, you can livestream right from the GoPro using the GoPro app, making it a great choice for vlogging! Great features and price point (these days) for your first GoPro for kids.
What we liked:
Rugged construction 
Waterproof camera without a special case 
Voice controlled for when your hands are too busy 
Professional level photography 
GoPro app enables live-streams
What we didn't:
None! However, the cost is obviously more than kid-marketed cameras, but you get what you pay for in terms of quality.
GoPro Hero 8
GoPro's Hero 8 is basically a vlogger's dream! Aside from its rugged design and waterproof construction, this camera offers a myriad of tech advancements from Hero 7's capabilities. 
Hero 8 offers even smoother, high-quality video with multiple levels of stabilization. It also features time warp video and speed selections, making it a great tool for TikTok or Reels. Its improved HDR also helps deliver stunning pictures, as well as sharp action shots. Oh and live burst, time lapse and night lapse can help get the perfect progression or capture the perfect image of any action. 
Like the 7, it also has a. touchscreen and voice controls. Unlike its predecessor, this camera comes with audio, light, and sound mods which enhance the recording experience. It also includes a built in mounting feature and on-screen shortcuts for easier navigation. Oh, and you can snag a one-year subscription to GoPro with the Hero 8.
What we liked:
Same great rugged design and waterproof capabilities
Introduction of media mods that ensure the perfect light, sound, and recording experience
Live burst, time lapse, and night lapse capabilities 
Touchscreen shortcuts and voice control feature 
Built-in mount 
Subscription to GoPro included with purchase
What we didn't:
We didn't find any. This is one heck of a camera package.
GoPro Hero 9
Take the great camera features of the Hero 7 and 8, then amplify them. That's what the Hero 9 is like. It takes superb photographs and clear video with even better image stabilization. Unique to the 9, the camera features in-camera horizon leveling. So, you won't have wonky tilted video. The front screen of the 9 also offers live preview and status capabilities. 
Like the Hero 8, the 9 has its collection of media mods, but with the addition of a lens mod. Its time warp is also improved upon with faster lapse speeds. And for those that can never get to the shutter button fast enough, the Hero 9 has "hindsight" which essentially captures the 30 seconds before you start recording. 
Like its siblings, the Hero 9 features a touchscreen, voice commands, superior connectivity, and multiple mounting options. One great feature exclusive to the 9 is the ability to schedule shots with duration capture and scheduled capture. So, you get to decide when it records, while also freeing your hands to do other things. Overall, this is the top-notch action camera on the market. If you have an older kid (or you!) that would be able to take advantage of the features, it could be a good choice.
What we liked:
Touchscreen, voice commands, WiFi and Bluetooth connectivity 
Livestream with ease using webcam mode 
Advanced RAW photographs 
Live preview and status on front screen 
Faster lapse speeds and advanced stabilization 
Horizon leveling 
Hindsight feature 
Scheduled capture and duration capture
What we didn't:
None. This camera is a media guru's dream.
Kids GoPro Alternative Reviews
ProGrace Kids Action Cam
If you want a kids action camera, but don't think splurging on a real deal GoPro, the ProGrace Kids Action Camera could be a great alternative. Aside from the tech features, this camera comes in fun colors, which, let's be honest, is more in line with what kids really care about. It's great for kids ages 4-12 and still has most of the features professional cameras boast. 
This camera is compatible with a micro SD card, though the card is not included with purchase. In addition to the clear picture on its LCD screen, the camera features HD 1080P/30fps videos and the ability to take 5MP photos. This cam also has a zoom function, burst shooting, face recognition, time-lapse, and manual brightness (quite a lot for a kids' camera, right?). Oh, and let's not forget this little camera comes with a waterproof case which is safe up to 100 feet. 
This company also offers a one year warranty and customer service for life, a great feature for any electronic.
What we liked:
Great alternative to the GoPro for kids
Designed with kids ages 4-12 in mind
Compatible with a micro SD card 
Records video, photo, zoom function, face recognition, manual brightness, and time-lapse 
Waterproof case is good for up to 100 feet 
Comes with free one year warranty
What we didn't:
With it being designed for kids, the tech isn't as advanced (image stabilization, Bluetooth, WiFi, etc.)
VTech Kidizoom Action Cam
Like the other GoPro alternative, this camera is recommended for ages 4 and up. Take selfies and video with the camera which rotates 180 degrees on the two mounts, which are included with purchase. They're perfect for biking, skateboarding, snowboarding, and more. The water resistant case is safe for shallow swimming as it's safe up to 6 feet. 
At full charge, the camera can film for 2.5 hours. It's also compatible with a 32GB microSD card, but does not come with the card. Additionally, this set comes with a charging cord and lanyard for carrying. Take selfies, record vlogs, or document the latest trips down the bike trail. With a trusted name like VTech and an affordable price tag, this could be a great alternative to the GoPro.
What we liked:
Comes with two mounts (bike mount & flat mount) 
Comes with a waterproof case & wrist lanyard 
Waterproof up to 6 feet
Camera rotates 180 degrees while mounted 
Kid-friendly display and operation
What we didn't:
Not as many functions 
Not waterproof for deeper depths
The benefits of an action camera for kids
Let's face it. We live in a visual age as much as a digital age. Kids are hyped to post the trendiest fads on their platforms for all of their friends and fans to see. As parents, we'd like to see them get up and move a bit more. Go outside, breathe fresh air, scrape some knees…you know, like the good ol' days. 
One of the most obvious benefits to gifting your kids an action camera is that it encourages them to jump up and grab some great footage. Maybe they take it on their bike ride, while they skateboard, or do backflips on the trampoline. Their action camera will be there to capture the coolest shots for their platforms. 
Aside from being a rough and tumble camera that can go anywhere, action cameras also work just like traditional cameras. They're a great way to encourage an interest in photography. Plus, the high quality photographs and videos might actually make them ditch the phone for a little while. Action cameras might even save their phone if they opt to take their cameras on that hike in the mountains, instead of the phone that shatters with even the slightest drop. 
Action cameras are also a great idea for kids that aren't really old enough or responsible enough to own a phone. They're simple to operate and sturdy, which means they'll stand up to whatever your little stuntman(or woman) can put them through. You can also pick different GoPro accessories to match the outdoor activity.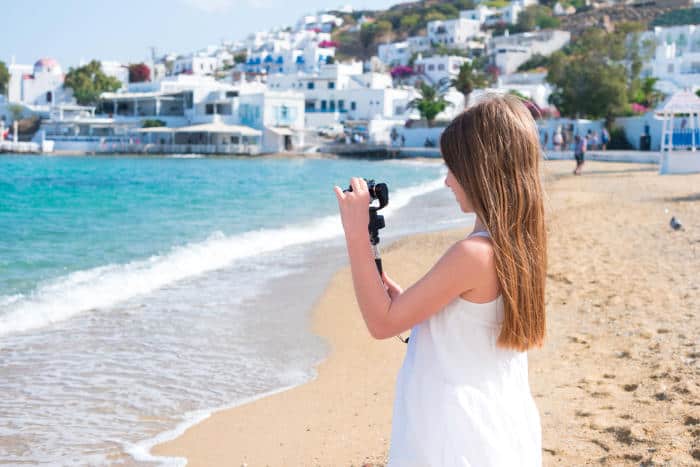 Can young kids use a GoPro?
A little anecdotal insight: My two year old can operate YouTube on my IPhone. Though he struggles once he gets off the main screen, he understands the mechanics of scrolling through his kiddie videos. 
A GoPro is easier than that. So, yes, young kids can definitely master using a GoPro. Plus, their touchscreens are simple and intuitive to use. They'll be able to bunny hop over any learning curves, straight into filming toy and slime reviews. 
Are there any good GoPro alternatives for kids?
Certainly. We live in a market where there are alternatives for virtually anything. If you're a little wary of spending a chunk of change for a real GoPro, you might check out some of the action cameras from kid-friendly brands such as VTech or ProGrace. 
Things to look for in an action camera for kids
Waterproofing
This is a must. If you're going to invest in an action camera, you'll want one that can actually handle some action! All of GoPro's current models are waterproof and don't require an additional case for up to 33 feet deep. If you're looking into other brands, be sure to check their waterproof status and investigate whether a case is needed for submersion. 
Image / Video Resolution
If you're buying a camera, of course you want a clear picture. Grainy images and videos with lag time just won't do, not when we have the tech to deliver crystal clear content. 
Now, with that being said, these are action cameras. They're not going to deliver the money shots that a big, expensive, professional camera will. You can't adjust light and aperture, but then again, you also can't take your professional camera straight into the ocean either. So, it's really a compromise. The perspective when using an action camera as an everyday setup can look a little wonky too. 
The bubbly angle is called a fisheye effect. With a little bit of tweaking in the editing software, it can be minimized. Again, it delivers quality shots, but definitely not up to par with say National Geographic. However, your kiddo probably won't notice or mind. 
Battery Life
For GoPros, the reported battery life hangs out around 2.5 hours. That's if it's being used and stored in mild temperatures. Extreme cold can drain battery life, as well as having too many of the features up and running. Our research indicates that 2.5 hours is pretty much the norm across models and other brands of action cameras. 
Size
The smallest action camera on the market is about the size of two sugar cubes. However, that's probably not the wisest buy for kids. Have you ever tried to find their misplaced shoes? Yeah, a camera that tiny is probably a headache waiting to happen. 
That being said, look at the size of the camera, your child, and what they intend to use it for before buying. Will it be mounted on a bike helmet, chest rig, a handheld stabilizer, or maybe a tripod? It's also worth it to consider the amount of storage on the device when looking at sizes. 
Connectivity
There are a few options for connecting your camera to a PC or uploading to the internet. You can utilize an SD card, a micro-HDMI, micro-USB, or a magnetic connection. That obviously depends on the model of your camera. 
A couple of other options, which most newer cameras have, are WiFi or Bluetooth connections. These allow you to transfer your content straight to the internet and then into your editor or social platforms. 
Whatever brand or model you decide on, you'll likely have your pick between a few options when it comes time to connect. Examine what will be easiest for your lifestyle, because not connecting regularly will eat up your storage space. 
Mounting
Now, there are way more than a few mounts on the market and they're tailored to specific needs, i.e., biking, snowboarding/skateboarding, hiking/running, or even surfing. 
Some examples of mounts that you might include helmet, chest, wrist, and shoulder mounts. They're constructed with straps and velcro. One downside for those might be the size if your child doesn't fill out the straps in their smallest size. However, GoPro brand does have a junior line that is made for smaller stuntmen and daredevils. 
Clamp mounts and suction mounts might be good alternatives, as well as handheld stabilizers. Some mounts might be included with purchase, but there are also affordable accessory packages on the market that include several varieties of mounts. Just do a double-check to be sure they're compatible with your camera. 
Other Features?
For action junkies, it might be helpful to look for cameras with image stabilization. You won't want wonky images after conquering the biggest mountain or the "sickest" bike ramp. Also, check to see if your camera records 4K or 5K video. 5K takes up more memory. 
Check out the possibility of voice commands, which may come in handy if it's used for biking or skating. Front-facing cameras are great for selfies and vlogging too. Some other features worthy of scoping out include apps or software, waterproof housing (if necessary), and built-in mounts.